Test Bed and Setup
To test the performance of Corsair Hydro X, we compared two setups which we replicated the best we could with the hardware available. The Corsair Hydro X series single 240 mm radiator loop was tested with our ASRock X570 Aqua motherboard, while we used the ID-Cooling Auraflow 240 mm AIO on the similar spec ASRock X570 Creator for comparison. We used the exact same hardware across both systems including the same OS build, and same firmware settings. As the ASRock X570 Aqua and ASRock X570 Creator are nearly identical.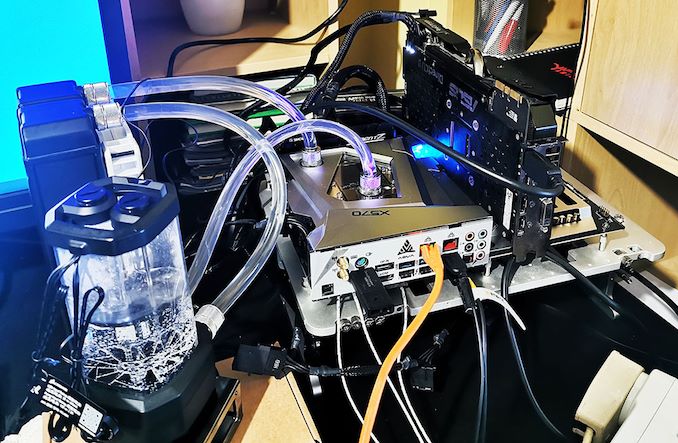 The Corsair Hydro X installed on our Openbench Table for performance testing
For our stock settings, we ran with default settings with the XMP 2.0 on our Corsair Vengeance RGB Pro DDR4-3200 CL18 memory kit enabled. Our overclocking settings include XMP 2.0 enabled on our memory, with a CPU VCore of 1.35 V and an all-core frequency of 4.3 GHz.
Corsair Hydro X System Test Setup
Processor
AMD Ryzen 3950X, 105W, $329
16 Cores, 32 Threads, 3.5 GHz (4.7 GHz Turbo)
Motherboard
ASRock X570 Aqua (BIOS 1.40 - ABBA) - Corsair Hydro X
ASRock X570 Creator (BIOS 1.70 - ABBA) - ID-Cooling Auraflow
Stock Settings
AMD Ryzen 3950X, Default Settings, PBO Enabled
Overclock Settings
AMD Ryzen 3950X, 4.3 GHz All-Core, 1.35 V CPU VCore
Cooling
Corsair Hydro X Series:

Corsair XD5 Pump/Reservoir
Corsair XR7 240 mm radiator
Corsair Softline 10/13 mm fittings
Corsair Softline 10/13 mm tubing
Corsair XL5 clear coolant
Corsair LL120 RGB 120 mm fans
Corsair Commander Pro RGB hub

ID-Cooling Auraflow 240mm AIO (as base comparison)
Power Supply
Corsair HX 850 850 Watt Platinum
Memory
Corsair Vengeance RGB Pro 32 GB (4x8GB)
DDR4-3200 CL18-19-19-39 1T
Video Card
ASRock RX 5700 XT Taichi X 8G OC+ (1810/2025 Boost)
Hard Drive
Crucial MX300 1TB
Case
Corsair Cyrstal Series 680X
Operating System
Windows 10 1909

Thermal Performance
The AMD Ryzen 9 3950X is a 16-core 32-thread processor designed for the X570 desktop platform. With larger core counts typically comes more heat and as standard, the 3950X has a TDP of 105 W. While this is great, TDP doesn't play out as intended once motherboard vendors implement its tweaks to maximise performance. To keep the Ryzen 9 3950X cool, AMD recommends liquid cooling as standard from its marketing.
For the temperature testing, we took delta temperatures at idle and maximum load. For our load results, we ran the Prime95 to stress our AMD Ryzen 9 3950X processor and took the value after 30 minutes. Our ambient office temperature at idle was 21°C and at load, it was 22°C during testing.

At idle, the differences aren't that major at both default settings and overclocked at 4.3 GHz. The Corsair Hydro X has the benefit of running slightly cooler with 1.35 V applied on the CPU VCore.

Running an AMD Ryzen 3950X at full load with Prime95 for 30 minutes, and we start to see the gap open up between the Corsair Hydro X series custom loop and the ID-Cooling Auraflow 240 mm CLC. Although the gap at default settings between both solutions at stock is 3°C, and at load, just 5°C, the radiator size of both options is the same. Another variable to consider is that the Corsair Hydro X Series in our testing isn't just cooling the processor, but the power delivery and chipset of the ASRock X570 Aqua. This will naturally increase temperatures as more components are being cooled, but not by a drastic amount.