Visual Inspection
The MSI Creator TRX40 is an E-ATX motherboard that comes with a price tag of $700 and aligns itself among a small handful of flagship models designed for AMD's Threadripper 3000 processors. The primary design consists of a black and light grey two-tone PCB, with black and grey polished heatsinks. Focusing on the heatsink array, all of the rear panel cover, power delivery heatsink, and the actively cooled chipset heatsink are interconnected with a single nickel-plated copper heat pipe. This is to transfer heat to where it is needed, along with providing additional extended cooling to the M.2 devices.
The MSI Creator TRX40 has one area of integrated ARGB LEDs, which is underneath a Creator inspired panel built into the rear panel cover and can be customized via the MSI Mystic Light RGB utility. For expansion, the board also includes one 5050 4-pin RGB, two 3-pin ARGB, and one 3-pin Corsair RGB header.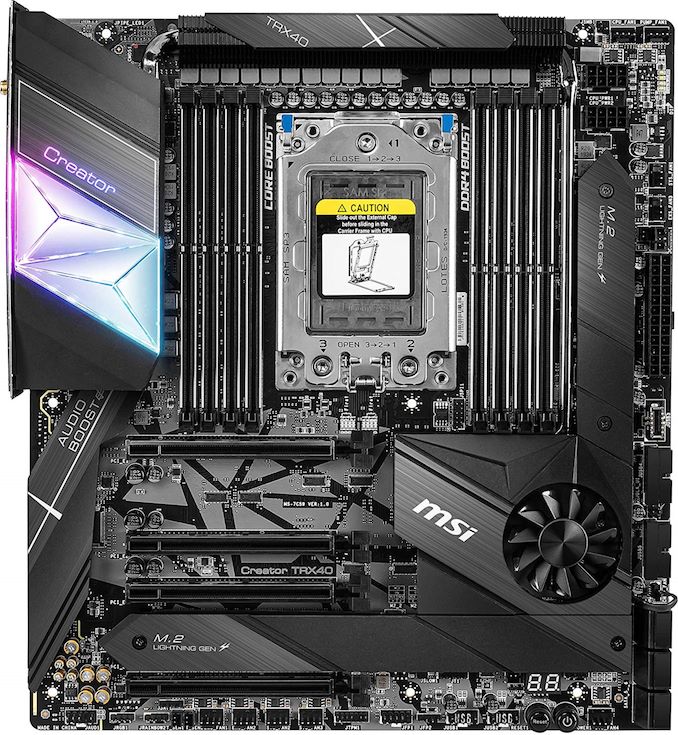 With plenty of native PCIe 4.0 support from the AMD Threadripper 3000 series processors, the MSI Creator TRX40 has four full-length PCIe 4.0 slots that run at x16/x8/x16/x8. For the storage, there are three PCIe 4.0 M.2 slots with two of these located between the bottom two full-length PCIe 4.0 slots, with a third vertically mounted alongside the right-side hand side of the memory slots. Included in the accessories bundle is MSI's Xpander-Aero Gen4 add-on card which allows users to install up to four PCIe 4.0 x4 M.2 drives into one of the full-length PCIe 4.0 slots. This brings the board's 'out of the box' capability up to a total of seven PCIe 4.0 M.2 slots. For SATA devices and storage, there are six SATA ports. In the bottom right-hand corner of the board is separate power and reset buttons.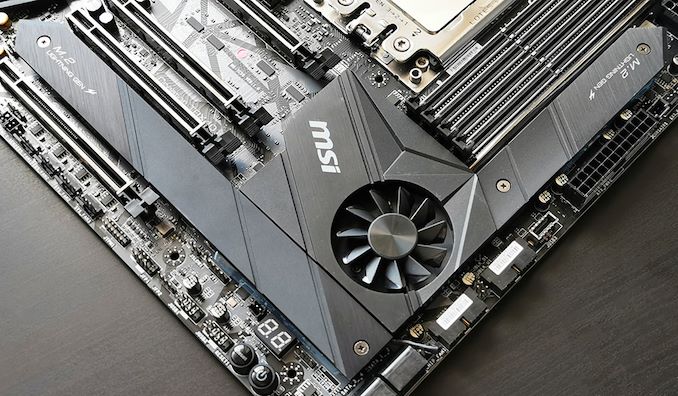 The MSI Creator TRX40 has eight memory slots with support for DDR4-4666 and allows users to install up to 256 GB of system memory. While the Creator TRX40 supports both ECC and non-ECC memory, it will operate in unbuffered mode. Dependent on the processor installed, users can use both dual-channel and quad-channel memory.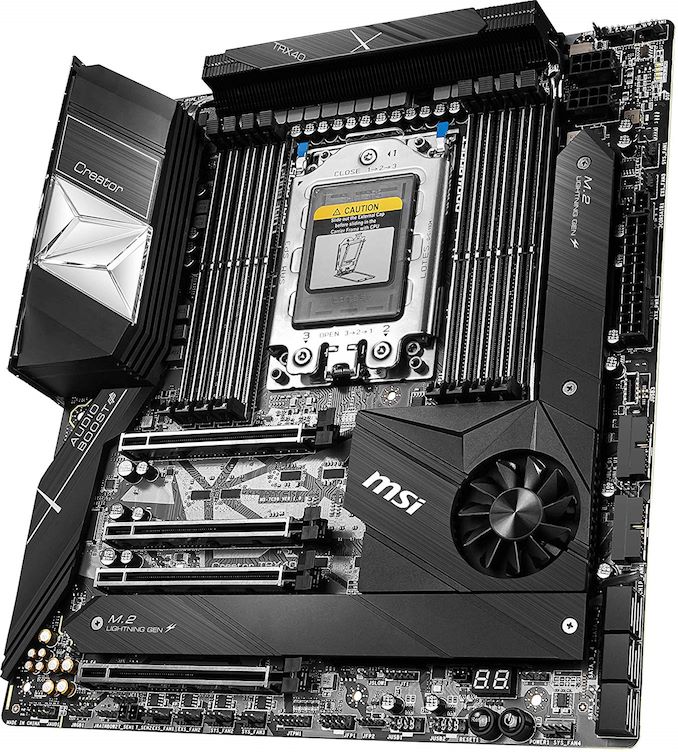 Located around the board is plenty of internal IO, with six 4-pin fan headers which are divided into one for a CPU fan, one for a water pump, and four for chassis fans. There are also three 4-pin fans for extended headers. Also present are one USB 3.1 G2 Type-C header, two USB 3.1 G1 Type-A headers giving four ports, and two USB 2.0 headers which also provides four additional ports. For overclockers, there is a set of headers consisting of an OC retry pin, an OC force enter pin, and two JBLCK pin headers. Also featured is a two-digit LED debugger which is located just above the switches.

Located along the top of the board is the power delivery of the MSI Creator TRX40. It's controlled by a true 16-phase Infineon XDPE132G5C PWM controller in a 16+0 configuration, with sixteen Infineon TDA21472 70 A power stages. This configuration is similar to other TRX40 models with 16-phases and is more than capable of delivering stable and consistent power to even the 64-core 3990X. It's one of the most solid and premium power deliveries we have seen from MSI over the years and is a similar design to that of other TRX40 flagships on the market. Providing power to the CPU is two 8-pin 12 V ATX CPU power inputs.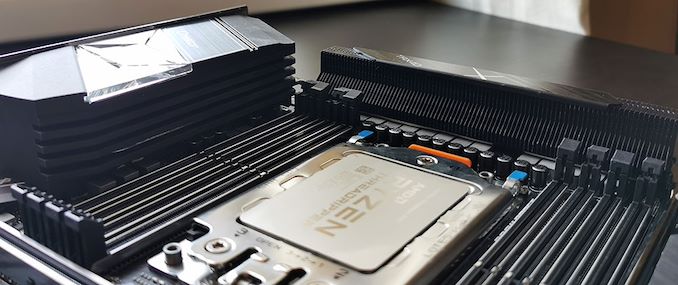 The power delivery heatsink is also connected to the large aluminium rear panel cover and down to the actively cooled chipset heatsink via a single heat pipe. This should allow more heat dissipation in a chassis with adequate passive cooling. The rear panel cover heatsink includes insert styled fins, while the heatsink covering the power stages has more fins designed to channel the airflow for better dissipation of heat.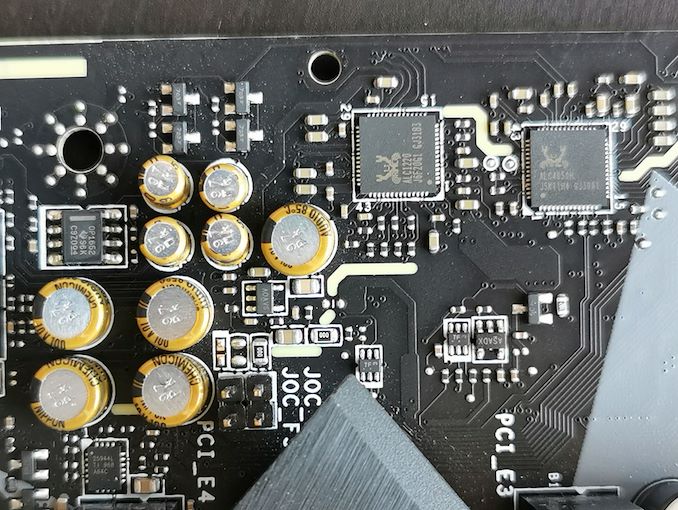 As the TRX40 chipset doesn't include any form of audio controller or bridge, the MSI Creator TRX40 bypasses the issue. By integrating a Realtek ALC4050H audio codec which bridges the gap between the Realtek ALC1220 HD audio codec by using USB 2.0, the Creator TRX40 uses the ALC4050H for the front panel audio. The Realtek ALC1220 powers the majority of the rear panel audio which consists of five 3.5 mm audio jacks and S/PDIF optical output; the ALC4050H also powers the microphone input. Flanking the pair of audio codecs are gold Japanese audio capacitors, and the audio PCB is separated from the rest of the board's componentry.

On the rear panel of the MSI Creator TRX40 is three USB 3.1 G2 Type-A, five USB 3.1 G1 Type-A, and one USB 3.2 G2 20 G Type-C port; the 20 Gbps Type-C port is controlled by an ASMedia ASM3242 USB controller. Looking at the networking and MSI has included an Intel AX200 Wi-Fi 6 wireless interface with BT 5.0 support, as well as an Aquantia AQC107 10 GbE controller. The rear panel also includes an additional port powered by an Intel I211-AT Ethernet controller. At the left-hand side is a Flash CMOS button and Clear CMOS button, while the right-hand side has five 3.5 mm audio jacks and S/PDIF optical output powered by a Realtek ALC1220 HD audio codec. The microphone 3.5 mm input and front panel audio are controlled by the new Realtek ALC4050H audio codec.
What's in The Box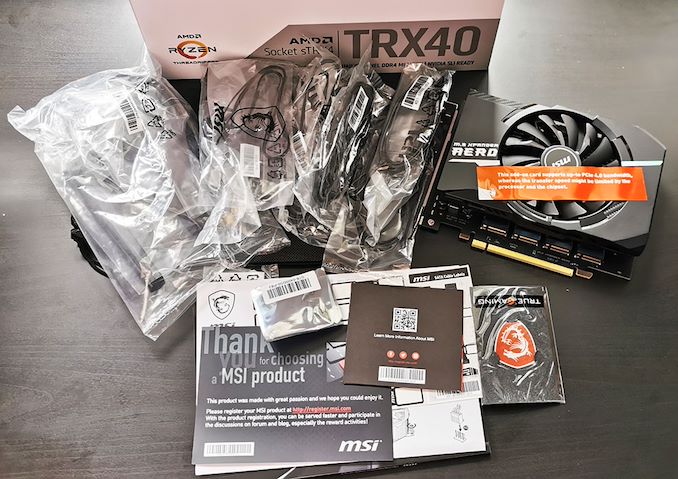 The accessories bundle of the MSI Creator TRX40 motherboard contains everything needed to get a system up and running out of the box. Included are four SATA cables, three thermistor cables, the MSI Xpander-Aero Gen4 4-way PCIe 4.0 M.2 add-in card, and all the relevant manuals. Also present is an Intel AX200 Wi-Fi 6 wireless interface antenna which connects to the rear panel connectors.
User manual
Quick start guide
Xpander-Aero Gen4 PCIe 4.0 M.2 add-in card
Four SATA cables (two straight and two right-angled)
Three thermistor cables
Three RGB extension cables
MSI USB driver and software installation drive
MSI case badge
Thank you card
Cable label sticker set
Intel AX200 Wi-Fi 6 antenna