Unboxing and Setup Impressions:
Aleutia doesn't bundle input accessories (keyboard / mouse / IR remote etc.) with the system. We also don't find any detailed operating manuals. The package is pretty barebones as it can be. This is perfectly acceptable given the target market. There is a single welcome note which lists the package contents and also provides the initial login details for systems with pre-installed operating systems.
The contents of the package include:
90W AC adapter (with country-specific power plug)
Driver and software CD from Intel for the DQ77KB motherboard
OEM Windows 7 Home Premium installation DVD
HDMI to DVI adapter
Two TP-Link 2.4 GHz 802.11b/g/n compatible antennae
Main unit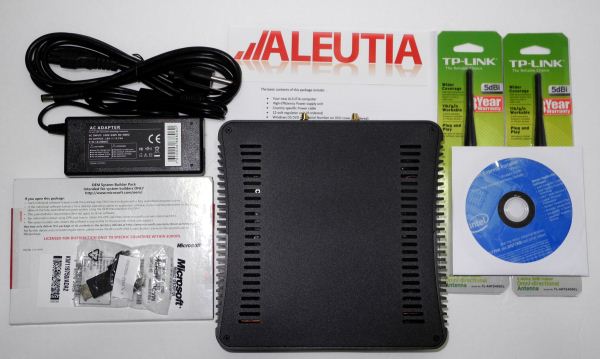 One of the most interesting aspects of the package is the main unit itself. The chassis is solidly built and meant to act as a giant heat sink. The industrial design is extremely pleasing to the eye. The rounded corners and the curved heat sink base on either side add to the aesthetics.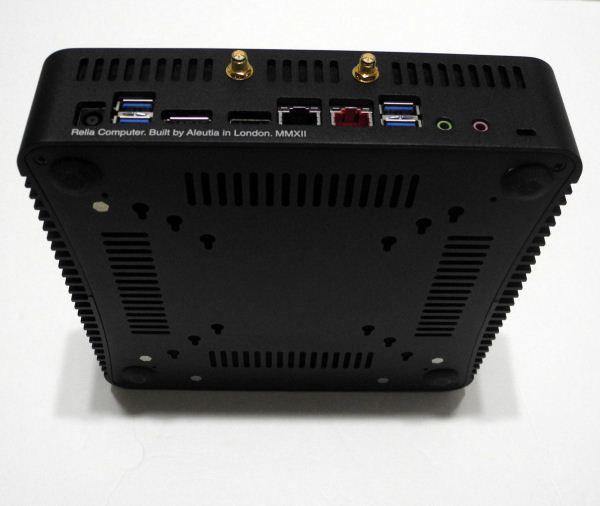 We would have liked the rubber feet at the bottom of the unit to be thicker in order to give more clearance to the ventilation slots at the bottom. A number of screw slots for mounts of varying sizes is also provided. The rear panel of the unit has the DC-in jack, four USB 3.0 ports, a full-size Display Port output as well as HDMI, two GbE LAN ports, analog audio out and microphone jacks and a Kensington lock slot. On the top side of the rear panel, we have ventilation slots interrupted in two places by Wi-Fi antenna holders.
The front panel is relatively bare, with a single power button and an LED indicator (which lights up blue when the system is powered up) on one side and two USB 2.0 ports on the other.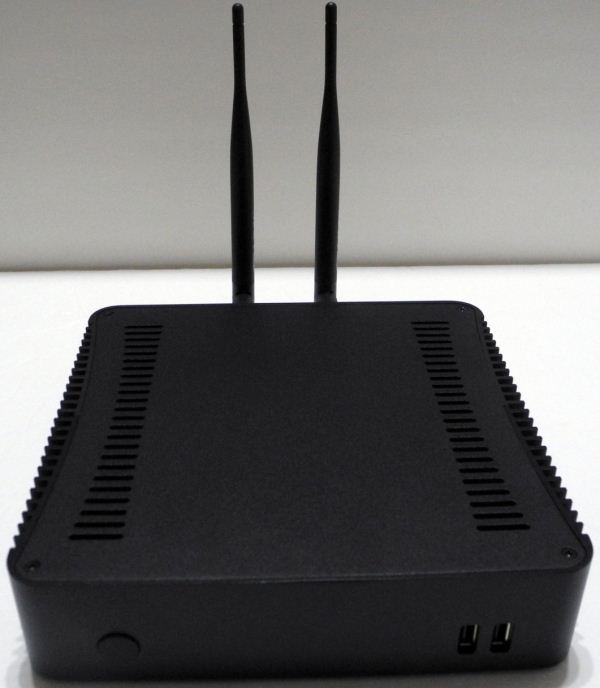 The top cover has ventilation slots running on either side close to the heat sink base. All the ventilation slots are covered by a thin gauzelike layer underneath which provides a certain degree of protection against internal dust build up.
Our review unit came with a pre-installed copy of Windows 7 Home Premium x64. Fortunately, there was no bloatware to uninstall. All our benchmarking programs were installed fresh. LAV Filters 0.52 and madVR 0.81 were used to test out the HTPC aspects in conjunction with MPC-HC v1.6.4.6052. Since the system has no in-built optical drive, we didn't have to worry about Blu-ray playback software.
We conclude this section with a summary of the data and A/V connectivity options for the Aleutia Relia review unit.
A/V Connectivity Options for the Aleutia Relia

| Option | Status |
| --- | --- |
| | |
| HDMI | Yes [v1.4a] |
| Display Port | Yes |
| Component | No |
| Composite | No |
| VGA | Yes |
| SPDIF | Yes [Optical] |
| Stereo | Yes |
Data Connectivity Options for the Aleutia Relia

| Option | Status |
| --- | --- |
| | |
| Optical Disk Drive | No (DVD Slimline Drive Optional) |
| USB | Yes [4 x v3.0, 2 x v2.0] |
| eSATA | No |
| LAN | Yes [ 2 x 1000 Mbps GbE ] |
| Internal HDD | Yes [ 2 x 500 GB ] |
| Internal SSD | Yes [ 128 GB mSATA ] |
| WiFi | Yes [ 300 Mbps 1T2R 802.11b/g/n (Single band)] |
| Bluetooth | No |
| Card Reader | No |