Dell XPS 12: Everything to Everyone?
When dell first launched their XPS brand—prior to acquiring Alienware—the XPS acronym stood for Xtreme Performance System. (Back then, it was considered really cool to use the letter X, so Extreme becomes Xtreme and we get an X rather than an E—though I suppose we're not really any better about this in 2013.) The XPS line was Dell's highest performance line, but over time it started to lose its luster. In 2005, Dell tried to reassert XPS dominance over companies like Alienware and Falcon Northwest, but when they later purchased Alienware the need for the XPS brand became questionable. We had Studio XPS for a bit, then XPS totally disappeared (around 2009), but now it's back with a new role.
No longer is XPS the top performance consumer brand, as that task falls to Alienware; instead, XPS is a premium consumer line, generally offering better build quality and materials than the Inspiron line and with configurations that straddle the fence between high-end and budget offerings. Some businesses may also opt for XPS systems, as they tend to look a little nicer than the typical business laptops and they should offer similar reliability. Or at least, that's the theory of it. The reality is that we've seen some good XPS offerings since the relaunch, but we've also seen some disappointing units with mediocre displays and very little other than appearance to set them apart from the Inspiron line.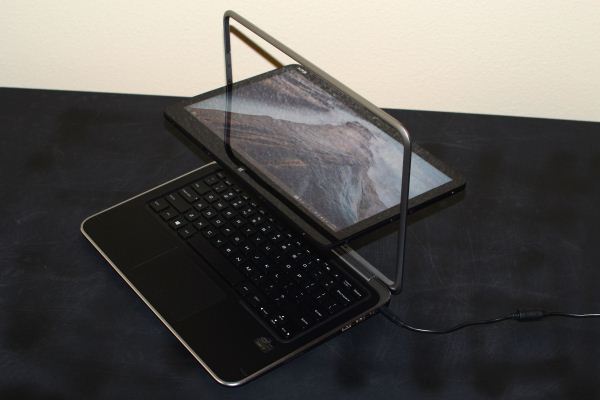 Thankfully, that's not the case with the XPS 12 Duo. Build quality has been generally good of late with the XPS laptops we've reviewed, and while there were certainly flaws I found a lot to like in the initial XPS 15 and 15z. The more recent XPS 15 was a different matter, as the combination of a 35W quad-core processor with a GT 640M GPU proved to be more than the cooling could handle, and rampant throttling was the result. I thought Dell would eventually address the problem with a BIOS update, but that never came and so the "detailed first look" ended up as the final review. [Whoops! Let me wipe the egg off my face….] Temperatures were also a concern with the XPS 13 when we reviewed that Ultrabook, so you can bet we'll be investigating that area with the XPS 12 Duo. But first, let's start with the specifications rundown.
Dell XPS 12 Duo Specifications
Processor
Intel i7-3517U
(Dual-core 1.90-3.00GHz, 4MB L3, 22nm, 17W)
Chipset
HM76
Memory
8GB (2x4GB) DDR3-1333 (9-9-9-24-1T)
Note: RAM is soldered onto motherboard
Graphics
Intel HD 4000
(16 EUs, up to 1150MHz)
Display
12.5" Glossy 16:9 1080p (1920x1080)
(LG LP125WF1)
Storage
256GB Micron C400 mSATA
Optical Drive
N/A
Networking
802.11n WiFi (Intel Advanced-N 6235)
(Dual-band 2x2:2 300Mbps capable)
Bluetooth 4.0 (Intel)
Audio
Realtek ALC275
Stereo Speakers
Headphone/Microphone combo jack
Battery/Power
6-cell, 8.3V, ~5690mAh, ~47Wh
65W Max AC Adapter
Front Side
N/A
Left Side
Volume Rocker Buttons
Power Button
Headphone/Microphone Jack
Screen Orientation Lock Button
Right Side
1 x USB 3.0 (Powered when Sleeping)
1 x USB 3.0
Mini-DisplayPort
AC Power Connection
Back Side
N/A
(Exhaust vent located on bottom)
Operating System
Windows 8 64-bit
Dimensions
12.48" x 8.46" x 0.59-0.79" (WxDxH)
(317mm x 215mm x 15-20mm)
Weight
3.35 lbs (1.52kg)
Extras
HD Webcam
80-Key Backlit Keyboard
Warranty
1-year limited warranty standard
3-year available ($199 upgrade for "Good" service)
Price
$1199 Base Model (Core i5, 4GB, 128GB SSD)
$1699 Tested (Core i7, 8GB, 256GB SSD)
As is so often the case with review units, we have the top-end model of the XPS 12 Duo in house for review. That means we get an i7-3517U processor, 8GB RAM (4GB soldered onto the motherboard), and a 256GB SSD. As mentioned already, Dell is also using a 12.5" 1080p IPS display, which is one of the standout items of the spec sheet. Overall, the specs match up pretty well against the Acer S7; the major differences are the battery capacity (Dell has 34% more battery capacity), I/O ports (Dell doesn't have any sort of flash memory reader), and the dimensions. Not surprisingly, the XPS 12 Duo is closer to the maximum dimensions Intel allows with a sub-14" Ultrabook, but the hybrid tablet aspect and other elements could very well make up for the increased thickness.
The base model of the XPS 12 Duo starts at $1200 and comes with an i5-3317U, 4GB RAM, and a 128GB SSD. Pricing is usually a major factor when people are shopping for a new laptop, and $1200 is likely a lot higher than most will be willing to pay. That's going to be a problem, and we would expect a system carrying a price like this to basically get every element right, which is unfortunately not the case. The various upgrades that are available only make the situation worse. For $200 more, Dell will sell you an i7-3517U with 8GB RAM, $1500 will get you the i5-3317U with 8GB RAM and a 256GB SSD, or you can get the whole enchilada (like our review system) for "only" $1700. Yikes!
I'm not sure why companies insist on trying to milk their customers like this, but frankly there's no point in even offering a 4GB model at this stage; we're talking about $27 for 2x2GB compared to $45 for 2x4GB at retail, and with a starting price well north of $1000 we expect 8GB standard. Dell also looks to be charging roughly $250 for the 256GB SSD upgrade; granted, compact SSDs are more expensive than 2.5" models, but a new 256GB mSATA SSD will generally cost less than $300 and a 128GB model is under $150, so we'd like the upgrade cost to be closer to $100. And rounding out the pricing the CPU upgrade is also a premium charge, since Intel quotes $225 for the i5 compared to $346 for the i7 (and there's no way Dell is paying anywhere near those prices).
As much as there is to like with the XPS 12 Duo, I find myself at the same conclusion I came to with the Acer S7: this is a good Ultrabook, but who is going to pay Apple prices (or even higher than Apple prices) for Dell hardware? Apple has built a premium brand name over the years and their user base is willing to support their prices, but there simply aren't any Apple compatible laptops (unless you want to try and make your own Hackintosh/HackBook). In the Windows world, alternatives are a dime a dozen, so you can't get away with the same premiums even if you're making premium hardware. My gut feeling is that the XPS 12, like the S7, is priced about $200 too high on the base model, and about $400 too high for the top configuration we're reviewing. But if we just ignore pricing for a bit, how does the XPS 12 fare in day-to-day use?