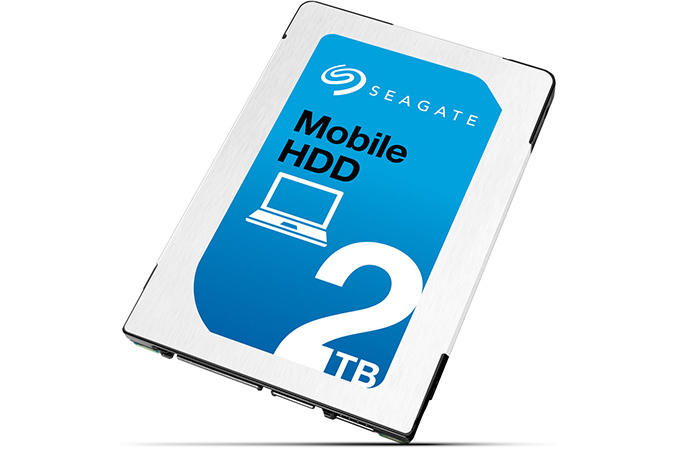 Seagate has started to ship its highest-capacity hard drives for notebooks. The new HDDs use shingled magnetic recording (SMR) technology with very high areal density as well as slimmed-down mechanics.
The new Seagate Mobile HDD 2 TB is the first hard drive to market in a 2.5-inch/7 mm form-factor with such extreme capacity. The hard drive is based on two 1 TB SMR platters running at 5400 RPM and features 128 MB of cache as well as SATA interface. The maximum sustainable transfer rate of the HDD is 100 MB/s, which is considerably lower than that of mainstream mobile hard drives (145 – 169 MB/s for Seagate's own laptop HDDs). Seagate declares 13 ms average seek time for the hard drives. The new HDD weighs 3.17 oz (or 90 grams) and is aimed primarily at mobile computers or bulk cold storage, where you can arguably fit eight drives into a single 5.25-inch bay. Supermicro has an 88-bay 4U rack unit where each drive is hotswappable, though that fits a large PC in the rear; if hot-swappable isn't required, we could be looking at nearly 200+ per storage 4U rack with appropriate backplanes.
Three sets of drives will be offered, in 1TB and 2TB configurations:
2TB
1TB
Base Model
ST2000LM007
ST1000LM035
Seagate Secure Model
(Self Encryption)
ST2000LM009
ST1000LM037
Seagate Secure FIPS Model
(FIPS 140-2)
ST2000LM010
ST1000LM038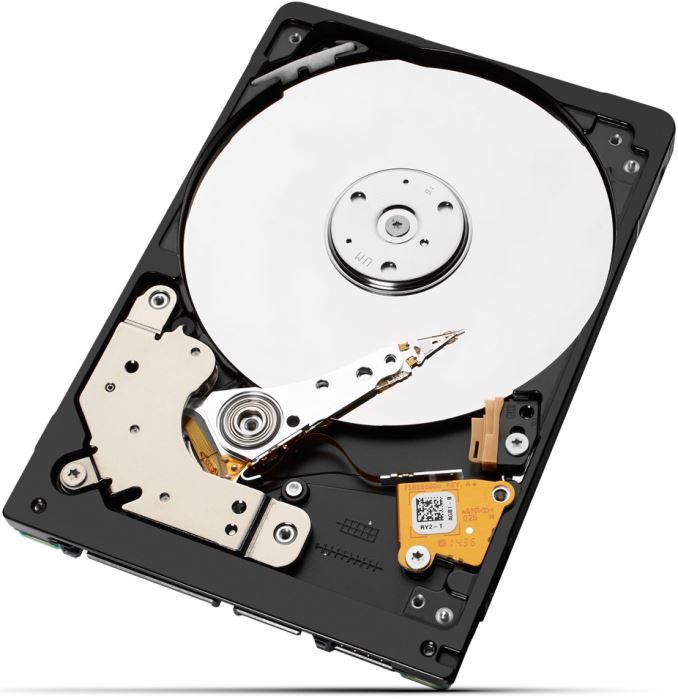 The SMR technology enables areal densities higher than 1 Tbit per square inch, but at the cost of performance. HDDs featuring shingled recording write new magnetic tracks that overlap part of the previously written tracks, which may slowdown writing since the architecture requires HDDs to rewrite adjacent tracks after any writing operation. In order to "hide" such peculiarities of SMR, Seagate has developed special firmware that ensures optimal writing performance. Part of the reason why Seagate installs a massive 128 MB cache on a 2 TB HDD is because the firmware needs it to store data from tracks that have to be overwritten. Alternatively, it is required to alter operating systems and software, which is not economically feasible.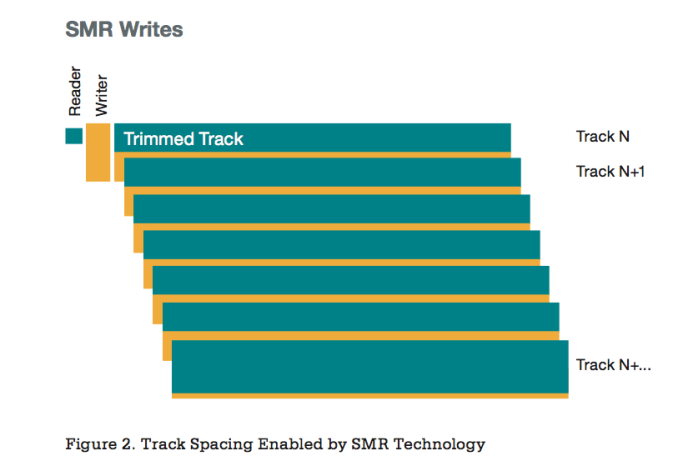 Usage of SMR technology is justified in environments that are used to archive cold data that is not updated frequently because write performance of such HDDs may be rather slow. Client PCs both read and record data and it remains to be seen whether performance offered by SMR-based client HDDs will be sufficient for the end-user. The Seagate Mobile HDD 2 TB is around 60% slower than the Seagate Laptop HDD 2 TB based on maximum sustainable transfer rate.
Seagate did not disclose whether SMR platters used inside the Mobile HDD 2 TB are made in-house, or by Showa Denko K.K. (SDK), the world's largest independent producer of hard drive platters. In addition to SMR technology, Seagate used its new mechanics, including new head, preamp, channel and other mechanisms for the Mobile HDD 2 TB HDD. Slimmed down mechanical components allowed Seagate to integrate two platters into a 7 mm hard drive.
Seagate did not reveal any information concerning pricing of its new HDDs. While the product is unique because of its form-factor and capacity, its performance is lower compared to other HDDs. It will be very interesting to see how Seagate prices its new HDD, given its pros and cons.
Related Reading
Seagate to Ship 5TB HDD in 2014 using SMR - Brief SMR Overview
Seagate Mobile HDD Specifications (1TB and 2TB) - Specifications
Source: Seagate