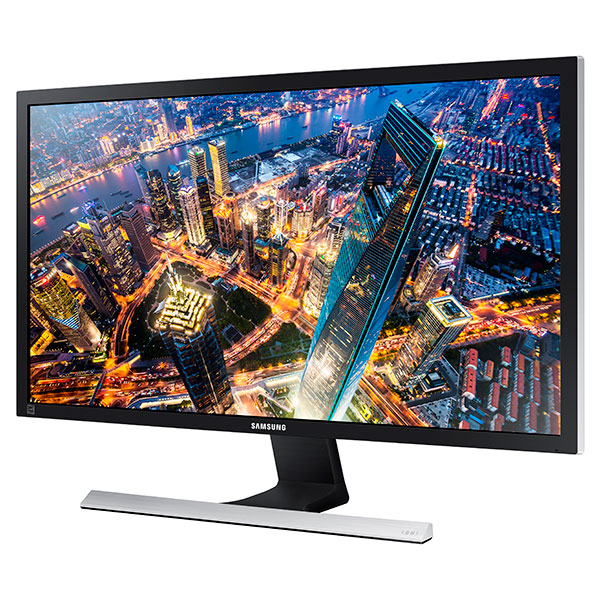 Today Samsung launched two new UltraHD monitors with support for AMD's Freesync technology. AMD actually announced these monitors at their Future of Compute event last year, but there wasn't much information about them beyond the fact that they would be UHD panels and ship with Freesync support. As you may know, Freesync is AMD's alternative to NVIDIA's G-Sync technology to enable variable refresh rates on displays. We've talked about how this works and the implications it has, but the most significant benefit is that it can reduce stuttering and tearing when a game's frame rate isn't synchronized with the native maximum refresh rate of the display.
As far as these two displays go, they're two different sizes of UHD panels. However, while the 23.6" model is a PLS panel, the 28" model is a TN panel like the existing U28D590D which does not have Freesync. I've organized the most relevant specifications of both new displays below.
U24E590D
U28E590D
Panel Size
23.6"
28"
Panel Type
PLS
TN
Resolution
3840 x 2160
Refresh Rate
60Hz
Response Time (GtG)
4ms
1ms
Viewing Angle (H/V)
178° / 178°
170° / 160°
Inputs / Outputs
1 x HDMI 2.0
1 x HDMI 1.4
1 x DisplayPort 1.2
Number of colors
16.7 million
1.07 billion
Color Gamut
100% sRGB
Price
$399
$599
Samsung's U28D590D was really the first affordable 60Hz UltraHD monitor, and aside from the addition of Freesync support the U28E590D is essentially unchanged. To me, the U24E590D is the more interesting display. At 23.6" it's a fairly high density UltraHD monitor, and it's a PLS panel which will definitely outperform the 28" display when it comes to viewing angles and color shift. Samsung advertises 16.7 million color support but it's not clear if that's achieved through temporal dithering or if the panel actually has an 8bit color depth for each color channel. At $399 it's also extremely affordable, and undercuts Dell's P2415Q which has been one of the most affordable non-TN 60Hz UltraHD dsplays up until this point.
The 28" U28E590D is available now for $599, and the smaller 23.6" U24E590D will be available for $399 on July 26th.
Source: Samsung via TechPowerUp