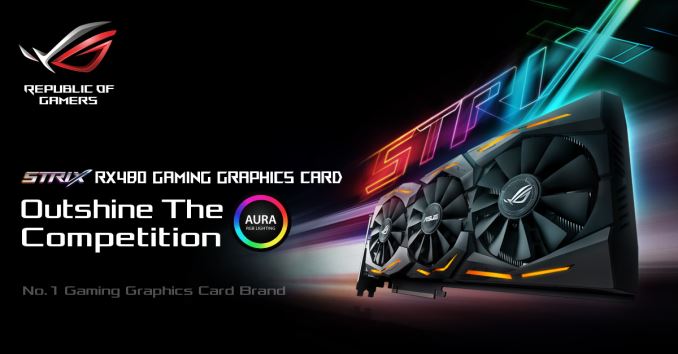 After a lengthy tease from AMD we are finally seeing the new AMD Radeon RX 480 roll out. As we saw in our preview the card successfully makes leaps in its power to performance profile and brings a healthy performance jump to the mainstream market. It goes without saying that there will be custom cards coming from other vendors.
ASUS is the first to throw their hat into the ring with their new ROG Strix RX 480. This card will of course feature AMD's new Polaris 10 core which brings us performance improvements with less power and heat. The ROG Strix RX 480 will also be an 8GB card running at 8GHz on the cards 256-bit bus, though ASUS has not yet released clock speeds for the GPU core.
The new card will be housed in ASUS's DirectCU III cooler which will allow more performance and less noise. Around back the card will have a back plate. With both the back plate and the black metal shroud featuring Asus's new Aura RGB lighting which will be helpful in color matching the card to a wide variety of builds.
ASUS is first to the punch with their custom cards, but many are sure to follow with the new release of the AMD Radeon RX 480. We'll be sure to report on them as announcements come in.
Source: ASUS