GPU & Gaming Performance
Previous Kirin SoCs, including the Kirin 955 inside last year's P9, used smaller GPUs with fewer cores, effectively capping peak performance well below competing flagship phones. The Kirin 960 SoC inside the P10, P10 Plus, and Mate 9 breaks this trend, however. It uses a Mali-G71MP8 GPU based on ARM's new Bifrost architecture, and while it still processes 1 pixel/texel per clock per core and up to 12 FP32 FMAs per core like the Mali-T880MP4 Midgard GPU in the P9's Kirin 955 SoC, it uses twice as many cores, giving it a significant advantage in both ALU and texturing throughput.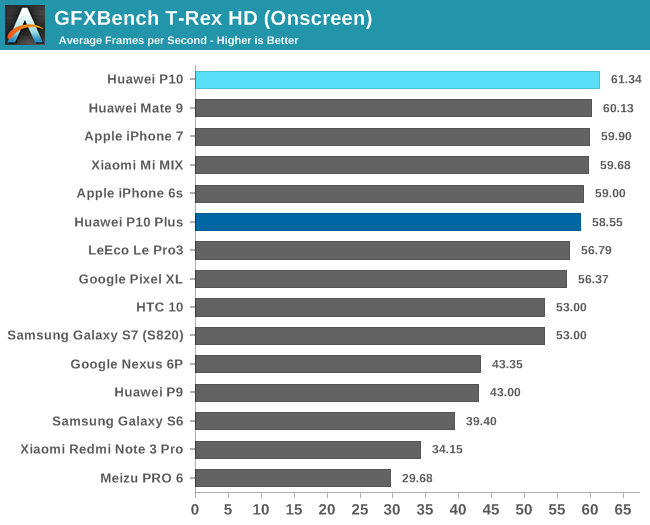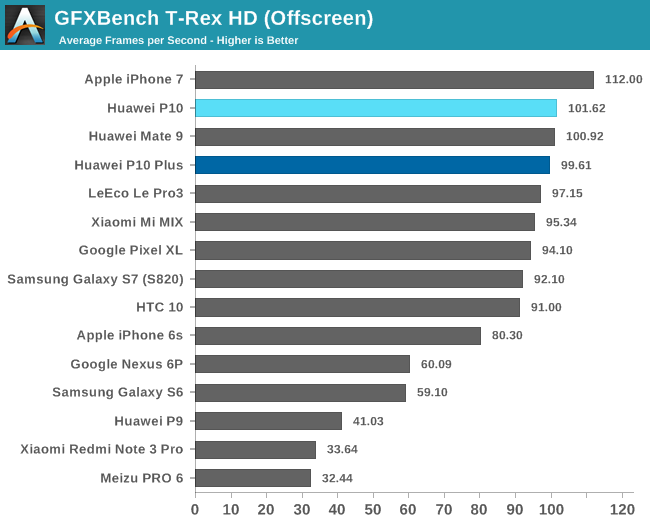 Like most flagship phones today, the P10 has no trouble hitting the 60fps V-Sync limit in the older OpenGL ES 2.0-based GFXBench T-Rex game simulation. Even the P10 Plus with its higher 2560x1440 native resolution averages close to 60fps. When running offscreen at a fixed 1080p resolution, both P10s and the Mate 9 achieve the same score (as expected), which is comparable to phones running Snapdragon 820/821 SoCs.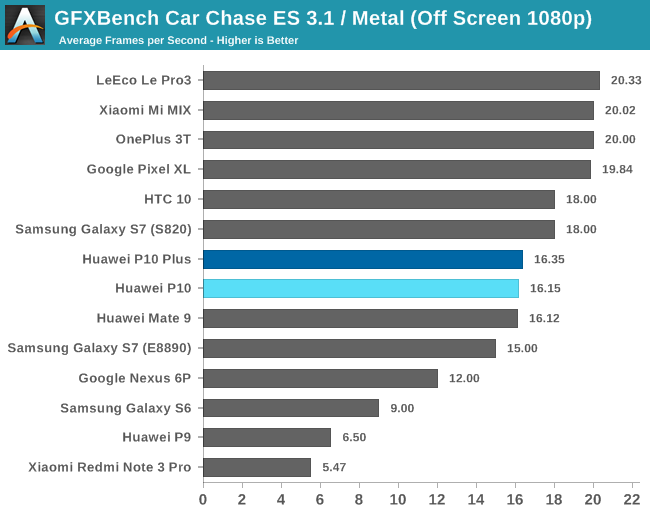 The GFXBench Car Chase game simulation uses a more modern rendering pipeline and the latest features, including tessellation, found in OpenGL ES 3.1 plus Android Extension Pack (AEP). Like many current games, it stresses ALU performance to deliver advanced effects.
Focusing on the offscreen results, there's no surprises among the phones with Kirin 960. The P10 is about 2.5x faster than the P9, which is a little more than the difference in core count and GPU frequency alone can account for. I noted in the Mate 9 review that one of the biggest changes between ARM's Midgard and Bifrost architectures is the move away from shader cores that use an SIMD ISA and rely on Instruction Level Parallelism (ILP) to shader cores with a scalar ISA that rely on Thread Level Parallelism (TLP). This change helps Bifrost improve shader core utilization, because it's much easier to extract TLP from modern game workloads.
These architectural improvements help the P10's Mali-G71MP8 GPU outpace the older but larger Mali-T880MP12 GPU in the Galaxy S7's Exynos 8890 SoC, although the P10's significant frequency advantage (1037MHz vs 650MHz for the S7) also plays a significant role. In this particular ALU-heavy workload, the Adreno 530 GPU in Qualcomm's Snapdragon 820/821 SoC still comes out on top, however. The LeEco Le Pro3, OnePlus 3T, and Pixel XL all use a newer GPU driver, which allows them to pull ahead of the other Snapdragon 820 phones.
In the onscreen test, the Le Pro3, OnePlus 3T, and Mi MIX, come out on top by combining a Snapdragon 820/821 SoC with slightly lower resolution 1080p displays. The P10 and Mate 9 also have fewer pixels to render than the 1440p P10 Plus, giving them a 51% advantage here.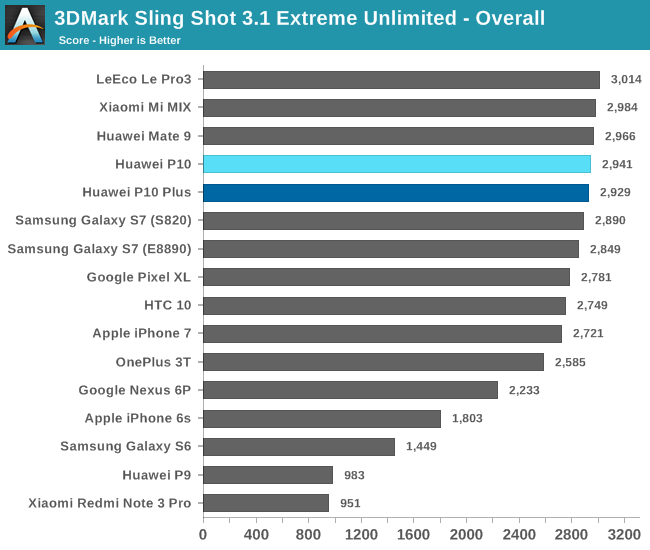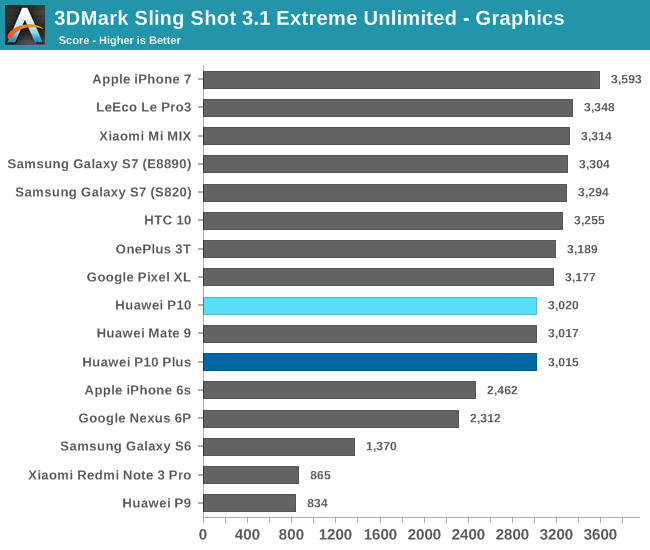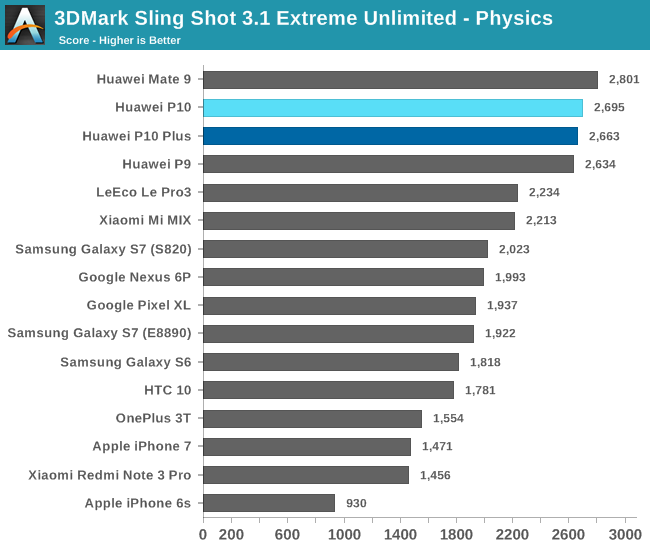 3DMark Sling Shot Extreme uses either OpenGL ES 3.1 on Android or Metal on iOS and stresses the GPU and memory subsystems by rendering offscreen at 1440p (instead of 1080p like our other tests).
There's only a 17% performance spread across current generation flagship phones, from the LeEco Le Pro3 to the OnePlus 3T, based on the overall score. ARM's new Bifrost architecture sees an even bigger jump in the 3DMark Sling Shot graphics workloads, showing an 86% improvement over the Midgard GPU architecture in the P9 after applying a 2x scale factor to simulate the difference in core count. There's still a small 10% gap between the P10 and the Snapdragon 820/821 phones, which get most of their advantage in the second graphics test that emphasizes pixel rather than geometry processing.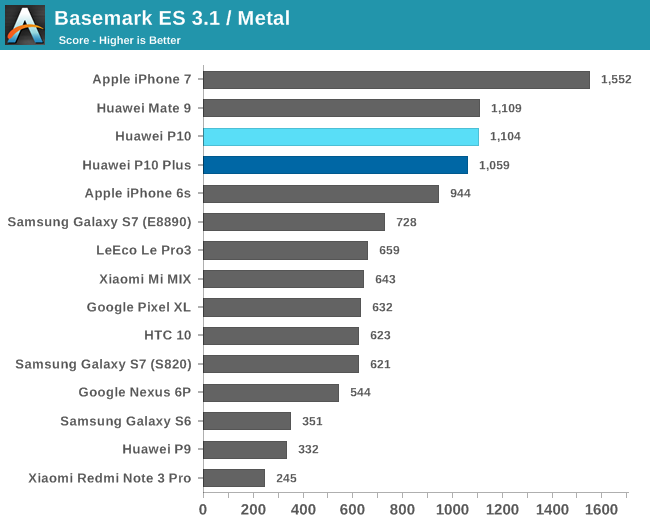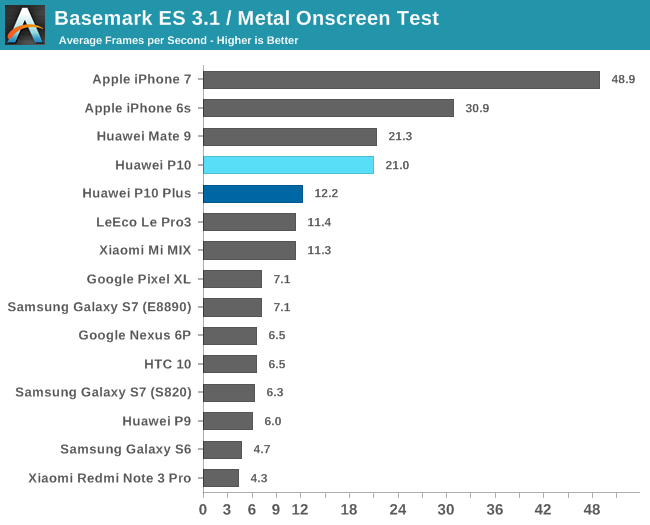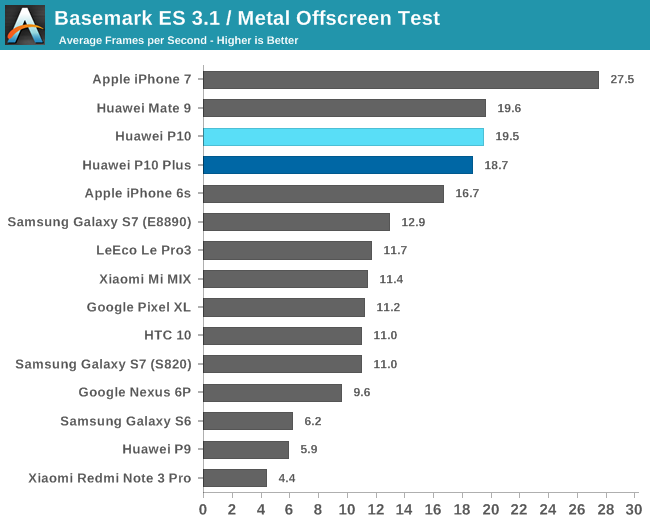 The demanding Basemark ES 3.1 game simulation uses either OpenGL ES 3.1 on Android or Metal on iOS. It includes a number of post-processing, particle, and lighting effects, but does not include tessellation like GFXBench 4.0 Car Chase.
The iPhone 7 takes advantage of Apple's Metal graphics API, which dramatically reduces driver overhead when issuing draw calls, to pull ahead of the Android phones that are still using OpenGL in this test. While the P10s support Vulkan, a new low-level graphics API that has similar benefits to Apple's Metal, benchmark and game support is taking longer to materialize. We should see it in action later this year, though.
The two P10s do very well in this test, placing ahead of the Exynos 8890 version of the Galaxy S7 by 52% and the Snapdragon 820 version by 78%. Even though we've seen the Adreno 530 GPU perform well in our other tests, it's interesting to see it fall behind the Mali GPUs in this workload.
As expected, both the P10 and P10 Plus perform just as well as the Mate 9, all of which are using LPDDR4 RAM. Doubling the number of shader cores and switching from the Midgard to the Bifrost GPU architecture significantly improves peak performance over the previous generation, and puts the P10 in the same league as other current flagship phones.