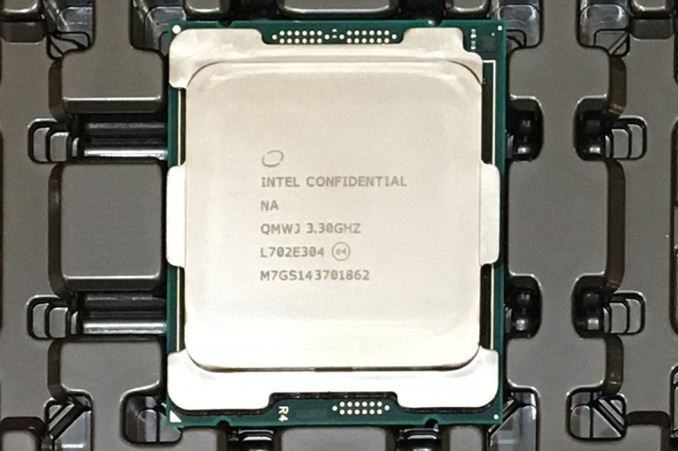 Building a PC is an experience worth having. Finding out what works with what and putting it all together is an experience, and the first time always gives a sense of achievement and accomplishment. In the high-end desktop space, even more so: trying not to break your first $500+ CPU can be akin to feeling like a surgeon. Following the HEDT space can be a journey, especially after five years of iterative updates we are seeing something special happening in 2017. Intel, the incumbent, is changing its 2017 strategy in a few ways which means there is more to understand, and in the future, and also means it is set to release 18-core consumer processors. Today is the first part of that release, with the new Skylake-X processors: the Core i9-7900X, the Core i7-7820X and the Core i7-7800X. These throw a few curveballs into the mix which are worth walking into.
Back at Computex, Intel announced its new high-end desktop (HEDT) platform code named Basin Falls. There are three elements to Basin Falls: the new X299, chipset which brings a number of enhancements from the more mainstream consumer line, a set of Skylake-X processors based on the Skylake-SP microarchitecture (and slightly different from the mainstream Skylake-S processors launched in 2015) from 6 cores to 18 cores, and a pair of Kaby Lake-X processors, reusing the Kaby Lake-S silicon launched earlier this year but with a bit more frequency and power consumption.
We covered all three parts in our launch pieces (linked below), but here is a quick recap.
Intel Announces Basin Falls: The New High-End Desktop Platform and X299 Chipset
Intel Announces Skylake-X: Bringing 18-Core HCC Silicon to Consumers for $1999
Intel Announces Kaby Lake-X Processors: High-End Desktop Getting the Latest Microarchitecture
Skylake-X Today: Three CPUs, Up to 10 Cores, Lower Pricing than Broadwell-E
One of the big criticisms from the launch of Broadwell-E, the platform before Skylake-X, was that Intel significantly increased prices over the preceding generation. Nominally consumers were used to the fact that the top chip in the stack was $999 to $1099, and rather than readjust the 6, 8 and 10 core parts to do so, Broadwell-E pushed the 10-core Core i7-6950X to ~$1721, in order to claim parity with the enterprise processors. Users who scoffed at that price will be pleased to hear that the Skylake-X processors launching today are priced more in line with Intel's traditional HEDT chips.
Skylake-X Processors (Low Core Count Chips)
Core i7-7800X
Core i7-7820X
Core i9-7900X
Cores / Threads
6/12
8/16
10/20
Base Clock
3.5 GHz
3.6 GHz
3.3 GHz
Turbo Clock
4.0 GHz
4.3 GHz
4.3 GHz
TurboMax Clock
N/A
4.5 GHz
4.5 GHz
L3
8.25 MB
11 MB
13.75 MB
PCIe Lanes
28
44
Memory Channels
4
Memory Freq
DDR4-2400
DDR4-2666
TDP
140W
Price
$389
$599
$999
The Core i9-7900X is the 10-core processor and set to have a tray price of $999, which means the shelf price will be around $1049-$1099. The Core i9-7900X is also the only one with a full complement of 44 PCIe lanes from the processor, as Intel is restricting this feature to the higher cost parts of the stack in order to further differentiate it from the cheaper i7-7800 series. This processor is quite aggressive in its specifications – normally the top LCC processor is clocked down, using the extra cores as the main reason for purchase, but here Intel is supporting a maximum turbo frequency of 4.3 GHz, or up to 4.5 GHz with the new-ish favored core mode. The base frequency is lower than the other CPUs to compensate, at 3.3 GHz, but we saw an all-core frequency at 4.0 GHz in our testing. This all comes in a 140W TDP, with support up to DDR4-2666 in quad channel mode at 1 DIMM per channel (DDR4-2400 at 2DPC).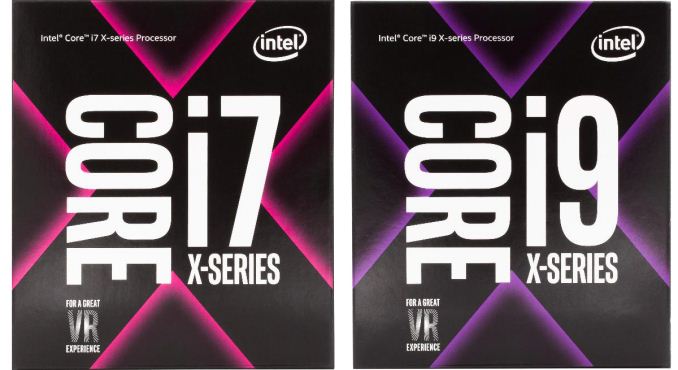 The Core i7-7820X sits below, exchanging two of the CPU cores and some PCIe lanes for a higher base frequency. This is an eight-core part, which reduces the total cache as well, but has a base frequency of 3.6 GHz to compensate. The PCIe lanes are reduced from 44 to 28 as part of Intel's product segmentation strategy, although Intel notes this is still enough for a single GPU and three PCIe 3.0 x4 devices (such as storage) directly attached to the processor. DRAM support is the same as the Core i9 at DDR4-2666, as is also the TDP at 140W. Coming in at $599 represents a bit of a step from the 10-core down to the 8-core. This price will arguably draw a good number of users who would rather direct that $400 to something else in their system with the only deficit being two cores and a proper x16/x16 layout for dual video cards.
The bottom processor is the Core i7-7800X, with six cores, a lower frequency (3.5 GHz base, 4.0 GHz turbo, no favored core support), 28 PCIe lanes, and support only up to DDR4-2400. While categorically 'the runt' of the litter, Intel has priced this part at $389, only $50 more than the mainstream consumer quad-core overclocking processors. Along with a slight cost increase for the new X299 motherboards, users looking to move from the mainstream to the bottom rung of the high-end desktop can do so with around $120-$150 extra for CPU+motherboard, and then a bit more if the users wants to use quad channel memory (these processors work in dual channel as well). As the low-end part, traditionally users may point to it as a potential overclocking processor – we unfortunately did not have time to test our sample for overclocking, but I wouldn't be surprised to see it hit the same frequencies as the other two processors fairly easily.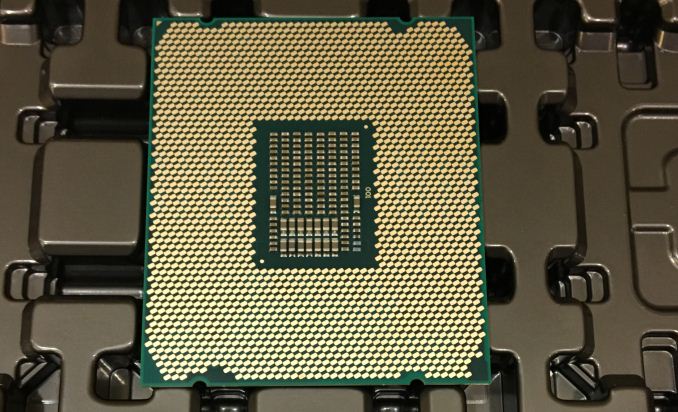 Competition and Market
In previous years, Intel only had one serious angle of competition for the HEDT platform: itself. As it introduced new generation parts, the older generation could (sometimes) be picked up cheaper, making the older generation more enticing. But as it stands, for the first time in a long time, Intel has three main sources of competition for the X299 platform.
First is as mentioned, Intel's older platform in Broadwell-E (or even Haswell-E). Broadwell-E, aside from the steep pricing, is now a solid platform, with extensive motherboard support and well-known functionality. Intel has not officially dropped the prices of the older processors, which unless the retailers decide to shift stock wholesale might discourage users going for brand new CPUs, but the ecosystem for BDW-E is mature.
Comparison: Core i9-7900X vs.
i7-6950X vs i7-5960X
Features
Intel Core i9-7900X

Intel Core i7-6950X

Intel Core i7-5960X

Core
Skylake-SP
Broadwell
Haswell
Cores/Threads
10 / 20
10 / 20
8 / 16
Base/Turbo
3.3 / 4.3 GHz
3.0 / 3.5 GHz
3.0 / 3.6 GHz
PCIe 3.0 Lanes
44
40
40
L2 Cache/core
1 MB
256 KB
256 KB
L3 Cache
13.75 MB
25 MB
20 MB
TDP
140 W
140 W
140 W
Price (MSRP)
$999
$1723
$999
Second is AMD's recently released Ryzen set of CPUs. As the first new serious entry into the HEDT space for AMD in almost five years, along with a new x86 core, AMD offered similar-ish performance to Broadwell-E in many aspects (within a few percent), but at half the price or better. The Ryzen CPUs still had other limits – dual channel memory, only sixteen PCIe lanes, limited IO from the chipset, and a miasma surrounding the launch with motherboards and memory support; but several months on the ecosystem for Ryzen is fairly solid and still a new and exciting prospect for the HEDT crowd. For $60 less than the price of the Core i7-7800X, a six-core Intel processor, AMD offers the Ryzen 7 1700, which runs in at 8 cores at slightly lower frequency, with cheaper motherboards as well.
Comparison: Core i7-7800X vs. Ryzen 7 1700
Intel
Core i7-7800X
Features
AMD
Ryzen 7 1700
6 / 12
Cores/Threads
8 / 16
3.5 / 4.0 GHz
Base/Turbo
3.0 / 3.7 GHz
28
PCIe 3.0 Lanes
16
8.25 MB
L3 Cache
16 MB
140 W
TDP
65 W
$389
Price (MSRP)
$299
Both Intel and AMD would argue the merits of the platforms vs. cost, but Intel still this as an angle for competition. Similarly, the 6-core Core i7-7820X at $599 goes up against the 8-core $499 Ryzen 7 1800X.
Comparison: Core i7-7820X vs. Ryzen 7 1800X
Intel
Core i7-7820X
Features
AMD
Ryzen 7 1800X
8 / 16
Cores/Threads
8 / 16
3.6 / 4.3GHz
(4.5 GHz TMax)
Base/Turbo
3.6 / 4.0 GHz
28
PCIe 3.0 Lanes
16
11 MB
L3 Cache
16 MB
140 W
TDP
95 W
$599
Price (MSRP)
$439
Third is AMD's future HEDT (or Super High-End Desktop, SHED) platform. Announced in the run up to Computex, AMD is set to offer a new X399 chipset with ThreadRipper processors up to 16-core and with 60 PCIe lanes for graphics (plus four for the chipset, which is why AMD keeps saying 64). AMD is using two of its consumer Zeppelin silicon dies on the same package to get up to 16-cores, and has a new socket planned due to the increase in PCIe support. Having had Intel moving from 6 to 8 to 10 cores on the HEDT space over the last 5-6 years meant that AMD announcing a 16-core part was a big enough jolt to this market such that Intel has to provide a response. Pitting a 10-core CPU such as the Core i9-7900X against a 16-core AMD CPU means that AMD would win most the high-throughput heavily-threaded benchmarks, despite perhaps being lower frequency and higher power. For the HEDT/SHED crowd, sometimes it's all about how quick you can compute. AMD is set to launch the X399 platform and ThreadRipper CPUs in the summer, so we're still light on details until then, but given AMD's disruptive nature, there's a real risk to Intel that AMD will once again undercut Intel's equivalent 16-core pricing by a large amount.
Comparison: Core i9-7900X vs.
i7-6950X vs i7-5960X
Features
AMD Ryzen 7 1800X
Intel Core i9-7900X
AMD ThreadRipper
Core
Zen
Skylake-SP
Zen
Cores/Threads
8 / 16
10 / 20
16 / 32
Base/Turbo
3.6 / 4.0 GHz
3.3 / 4.3 GHz
?
PCIe 3.0 Lanes
16
44
60
L2 Cache/core
512 KB
1 MB
512 KB
L3 Cache
16 MB
13.75 MB
32 MB
TDP
95W
140 W
>140W ?
Price (MSRP)
$439
$999
?!?
What Is This Review
This review comes in two big meaty chunks to sink your teeth into. The first part is discussing the new Skylake-X processors, from silicon to design and covering some of the microarchitecture features, such as AVX-512-F support and cache structure. As mentioned, Skylake-X has some significantly different functionality to the Skylake-S core, which has an impact on how software should be written to take advantage of the new features.
The second part is our testing and results. We were lucky enough to source all three Skylake-X processors for this review, and have been running some regression testing of the older processors on our new 2017 testing suite. There have been some hiccups along the way though, and we'll point them out as we go.
An extra morsel to run after is our IPC testing. We spend some time to run tests on Skylake-S and Skylake-X to see which benchmarks benefit from the new microarchitecture design, and if it really does mean anything to consumers at this stage.
It should be noted that Intel did not provide all the CPUs for this review. As with standard Intel policy, only the top CPU came direct from Intel. All CPUs in this review are classified as engineering samples for partner testing and not for resale, although they are identical to retail CPUs in performance.