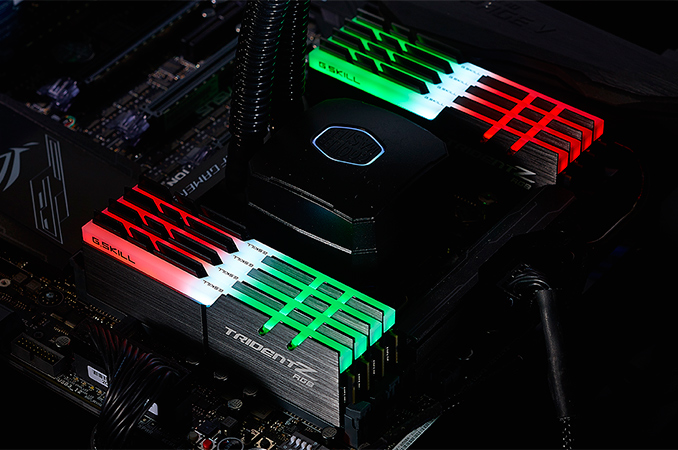 G.Skill this past week has formally announced its quad-channel memory kits designed for the latest Intel Core i7 (Skylake-X) CPUs and the Intel X299 platform. The flagship 64 GB Trident Z kit boasts a 4200 MT/s data transfer rate, a rather notable step up from the company's "entry-level" 3600 MT/s kit. In addition, G.Skill is also introducing its new Trident Z Black series dual-channel DDR4-4400 kit for Intel's Kaby Lake-X processors.
G.Skill's lineup of memory kits for the Intel X299 platform consists of 8 GB and 16 GB Trident and Trident Z RGB DIMMs based on Samsung's popular 20nm-fabbed 8 Gb DDR4 DRAM modules. The various kits are available at 3600 MT/s, 3733 MT/s, 3800 MT/s, 4000 MT/s, and 4200 MT/s data transfer rates, while their voltages run from 1.35 to 1.4 V. As you'd expect, the higher clocked kits also come with higher latency, with latencies starting at CL16 and reaching CL19 by DDR4-4200 speeds. Which goes to show that even though Intel's Skylake-X and Kaby Lake-X CPUs can handle very high DRAM frequencies, the tradeoff between clocks and timings has not gone anywhere.

Meanwhile it's interesting to note that despite G.Skill's recent obsession with RGB lighting – resulting in the company offering RGB-equipped DIMMs for most of the Trident Z range – the fastest DDR4-4200 and DDR4-4400 kits are not available with RGB lighting. Keeping in mind that this kind of extreme DDR4 overclocking requires increased voltage and very "clean" power, it may not be easy to apply RGB to such DIMMs without affecting their stability. Still, keeping in mind that G.Skill itself demonstrated DDR4-4200 Trident Z RGB DIMMs in quad-channel mode at Computex, it is a matter of time before appropriate modules will hit the market.
G.Skill's Trident Z Memory for Intel's X299 Platform
Speed
CL Timing
Voltage
Kit Configuration
Kit Capacity
Family
DDR4-3600
CL16 16-16-36
1.35 V
4×8 GB
8×8 GB
32 GB
64 GB
Trident Z
Trident Z RGB
CL17 19-19-39
4×16 GB
8×16 GB
64 GB
128 GB
DDR4-3733
CL17 17-17-37
4×8 GB
8×8 GB
32 GB
64 GB
CL18 19-19-39
4×16 GB
8×16 GB
64 GB
128 GB
DDR4-3800
CL18 18-18-38
4×8 GB
8×8 GB
32 GB
64 GB
CL19 19-19-39
4×16 GB
8×16 GB
64 GB
128 GB
DDR4-4000
CL18 19-19-39
4×8 GB
8×8 GB
32 GB
64 GB
DDR4-4200
CL19 19-19-39
1.4 V
8×8 GB
64 GB
Trident Z
DDR4-4400
CL19 19-19-39
1.4 V (?)
2×8 GB
16 GB
Trident Z Black
G.Skill traditionally announces its new memory modules a little bit ahead of their retail launch and does not set MSRPs ahead of actual availability, so pricing has not yet been disclosed on the company's newest kits.
Related Reading:
Source: G.Skill