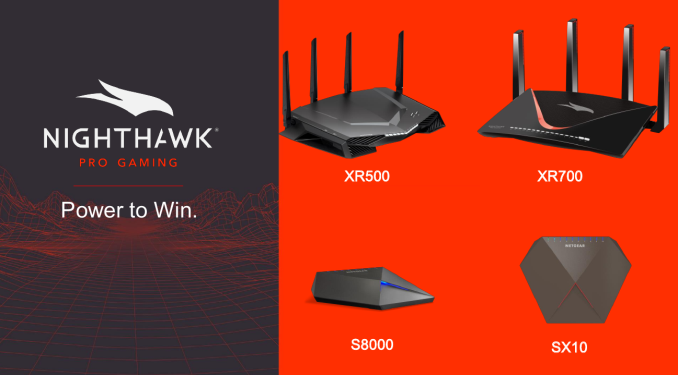 At the 2018 CES, Netgear had introduced the Nighthawk XR500 gaming router and the SX10 (GS810EMX) NBASE-T switch as part of the Nighthawk Pro family to server the needs of gamers. Today, they are launching the XR700 router that brings the capabilities of the router component to be a more powerful complement to the SX10 NBASE-T switch introduced earlier.
Similar to the XR500, the new XR700 router runs the DumaOS firmware developed by Netduma. DumaOS has been receiving frequent updates to enable compatibility of features such as geo-filtering with the latest games. The capabilities of DumaOS have been well-marketed by Netgear earlier. The main difference between the XR500 and the XR700 lies in the internal hardware.
While the XR500 was an AC2600 router with the Qualcomm-based Nighthaws X4S platform, the XR700 makes the step up to AD7200. This platform was last seen in the Nighthawk X10 launched in Q4 2016. It integrates an Annapurna Labs AL-314 SoC along with 802.11ac / 802.11ad radios from Qualcomm. In addition to the 802.11ad capabilities, the router also comes with a 10G SFP+ port. A direct-attach cable / SFP+ module (Netgear AXM765) to convert to 10GBASE-T is available separately. On the firmware side, we get the pre-installed Plex Media Server (similar to the Nighthawk X10).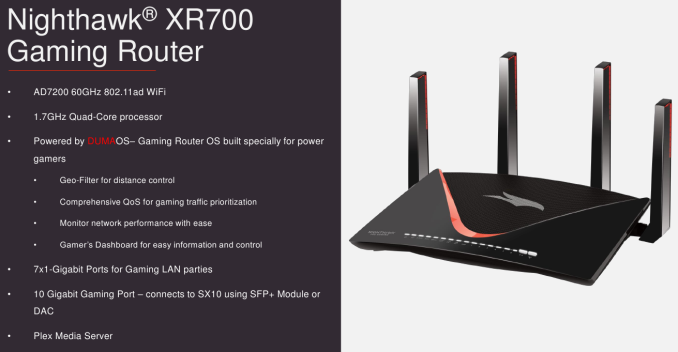 The main differences between the Nighthawk X10 and the XR700 are:
A different industrial design for the chassis, to better reflect the Nighthawk Pro gaming branding
Replacement of the traditional firmware with the gaming-optimized DumaOS
Abilitiy to use the 10G SFP+ port as a WAN port (the Nighthawk X10 restricted it LAN duties when it was launched).
Value addition in the form of a 6 month unlimited Amazon Cloud backup
With the launch of the XR700, Netgear now has a powerful flagship in their Nighthawk Pro Gaming lineup. Combined with the S8000 and SX10 switches, Netgear is able to offer a complete solution for LAN gaming parties, while fulfilling the other requirements of the gaming crowd.
The Netgear XR700 has a MSRP of USD 500, and will be available for purchase in September 2018 for USD 500. The launch price of the Nighthawk X10 was also the same, but that product is available for $420 currently - a better price for those who need 802.11ad and 10G SFP+ without all the gaming features.
Source: Netgear