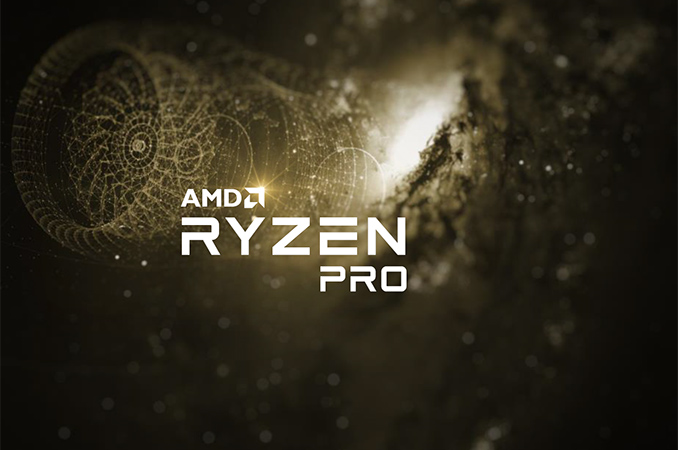 AMD on Monday announced the availability of its 3rd generation Ryzen Pro processors for commercial and small business desktop computers. As with their consumer counterparts, the new Pro CPUs will pack up to 12 cores, and they will be available inside of desktops by HP and Lenovo in the fourth quarter. In addition, AMD also announced new Ryzen Pro and Athlon Pro 3000-series APUs with integrated graphics.
Small Desktops Get 12-Core CPUs
AMD's latest generation of Ryzen Pro CPUs are based on the same Zen 2 "Matisse" microarchitecture as the consumer chips introduced earlier this summer. The initial Ryzen Pro 3000-series family will include three models in the AM4 form-factor, with all of them set for a 65 W TDP. These include the the 12-core Ryzen 9 Pro 3900, the eight-core Ryzen 7 Pro 3700, and the six-core Ryzen 5 Pro 3600.
The processors will feature support for all of AMD's Pro-series features, including a built-in TrustZone security processor, DASH manageability, Secure Boot, Content Protection, per-Application security, fTPM 2.0, Transparent Secure Memory Encryption (TSME), and some other technologies that differentiate AMD's Pro from the firm's regular CPUs for client PCs. Once thing to keep in mind is that these products are truly CPU, and as such do not have integrated graphics.
AMD's 3nd Gen Ryzen Pro Specifications
Cores
Threads
Frequency
Cache
L2 + L3
GPU
TDP
Base
Boost
Ryzen 9 Pro 3900
12/24
3.1 GHz
4.3 GHz
70 MB
-
65 W
Ryzen 7 Pro 3700
8/16
3.6 GHz
4.4 GHz
36 MB
-
65 W
Ryzen 5 Pro 3600
6/12
3.6 GHz
4.2 GHz
35 MB
-
65 W
Initial customers for the Ryzen Pro 3000-series processors will be HP and Lenovo, with the former using them inside its EliteDesk 705 G5 SFF and Mini desktops, while Lenovo will use the chips for their upcoming ThinkCentre M75s-1 SFF and M75q-1 Tiny desktops.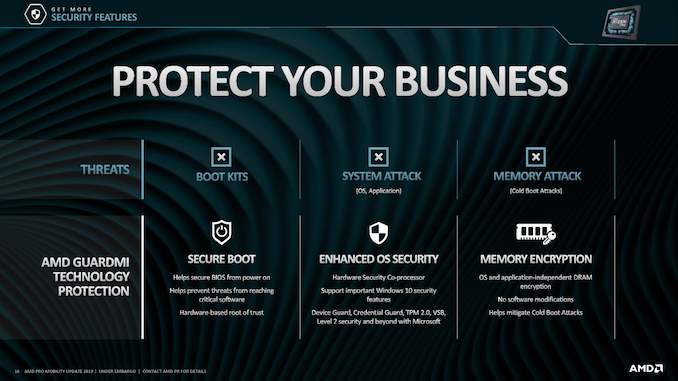 Commercial PCs Get Radeon Vega Graphics
Meanwhile, for more streamlined PCs that need integrated graphics and fewer CPU cores, AMD has also introduced new APUs based on their 12nm Zen+ "Picasso" design, analogous to mainstream their Ryzen 3000 APUs. The new Ryzen 3000 Pro APUs will include the quad-core Ryzen 5 Pro and Ryzen 3 Pro, and the dual-core Athlon Pro 3000-series CPUs, all of which include integrated Radeon Vega graphics. The chips featuring TDPs of 65 W and 35 W depending on the SKU, with the processors slated to be used for select machines from HP and Lenovo, according to AMD.
AMD's 3nd Gen Ryzen Pro & Athlon Pro Specifications
Cores
Threads
Frequency
Cache
L2 + L3
GPU
TDP
Base
Boost
Ryzen 5 Pro 3400G
4/8
3.7 GHz
4.2 GHz
6 MB
11 CUs
65 W
Ryzen 5 Pro 3400GE
3.3 GHz
4.0 GHz
35 W
Ryzen 3 Pro 3200G
4/4
3.6 GHz
4.0 GHz
8 CUs
65 W
Ryzen 3 Pro 3200GE
3.3 GHz
3.8 GHz
35 W
Athlon Pro 300GE
2/4
2.4 GHz
3.3 GHz
5 MB
3 CUs
35 W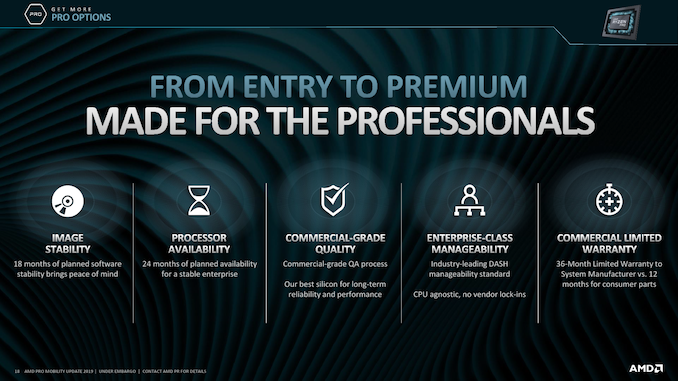 Related Reading:
Source: AMD