Wow, what's with all the CULV hate? I've never seen a quietly introduced, low volume, mobile Intel CPU get so much negative press before.
CULV stands for Consumer Ultra Low Voltage. It's a badge affixed to certain mobile Core 2 Duos that run at lower clocks and lower voltages than standard mobile Core 2 Duos. Just as some CPUs can overclock higher than others, some CPUs can run at lower voltages than others. It all has to do with the bell curve for CPU yield; while the majority will run at a normal frequency/voltage range, some will turn out to be exceptional parts.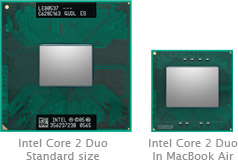 The CULV parts also use the smaller packaging Intel first debuted in the MacBook Air. The bottom line is that these chips will enable smaller, thinner laptops but without dropping down to Atom-level performance. Intel has traditionally always done an ultra low voltage mobile CPU, this time it's just getting marketed a bit stronger - partially because of the smaller packaging, and additionally because of the stronger market for ultra portable notebooks now.
| | | | |
| --- | --- | --- | --- |
| Processor | Clock Speed | L2 Cache | TDP |
| Intel Core 2 Duo SU7300 | 1.30GHz | 3MB | 10W |
The max TDP for the CULV line tops out at 10W, with the lowest end single core chips dissipating a maximum of 5.5W. That's not much more than an Atom processor.
In contrast, standard voltage mobile Core 2s have TDPs ranging from 17 - 35W.
It's not all about dropping the voltage though, clock speed unfortunately suffers. Most CULV chips run in the 1.2 - 1.4GHz range. While that'll still be much faster than an Atom, it's roughly half the frequency of a standard mobile Core 2. You can argue that clock speed doesn't matter, but you'll notice the difference between a 1.2GHz Core 2 and one running at 2.4GHz.
And that's ultimately why OEMs view CULV as a failure in North America: performance. Or at least that's what they've been going around telling everyone.
To a certain extent even Apple has recognized the poor performance of ultra low voltage chips. When it introduced the MacBook Air, instead of going with a 1.2GHz ultra low voltage Core 2 Apple used a low voltage 1.6/1.8GHz Core 2 Duo. The difference in clock speed is one of the things I pointed out as a reason why the MacBook Air didn't suck.
ASUS must've come to the same conclusion, because although its new UL line use a 1.3GHz CULV Core 2 Duo the chip ships overclocked. Yep.