Conclusion
It looks like Google spent a lot of time brainstorming with Honeycomb and the results speak for themselves. With a bevy compelling features like the new holographic UI, richer widgets, better notifications, multitouch gestures, hardware-accelerated 2D/3D graphics and the new Android Marketplace; Honeycomb has a lot going for it. The level of polish that Google has achieved with Honeycomb is quite commendable. The UI effects and transitions are silky smooth; switching between home screens, moving widgets, scrolling though lists is lag-free and can easily rival iOS's traditional advantage in this regard. The new updated native apps make excellent use of the screen space and the multi-paned fragments framework coupled with the new Action Bar make workflows throughout the OS very efficient. The new "Renderscript" graphics engine looks amazing in the YouTube and Music Player apps and offers developers a chance to create even more engaging apps in the future. To be quite honest, after looking at Honeycomb in action, iOS looks like it might need a facelift real soon.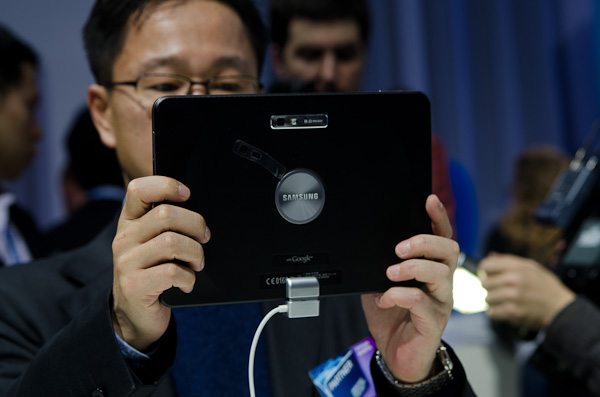 The real advantage for Honeycomb is the aggressive adoption of next-gen SoC platforms by manufacturers. Motorola, Samsung and LG already have tablets with blazing-fast dual-core SoCs from Nvidia, Qualcomm, TI and Samsung. Additionally, manufacturers have gone above and beyond to differentiate themselves from the iPad with much demanded features like SD card slots, USB ports, HDMI output and dual cameras with support for 1080p video recording. Ambitious players like LG are jumping on the 3D bandwagon with stereoscopic cameras for 3D video recording with their Optimus Pad. These features not only appeal to a broad spectrum of customers, but more importantly, create a market where people have compelling selection of tablets to choose from. If Google plays their cards right, Android has the potential to quickly become a force to reckon with in the tablet market.
My Concerns
Android is no stranger to platform fragmentation. The division of the OS into separate releases for phones and tablets has the potential to further exacerbate this issue. To add to the problem, it was believed that Google would have some minimum system requirements for Honeycomb, but that doesn't seem to be the case anymore. In a bid to cater to more diverse price points (just like with handsets), some Honeycomb tablets could potentially compromise the fluid user experience that you'd get on a tablet based around the Tegra 2 for instance. Also, there's no word yet on whether Google will allow custom UIs with Honeycomb. As we all know, custom UIs have traditionally been the cause for delayed OS updates on several Android handsets. Although a lot of handsets now run Froyo, the Nexus S is the only handset officially running Gingerbread. Its almost been two months since Gingerbread was released, and even the Nexus One is yet to receive an official update. Google therefore needs to work more closely with manufacturers to ensure updates get pushed to devices in a timely manner.
Additionally, there's a lot of uncertainty surrounding how exactly some of the new features in Honeycomb would eventually transition down to phone versions of Android. Google has been mildly successful at decoupling some core OS apps such as Maps as standalone downloads, but that still hasn't completely mitigated the problem.
As I mentioned earlier, Google's solution to this problem is Ice Cream; the next release of Android aimed at establishing a feature set parity between tablet and phone versions of the OS. Again, we're not exactly sure about the timelines (although Mr. Schmidt did mention a 6-month release cycle) or the exact features that will make the cut in the next release. However, we can be reasonably sure that many of the under-the-hood enhancements like an updated Dalvik VM, support for multi-core SoCs, 2D/3D hardware acceleration and compatibility with apps written for Honeycomb should make the cut.
When I look at some of the decisions that Google has made with Android, it seems the platform lacks a logical progression from one release to another. For example, Gingerbread completely changed the look of the OS to a more darker and boxy UI. While the rationale behind the darker UI was justified because of potential power savings on AMOLED screens, a similar justification cannot be found for the latter. The Honeycomb UI is a far more drastic departure; thankfully its changes look to be functionality driven given the unique set of requirements a tablet poses. Constant changes to the Android UI do detract from its ability to establish a recognizable identity in the market.
Price is another issue if Honeycomb tablets need to stay competitive in the market. While more expensive tablet price points are tempting, a major strength of Android has been its ability to hit lower price points. For Honeycomb to be successful we need to see tablets priced at an iPad-competitive $499 in addition to the more expensive options we've been hearing about.