Assembling the BitFenix Merc Alpha
BitFenix kindly includes directions in easy-to-read English for assembling a system in the Merc Alpha, but you'll find this is a pretty bog standard ATX case and so assembly is likewise very straightforward. Where they differ is a series of small but welcome touches that do make things at least a little more painless.
First and foremost, mounting a motherboard has historically been easy enough, but BitFenix goes one step more by including a copper stud that holds the board in place while you screw it in. On top of that, as I mentioned on the previous page, the motherboard tray doesn't require you to screw in motherboard mounts for ATX or Mini-ITX boards; screw holes are cut out and raised in the tray itself, and I found the board went in as smoothly as ever. Snapping the I/O shield in proved a little difficult, but honestly whether or not that's been tough has seemed less dependent on the enclosure itself than it has on the time of day and karma.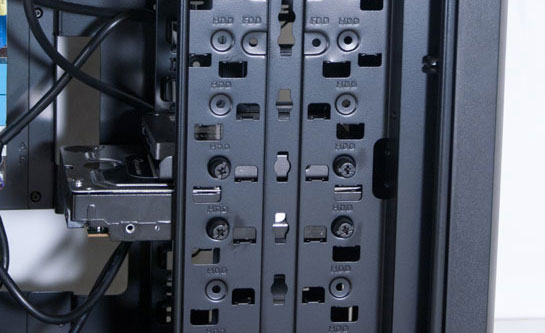 Installing the drives (which you should do next) is fairly easy. For the optical drive, just pop out the bay shield and slide it in, then use the special thumbscrews included. Hard drives are a little trickier but not by much; in that instance, you'll slide them into drive cage with a bit of force so they "snap" into place, then just secure them with thumbscrews. The Merc Alpha does support a single 2.5" drive but it's not immediately evident and the instructions don't point it out (hence why the photos in this review show our test SSD in a 3.5" mount): it's actually screwed into the floor of the case, at the very bottom of the drive cage.
Unfortunately, while installing the power supply was easy, too, expansion cards are a royal pain. You'll need to remove one center screw to remove the backplate for the expansion slots, and then snapping out the slot covers is an exercise is frustration. Some of them were perforated well enough in the review unit to come out without undue effort, but one of them was nightmarishly difficult to remove. While there are the standard screws for mounting expansion cards, the backplate that covers the opening never felt particularly sturdy and I could see it eventually just snapping off.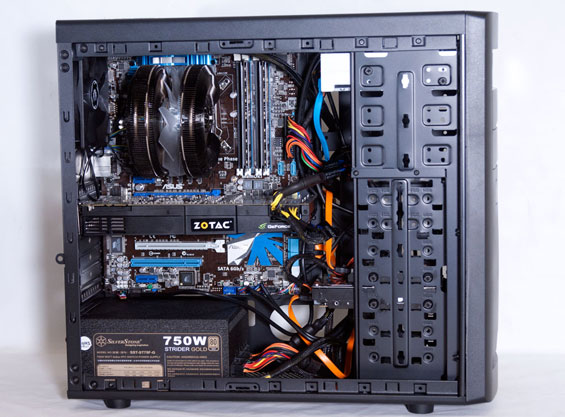 Cabling was surprisingly simple, though. There are holes in the motherboard tray for you to basically fold cables in behind the drive cage, and this system actually worked out remarkably well. My cabling job isn't the cleanest in the world (when is it ever?), but you can see the Merc Alpha at least has some measure of cable management, much appreciated in a $39 chassis.