I spent a fair amount of time at CES playing with the Razer Edge, mostly because it was one of the more intriguing new products on the show floor. (Shield was another one, but Nvidia sadly kept it in a glass cage.) As recapped in our announcement post, it's a 10.1" tablet that packs an ultra-low voltage Ivy Bridge CPU and an Nvidia GT 640M dGPU and comes with a gamepad accessory that turns it into the world's largest GameBoy Advance. This, for a tablet, is a ridiculous amount of power. I've always been someone who appreciates insanity in mobile technology design, and the insanity of a 45W power envelope in a 10" form factor is something that I respect.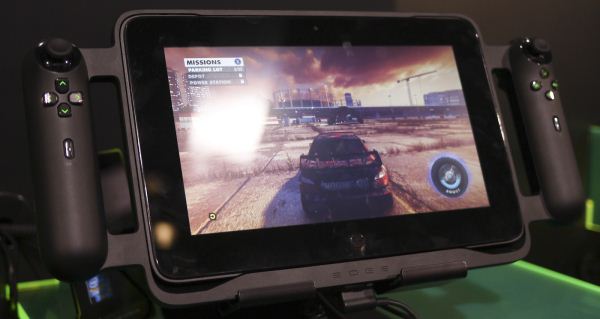 The Edge on its own is pretty intense - 0.8" is really thick for a tablet, with a general sense of chunkiness that starkly contrasts the extremely svelte Blade. The intake and exhaust vents are put to the test in any extended gaming, and one of the units on the show floor that had been continuously running Dirt 3 for the previous few hours was....warm. It'll be hard to tell how close to thermal equilibrium the Edge gets until we get one in our labs, but I expect it to throttle significantly at some point.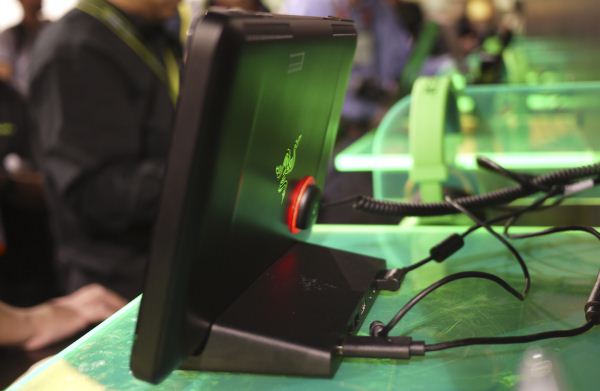 17W Core i5 and i7 parts were chosen instead of the new 7W Y-series CPUs due to the higher clock speeds and better turbo capabilities of the U-series processors. The SSD has not yet been finalized, with different drives in all the prototypes that I played with. The display panel is in fact an IPS panel, which my announcement post was mistaken about (I was misinformed initially during the CES pre-briefing, but Razer's engineering team corrected me). It looks pretty decent, and the capacitive touch panel was pretty responsive. The 1366x768 resolution matches up with most of the other 10.1" Windows tablets we've seen, and was likely chosen in lieu of 1080p so that the GT 640M LE could comfortably game at native resolution.
There's a 40Wh battery on board, with an extended 40Wh extended battery that fits in the gamepad and notebook docks. (It's a 14.8V 2800 mAh battery, for an exact capacity of 41.44 Wh). 80Wh is a ton of battery for a device this small, but when stressed, it'll go quickly. A rough estimate of the internal components gives us a basic estimate of 40W power draw (17W CPU, 22W dGPU, in most gaming situations figure a 50% load on CPU and 100% load on GPU, add about 10W for display, wireless and other miscellaneous stuff) and we're sitting at an hour of gaming on the internal battery and 2 hours with the extended pack. Obviously, turning down settings to reduce system load, brightness, and the intensiveness of the game being played will affect these figures - Razer quotes a range of 2-4 hours of mobile gameplay. Normal battery life should be in the 3-5 hour range on the internal battery and about double that with the extended pack.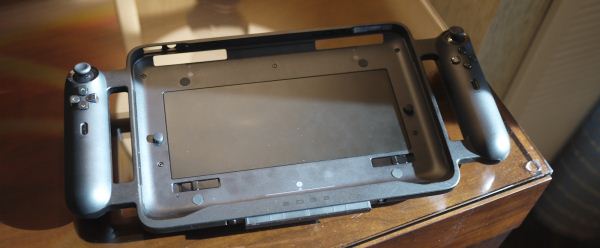 The gamepad controller essentially works like an Xbox controller, with intuitive controls and built-in force feedback. It's pretty cool, I feel like it's something I would have absolutely killed for when I rode the bus to school every day back in my early undergrad days. The tablet clips into the gamepad, which essentially envelops the tablet like a case, and then you're off. I spent my fair share of time playing Dirt on it, and it was just great. Control layout is identical to the 360, and the analogs and triggers are responsive. Razer definitely knows how to put a good 360 controller together, as evidenced by the Sabertooth, so this came as no real surprise. The setup adds a bit of heft to the tablet, to the tune of roughly 3.25 pounds, but for the amount of mobile gaming potential it brings, I'd say it's a relatively small loss. The only downer was the $249 price point on the accessory.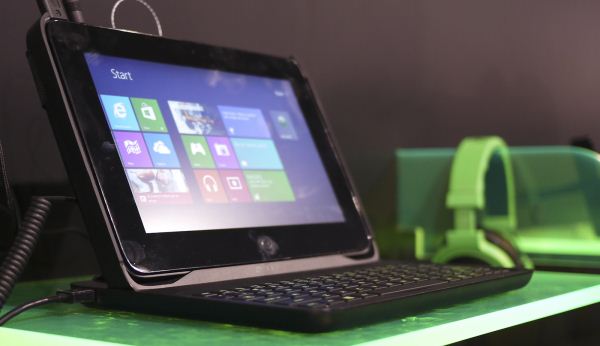 The keyboard dock, on the other hand, was kind of a disappointment. It's definitely a work in progress and isn't expected to ship until Q3 (the gamepad and docking station will ship alongside the Edge in Q1), but it's a clunky piece of kit with a currently not-very-good keyboard and a pretty unrefined hinge/latch design. I'll chalk the flex down to the handbuilt state of the prototypes but the key sizing is way too small - instead of going edge to edge like most netbooks, there's a border left around the keyboard that results in tiny keys. The keys absolutely need to be bigger for any semblance of a decent typing experience. There's a lot of improvement that can be done here; I suggest the design team pick up a Transformer laptop dock or a late-model Eee PC and borrow liberally from that keyboard design. ASUS has absolutely perfected the 10.1" keyboard, so it's not a bad idea. I'm not going to rake Razer over the coals on a product that clearly isn't anywhere near finished yet though, so let's move on.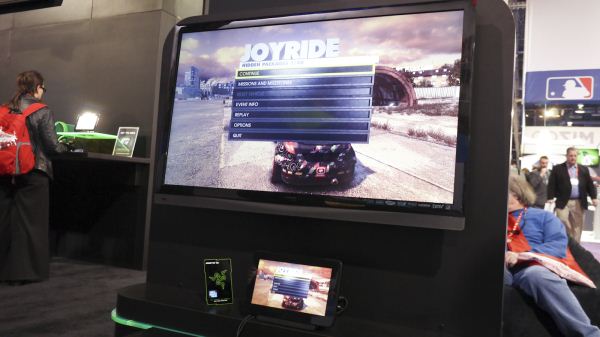 The docking station was set up with an LCD TV and a pair of Sabertooth controllers in multiple places in the Razer CES booth, as well as their meeting suite. In all cases, the display was set to be mirrored, presumably to ensure that the games were played at the internal panel's native 768p and not 1080p (where performance would understandably struggle). I'm still really interested in tossing an Edge + dock on my desk with a 24" display and a Bluetooth keyboard/mouse, it seems like one of the more viable 2 pound desktop replacements around.
Pricing slots in at $999 for the base i5/4GB/64GB model, $1299 for the i7/8GB/128GB Pro model, and $1499 for the Pro plus Gamepad bundle. Doubling capacity to 256GB will run you an extra $150 for the Pro models. If you don't want anything other than the tablet, the base model is a pretty good deal, but once you start adding accessories you might as well spring for the Pro bundle and resign yourself to paying Razer's typically expensive peripheral costs. They don't even try to deny that the Blade, the Edge, and all of their keyboards and mice are pricey - Razer has cultivated a premium brand ethos, and it's done pretty well for them thus far.