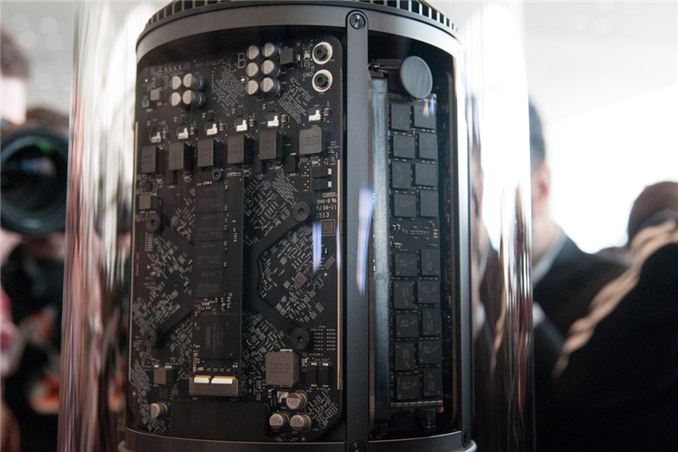 In its keynote this morning, Apple teased its next-generation Mac Pro, due out later this year. Based on Ivy Bridge E, the new system will ship with two AMD FirePro GPUs with up to 4096 SPs and capable of delivering 7 TFLOPS of peak FP performance.
We got a close look at the chassis, which is 1/8 the size of the current Mac Pro. You lose any hope for internal expansion, but Apple outfitted the machine with three Falcon Ridge Thunderbolt 2 controllers to enable expansion via external storage and external Thunderbolt 2 expansion chassis options. Apple won't make any of its own Thunderbolt 2 expansion chassis, but you can expect that others will fill that void. With 20Gbps up/down on Thunderbolt 2, you should have enough bandwidth for any PCIe expansion.
Internally there are four DDR3 memory slots, as well as what looks like a proprietary PCIe SSD connector (I don't think it's M.2 unfortunately). Both GPUs are technically removable, but at least one is mounted as the same card as the PCIe SSD. Apple is putting every single PCIe lane available to use on the new Mac Pro.