The Silicon: Bay Trail Inside
Obviously a big part of the Transformer Book T100 story is the inclusion of Intel's Bay Trail silicon. ASUS opted for Intel's second fastest solution: the Atom Z3740. That's four Silvermont cores running at 1.33GHz with a max turbo of 1.86GHz. I saw the T100 hit 1.86GHz fairly regularly, which backs up what we saw in our initial Bay Trail performance preview. For light tablet use, the Z3740 is incredibly quick. The beauty of Intel's latest Atom silicon is of course that it can run a huge library of x86 applications. I haven't spent enough time with Bay Trail to know whether or not its performance is truly good enough for most users. I suspect it probably needs to be a bit faster to truly replace a modern mainstream notebook + tablet, but if you're used to an older system you might be able to get away with Bay Trail. Intel claims ULV Penryn-like performance out of the fastest Bay Trail silicon, and I think that's a decent estimate. You benefit a lot from not having any silly mechanical hard drive inside, and unlike the initial wave of netbooks the T100 is actually usable.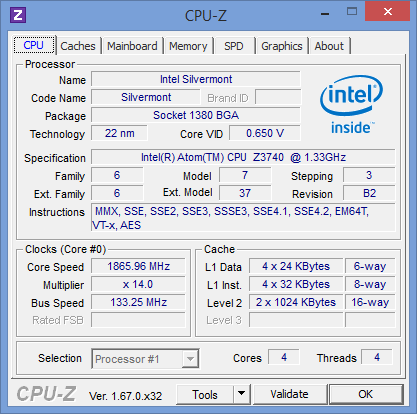 I complained about multitasking performance in our recent Chromebook 11 review. Intel's Bay Trail silicon in the T100 has no such problem. Playing YouTube HD videos in the background while writing in Google Docs is a non-issue. I do occasionally see periods of high latency response, particularly when installing a new application. I believe this may be due to background AV scanning at launch.
It's definitely possible to bring the T100 to its knees with just above a moderate multitasking workload. It's important to keep in mind that we're talking about ~1GHz Penryn sort of performance here and not what you'll get out of a Haswell system. Think of it as better than what you'll get from the ARM camp but still substantially behind what a more expensive Haswell solution will offer. Make no mistake, the T100 is very much an entry-level machine in terms of performance.
The four cores are paired with Intel's HD Graphics, a 4 EU implementation of the Intel GPU we saw in Ivy Bridge (running at up to 667MHz, sharing TDP with the CPU cores). The collection of CPUs and GPU are behind a 128-bit wide LPDDR3-1066 memory interface. Like most entry level notebooks in this price range the T100 comes with 2GB of memory. Internal storage is courtesy of an eMMC solution. I was sampled a 64GB model (using a SanDisk eMMC controller). Around 30GB of the device's storage was free at first boot (total partition size = 49GB, ~30GB free for additional apps/data).
ASUS equipped the Transformer Book T100 with dual-band (2.4/5GHz) 802.11n courtesy of Broadcom's BCM4357. The T100 features a 1-stream (150Mbps) implementation. I didn't have enough time to test wireless range/performance but the sheer inclusion of 5GHz WiFi in an entry level PC is music to my ears.
Software: Windows 8.1 + Office 2013

Although there are rumors of T100-like devices running Android, and eventually even dual-booting, the Transformer Book T100 launches with Windows 8.1. I haven't had much time to spend getting into 8.1 but it's largely an improvement over Windows 8. Overall it doesn't fundamentally change the concept behind the OS, although it does attempt to make migrating to it from other versions of Windows a bit easier. You have greater customization over the start screen's behavior, where the system boots by default (desktop or start screen) and installing applications doesn't automatically spam the start screen with tiles. You also get truly universal search now integrated into the start screen, which is a life saver.
Since you're dealing with an x86 version of Windows 8.1 here, you can obviously run nearly all old x86/Windows applications. This is a huge deal as it means you can replace IE11 with Chrome, not to mention use the T100 just like any other PC. I'm honestly surprised by the lack of really good 3rd party Windows applications that use the new UI. I expected there to be more uptake by now, but I was very wrong. The T100's success doesn't depend on having more modern UI Windows 8.1 apps since it can still function like a traditional PC, but the undocked tablet experience could surely benefit. Windows 8.1's native apps are definitely better this time around, but the tablet experience alone isn't as good as what you'd get on Android or iOS. Microsoft's new UI definitely has its moments (I'm still a fan of how easy it is to multitask in the OS), but it still has a long way to go.
Intel's silicon in the T100 is 64-bit capable but Microsoft still lacks a 64-bit version of Windows 8/8.1 with Connected Standby enabled. As a result, the T100 (just like all other Bay Trail platforms) ships with a 32-bit copy of Windows 8.1 (with Connected Standby enabled).
Another huge component of the T100 offering is the in-box Office 2013 Home & Student Edition serial key. Office 2013 is pre-loaded on the device, and each box should have a booklet with a serial key to unlock the Home & Student version of the suite. I realize there's this march away from Office, but to those who still heavily use and depend on the suite it's a tremendous part of the overall T100 value.