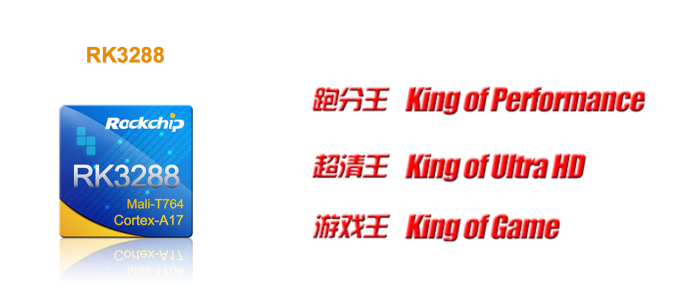 Intel's march into the ultra mobile space has been a frustrating one. Architecturally Intel has the chops to play in the market, but its execution has been met with challenges. At first Intel seemed to bet too heavily on non-Android OSes (primarily Windows tablets) and now its challenge seems to be more an issue of getting its designs into the market quickly and ultimately used by OEMs. The Android tablet space in particular is in a race to the bottom, leaving little room for another premium SoC vendor outside of Qualcomm. Intel recently announced a new family of lower cost, entry-level Bay Trail SoCs to help adjust to the changing market, but today it announced an even more aggressive play: a strategic partnership with Rockchip.
Rockchip is one of a handful of fabless semiconductor manufacturers based in China, presently specializing in the development of ARM based mobile SoCs. Under today's announcement however, Intel will be leveraging Rockchip to bring a low cost (entry/value) Intel branded SoC platform for tablets (read: sub-$150 Android tablets with connectivity).
Intel first started talking to Rockchip about this agreement a "couple quarters" ago. There are two primary motivations behind the agreement: it gives Intel additional resources to bring products to the market, and it allows Intel to scale IA based Android tablets pretty quickly.
By the middle of 2015 Intel and Rockchip will launch a new SoFIA SoC, featuring four Intel Atom cores and an Intel 3G modem. From the text of the announcement, it sounds like Intel will be providing the IP for the SoC while Rockchip will handle the integration of the design itself:
"We are always looking for innovative ways to differentiate our product portfolio, and the first-of-its-kind collaboration with Intel helps us do this," said Min Li, Rockchip CEO. "The combination of Intel's leading architecture and modem technology with our leading mobile design capability brings greater choice to the growing global market for mobile devices in the entry and value segments."
The original SoFIA roadmap had a dual-core part with integrated 3G shipping in late 2014 as well as a quad-core with LTE by the middle of 2015. For the China market, a dual-core value SoC wasn't going to fly so Intel needed to fill the hole in its roadmap with a quad-core 3G solution. A quad-core 3G part would be offered at a lower price point than the quad-core LTE option, leaving a hole in Intel's roadmap in a very price sensitive market. By partnering with Rockchip, Intel leverages some of Rockchip's design teams to bring the part to market without Intel incurring additional burden for what I can only assume will be a fairly low margin SoC. Rockchip was in around 40 million tablets last year, so this gives Intel access to a reasonable TAM as well.
In return, Rockchip becomes the first company to be able to more or less license Intel x86 CPU IP for use in this combined, Intel-branded SoC. The low-cost ARM based SoC market is crowded and it's tough to differentiate when all of your competitors have access to the same ARM CPU IP. In this case, Rockchip gets access to Silvermont which it may be able to use to set itself apart from the competition. There's obviously a tradeoff in shipping x86 into the Android space, but if Rockchip can help Intel get its numbers up the x86 problem could reduce over time.
Although the SoC would use the Intel brand there may be some reference to Rockchip, perhaps in the model number.
Intel wouldn't go into specifics on how the arrangement works, other than to say that Intel would work with Rockchip to do the SoC integration and Rockchip will bring its own IP to the table as well. Intel gave the example of Rockchip bringing 3rd party graphics IP to the SoC. Rockchip's existing products use ARM and Vivante GPU cores, so we may end up seeing an SoC that uses Intel x86 cores with Mali graphics.
If I'm reading this correctly it marks a big shift in Intel's approach to the mobile SoC market (and chip making in general). Intel claims the resulting SoC will be very price competitive. Leveraging Rockchip for integration likely means a substantially lower cost structure than traditional Intel SoCs. The design will continue to be fabbed at TSMC.
Each company will focus on selling the Intel-branded part to its own customers. Intel isn't disclosing how the profit sharing/revenue reporting will work. The agreement doesn't prevent Rockchip from continuing to sell ARM based SoCs and there's no financial investment from Intel in Rockchip.
Although there's only one product being talked about today (this quad-core Silvermont with integrated 3G), Intel stressed that the deal is strategic - implying that we should see more engagement over time. If this initial quad-core design works well, I can see Intel shifting more of its mobile SoC design integration over to Rockchip. More than anything this is a sign that Intel is willing to try something new/different, and that's absolutely what the company needs.
Source: Intel