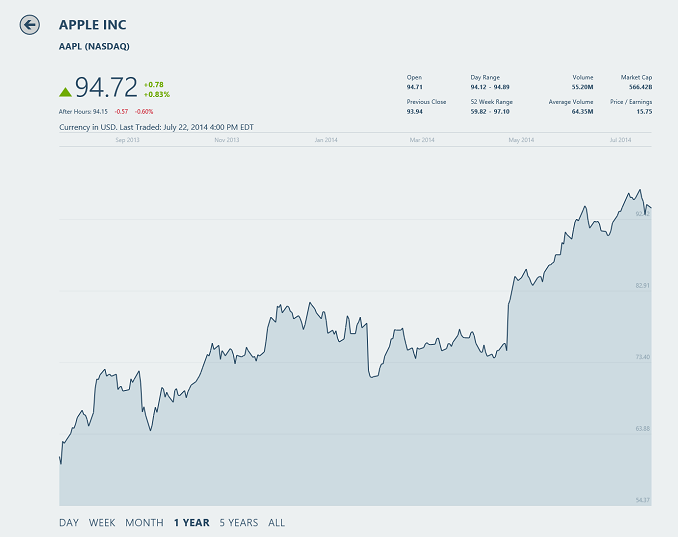 Today Apple announced its Q3 results for the period ending June 2014, and sales of the iPhone once again dominate revenue and earnings for the company.
Revenue for the quarter came in at $37.4B – a 6% increase year-over-year, and a down sequentially from the previous quarter.
Net profit was $7.7B for the quarter which is up 11.6% from the same period last year, and earnings per share came in at $1.28, also up over last year's $1.07. Gross margin was up as well at 39.4% compared to 36.9% in Q3 2013.
Apple Q3 2014 Financial Results (GAAP)
Q3'2014
Q2'2014
Q3'2013
Revenue (in Billions USD)
$37.432
$45.646
$35.323
Operating Income (in Billions USD)
$10.282
$13.593
$9.201
Gross Margin (in Billions USD)
$14.735
$17.947
$13.024
Net Income (in Billions USD)
$7.748
$10.223
$6.900
Margins
39.4%
39.3%
36.9%
Earnings per Share (in USD)
$1.28
$1.66
$1.07
Once again, the iPhone is the dominate force for Apple right now, accounting for $19.75B in revenue for this quarter with 35.203 million iPhones sold. The device numbers and revenue are both down over last quarter, but sales are up 13% year-over-year with revenue close behind at a 9% gain. Apple doesn't break down numbers for each model, but using some math we can see the revenue per unit sold at $561 which is a great number.
Software, Services, and App/Music store sales came in at $4.485B for the quarter which is down 2% compared to last quarter but up 12% year-over-year.
Mac sales were up again with 4.4 million Macs sold which accounted for $5.5B in revenue. Sales were up 18% and revenue was up 13% compared to Q3 2013, with an increase in sales of 7% over last quarter with revenue remaining flat.
iPad sales have definitely slowed, with the second quarter in a row of decline. Total sales were 13.2 million units for a revenue of $5.9B, but the device sales are down both year-over-year (9%) and sequentially (19%).
Unsurprisingly, iPod sales continued their decline with 2.9 million devices sold – down 36% year-over-year. Revenue for the iPod was $442M which was down 40% from Q3 2013. Somewhat surprising was that iPod sales ticked up 6% from last quarter, but revenues declined 4%.
Finally, accessories now account for about three times the revenue of the once ubiquitous iPod, with revenue for the quarter of $1.3 billion which is up 12% over last year's numbers.
Apple Q2 2014 Revenue by Product (billions)
Q3'2014
Q2'2014
Q3'2013
Revenue for current quarter
iPhone
$19.751
$26.064
$18.154
52.8%
iPad
$5.889
$7.610
$6.374
15.7%
Mac
$5.540
$5.519
$4.893
14.8%
iPod
$0.442
$0.461
$0.733
1.2%
iTunes/Software/Services
$4.485
$4.573
$3.990
12%
Accessories
$1.325
$1.419
$1.179
3.5%
During this quarter, Apple performed a 7-1 stock split, and returned $8 billion to shareholders through dividends and the share repurchase program. Apple will pay a dividend of $0.47 per share on August 14 for this quarter's results.
Analysts were hoping for 36 to 38 million iPhones to be sold this quarter, with sales missing that mark. iPad sales were also lower than expected. With the new iPhone likely not being released until Q1 of fiscal year 2015, outlook for the next quarter is also lower. With the new iPhone not expected until late in Fiscal Year Q4 (ending September), revenues are not expected to be bumped from new iPhone sales much until Q1 2015 results are available in January 2015. Revenue outlook for the next quarter is $37 to $40 billion.
Apple Q3 2014 Device Sales (thousands)
Q3'2014
Q2'2014
Q3'2013
iPhone
35,203
43,719
31,241
iPad
13,276
16,350
14,617
Mac
4,413
4,136
3,754
iPod
2,926
2,761
4,569
While sales were still strong for the iPhone, the iPad has now declined in numbers for the second straight quarter. Mac sales were up a healthy 18% year-over-year which means the Mac is almost back to being the number two revenue stream for Apple. We seem to have hit some maturity in the tablet market, and upgrade cycles aren't quite as quick as they are in the smartphone space. The waiting game is now on for new product announcements from Apple to keep the sales strong.
Source: Apple