CPU Performance
Inside the Stream 7 we have Intel's Atom Z3735G, which is a quad core Bay Trail part that has a base frequency of 1.33GHz and a burst frequency of 1.83GHz. It's paired with 1GB of DDR3L-RS-1333 memory, where the RS stands for "Reduced Standby". As the name implies, it has a focus on improving standby battery life on devices like tablets. Z3735G unfortunately has one of the slower memory interfaces of the Bay Trail lineup, with only single channel support and a max memory bandwidth of 5.3Gbps. Nonetheless, the CPU itself is fairly powerful, especially for a $119 device.
Although the Stream 7 does run a full copy of Windows, I've decided to run it through our mobile workflows rather than our desktop/laptop ones because I believe most users are going to use it similarly to how they use other tablets. I will elaborate on this point later in the software section, but the main point is that the normal Windows desktop experience is just not very good on touchscreens, especially 7" 1280x800 displays. Because of this, it's better to run it through benchmarks where it can be compared to other tablets. The fact that PCMark requires more space than the Stream 7 physically has is also an issue.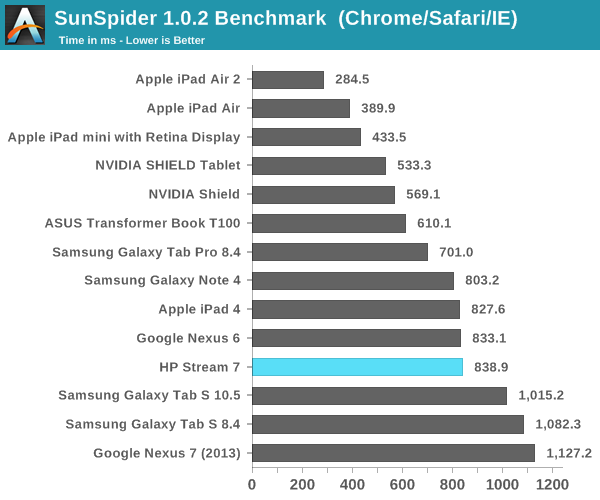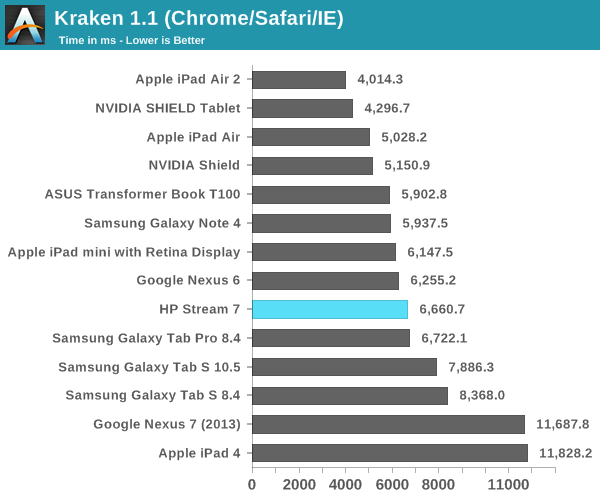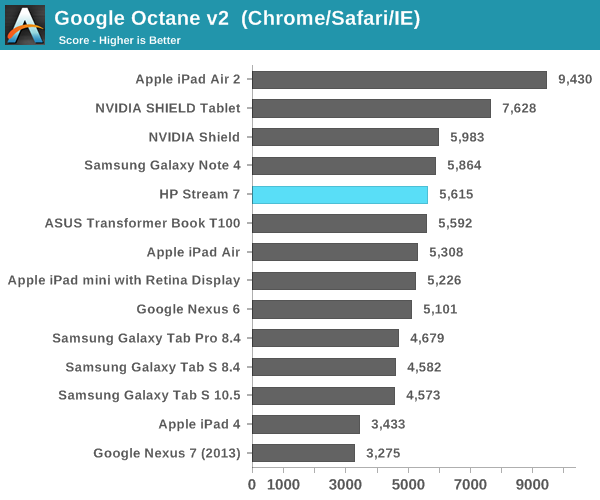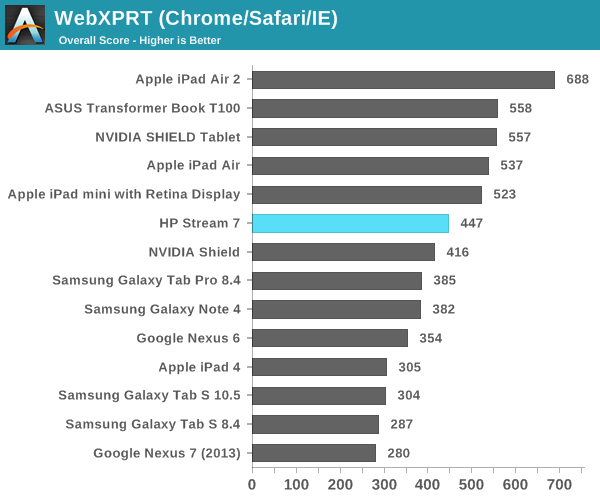 As you can see, Intel's latest Atom platform performs very well in our tests. It should be noted that these tests were performed using Chrome rather than IE, to maintain consistency with the results from previous Windows tablet reviews. This means that the Sunspider score leaves much to be desired, as Google has stopped focusing on it as an optimization target. Looking at our other tests, we see that the Stream 7 is not the fastest tablet, but it is still very fast. In fact, it's competitive with the silicon inside tablets that cost two or even three times as much, which is impressive.
GPU Performance
The Intel HD Graphics chip in Bay Trail is architecturally similar to Intel's HD 4000 graphics on Ivy Bridge. It's simply a cut down implementation with 4 EUs instead of the 16 in an Ivy Bridge chip. The implementation in Atom Z3735G scales from 311MHz to 646MHz as needed. Thankfully, the Windows Store has up-to-date versions of 3DMark and GFXBench available, so we can compare the Stream 7 to the other devices that we've benchmarked in the past.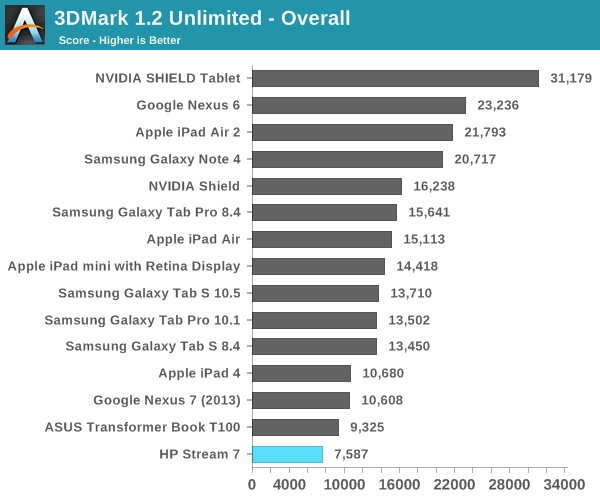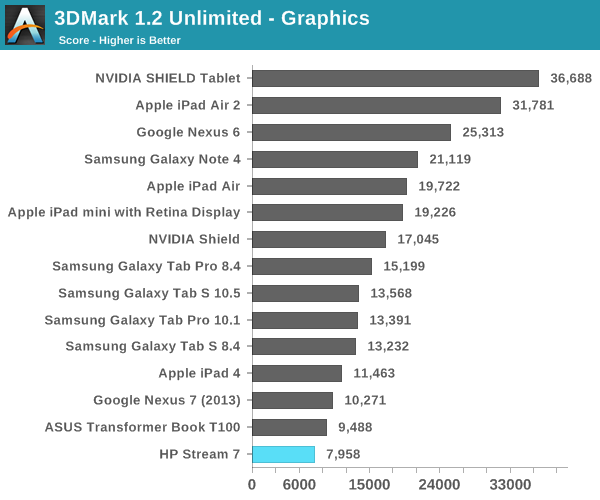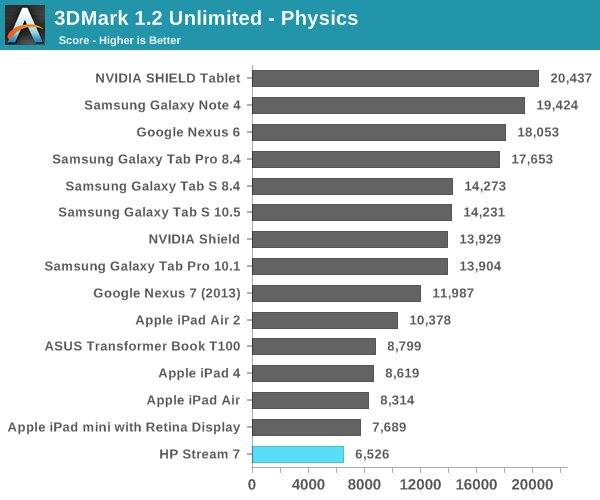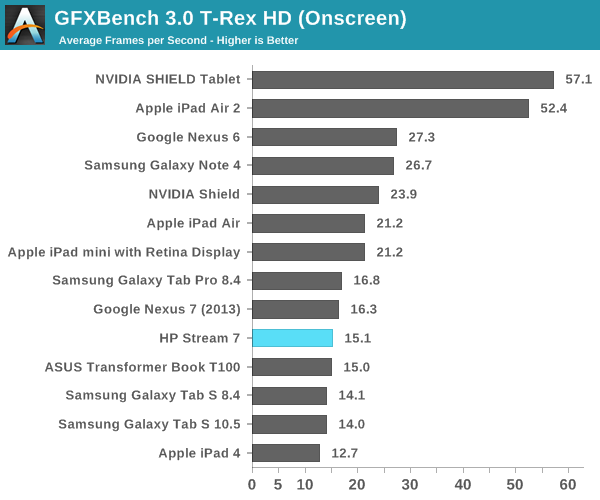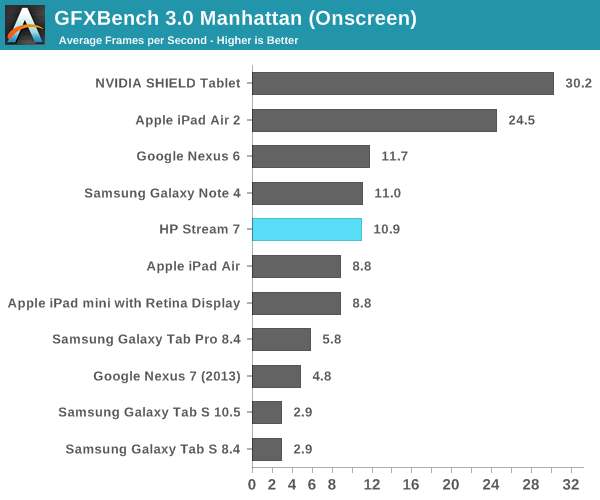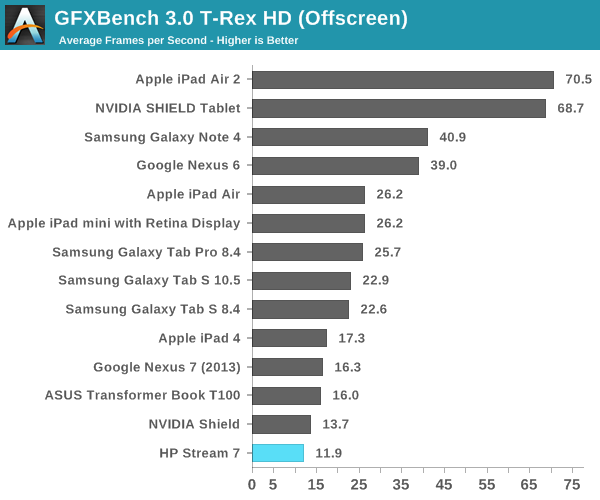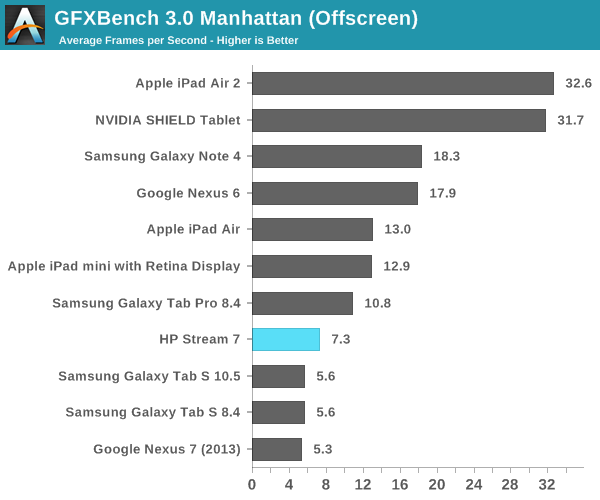 As you can see, Bay Trail isn't exactly a graphics powerhouse. However, the Stream 7's resolution means that the onscreen results aren't that bad, so you'll be able to get away with running some of the lighter games that you can on other platforms, provided of course that they're available on the Windows Store.