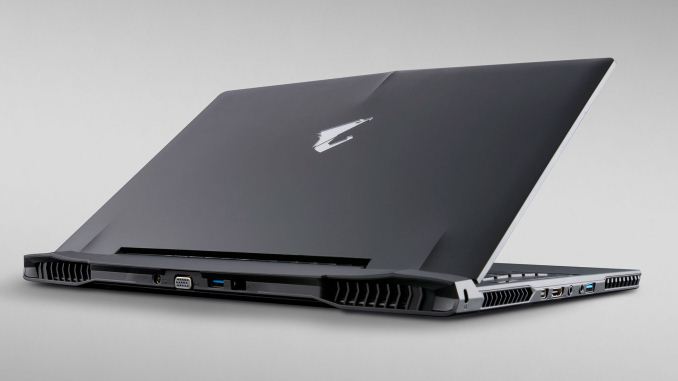 If you think the rather subdued (some might even go so far as to say drab or boring) Gigabyte gaming notebooks aren't for you, the company has their AORUS brand to perhaps win you over. These feature much more aggressive styling and definitely go for the gamer vibe, with a black and angular "stealth" aesthetic. AORUS was launched last year as a high performance gaming notebook brand, and over the year we've seen a few updates. Initially consisting of the X7 model with SLI, AORUS has now been expanded with both 13.9" X3 and 15.6" X5 models. The latter is the latest and greatest, with some impressive specs as well.
The AORUS X5 starts out with NVIDIA's new GTX 965M, which was rather quietly released at this CES on Tuesday. It's basically a trimmed down version of the GM204 chip, coming in slightly below the GTX 970M in terms of performance but with a lower price as well. Except, the AORUS X5 has not one but two GTX 965M GPUs in SLI, pushing performance above the level of a single GTX 980M in some benchmarks. I'll admit that I'm not really a huge fan of SLI laptops, as I'd rather have the best single GPU solution available before shifting to SLI, and the price isn't really any lower than laptops with a single GTX 980M (e.g. Gigabyte's own P35X v3). Still, for those times where SLI works as it should, there's a bit of extra performance available and spreading the heat between two GPUs may have some minor benefits.
Perhaps more important than the SLI 965M however is the use of a 4K display, and an IGZO panel at that. IGZO (Indium Gallium Zinc Oxide) is a superior alternative to normal Zinc Oxide TFT LCDs. The basic summary is that IGZO generally allows for brighter and better images while using less power, but the cost is higher as well. Needless to say, the display looks quite stunning and while even SLI 965M might struggle to run a lot of games at native 4K with maximum details, for video and multimedia use in particular 4K can be great. Note that there is a non-4K display option as well, for those that don't need (or want to pony up for) 4K.
The AORUS X5 weighs 2.5kg and is still only 22.9mm thick, which is impressive considering the hardware packed inside. The X5 supports up to three M.2 SSDs in RAID 0 with a 2.5" bay as well. It also has four SO-DIMM slots, supporting up to 32GB of RAM. MSRP ranges from $2299-$2799 depending on configuration. Availability however isn't expected until Q2, 2015, so if you want the X5 you're going to have to wait a few more months.
Stepping down a bit in size we have the other new AORUS, the X3 Plus. According to Gigabyte, this is the world's lightest gaming laptop with a GTX 970M, and it tips the scales at just 1.87kg (4.11 lbs). That's not actually a true statement, then, as Gigabyte's own P34W weighs a bit less (1.71kg), but we'll let it slide. As with the X5, the X3 Plus features an IGZO display, this time a 13.9" IPS QHD+ (3200x1800) resolution panel. It looks great in person, and with the slightly smaller chassis in many ways it's the most compelling of the AORUS offerings. It also includes up to 3xmSATA SSDs in RAID 0 (and no HDD). Pricing is set at $2199 with availability set for this month.
Finally, the AORUS X7 Pro launched in late 2014, sporting SLI GTX 970M graphics. Other than the larger chassis and scree, most of the specs are similar to the X5 – three mSATA drives in RAID 0, a single 2TB HDD, and four SO-DIMM slots for up to 32GB RAM. Again I applaud the fact that Gigabyte has managed to source an IPS (or PLS or UHVA?) panel for the X7 Pro, as finding IPS 17.3" displays can be rather difficult. Gigabyte is doing the right thing with their high-end laptops by simply avoiding any budget TN panels, and I wish more gaming notebooks would follow their example. Performance of the SLI 970M should be faster than any other gaming notebook other than those with SLI 980M (Gigabyte claims 30% better performance than a single 980M), and with a weight of 3.0kg (6.6 lbs) this is lighter than any other 17.3" gaming notebook that comes to mind. The X7 Pro is already available with an MSRP of $2599.
All of the updated AORUS notebooks appear to use Intel 4th Generation Core i7 Haswell processors, though AORUS didn't indicate which specific CPUs are being used. Given the dimensions, we're probably looking at the HQ series of processors, but I've asked for additional details and will update this when I have them.
In addition to the AORUS laptops, Gigabyte is also making additional gaming products under the AORUS brand, including a keyboard, mouse, and backpack. Note that unlike the Gigabyte notebooks, AORUS laptops do not support NVIDIA's Optimus Technology for switchable graphics – though that's not an option for the SLI models. I believe that manual switching is available, and for gaming notebooks it's probably not a huge deal. All of the AORUS laptops also feature a block of macro keys on the left side of the keyboard. We'll hopefully be able to review some of the AORUS models in the coming months as they become available.