CPU Performance
Dell offers the Venue 11 Pro with a choice of two Core M processors. The 5Y10 is the lower cost option, and it has an 800 MHz base frequency with a 2.0 GHz boost frequency. As we have seen in our Core M analysis, this will cut the performance in short workloads as compared to the higher end Venue 11 Pro that Dell shipped us for review, which comes with the top Core M offering in the 5Y71 model. At 1.2 GHz base frequency and a 2.9 GHz boost frequency, this Core M can provide some impressive performance on the kinds of short workloads that make up most of the average tasks that most people perform on a tablet, but depending on cooling, it can slow down on sustained workloads.
The Venue 11 Pro is a passively cooled device, and as a tablet, Dell must take skin temperatures into account. The placement of the processor is not 100% ideal either since it is in the upper right corner (with the tablet display facing you) so if you are holding it in your right hand while it is working hard, you can certainly feel it getting warm, but not to the point where it is ever uncomfortable. It can get to around 44°C right over the CPU after 45 minutes of DOTA 2, with the rest of the tablet staying cool.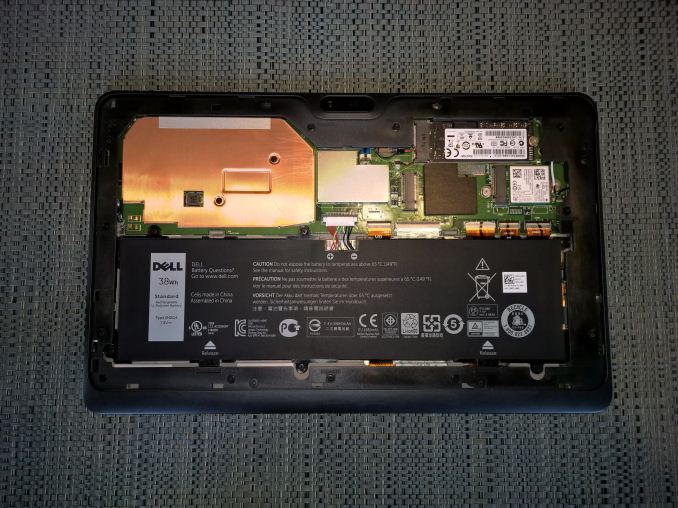 As you can see in the above image, the CPU heatsink is all copper, and there is a thin copper sheet on the back cover as well to help spread the heat. Given enough cooling, Core M can perform quite well, but being packed into a tablet with a plastic back and no fan can certainly cause issues.
To test overall system performance, we will turn to our suite of benchmarks to see where the Venue 11 Pro fits. As this is a tablet, but can dock and become a laptop or desktop, we will compare it against both devices. First up, we will focus on Windows performance, then move to tablets.
PCMark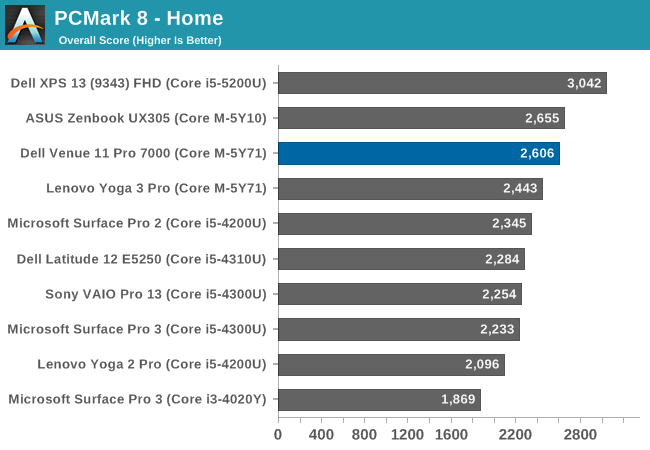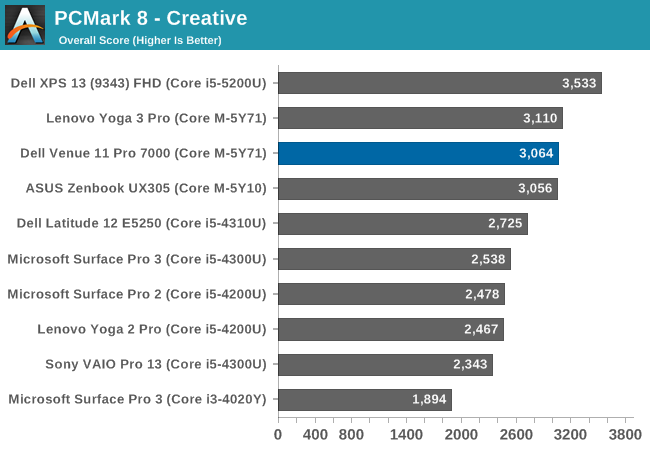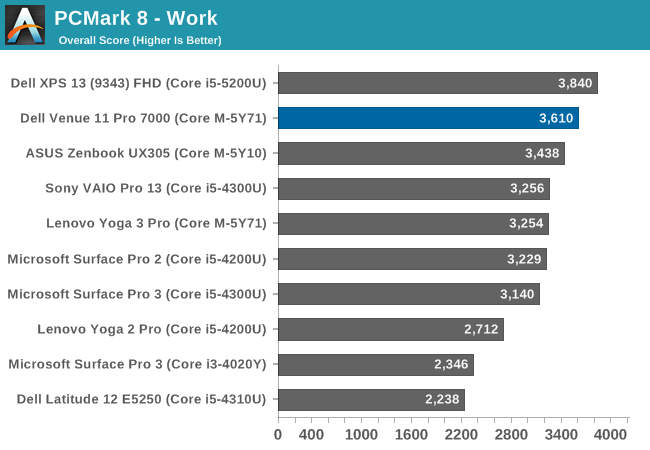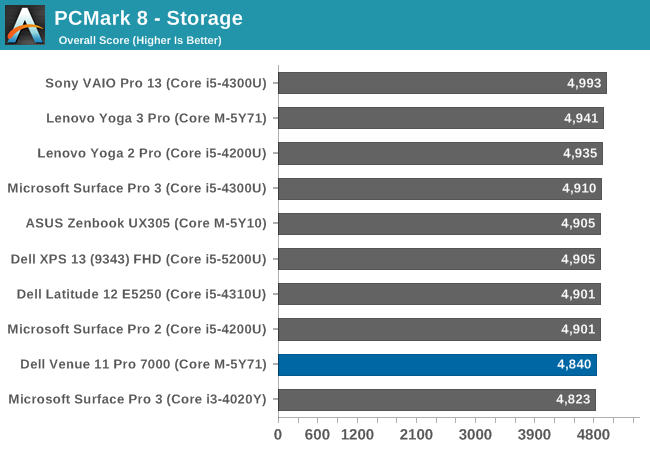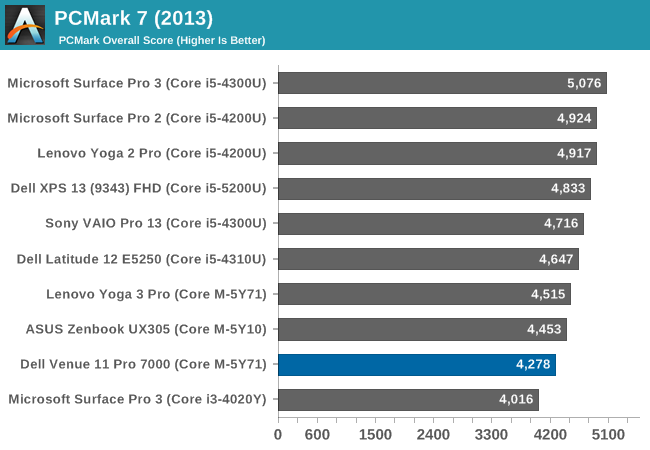 PCMark 8 from Futuremark has several benchmarks within it, all with the goal of simulating real-world use cases for each of the scenarios. It includes Home, Creative, Work, and Storage benchmarks. The workloads generally include both burst and sustained performance. Core M does very well here, with the Venue 11 Pro pulling ahead of some of the other Core M devices in some tests. In these types of workloads, Core M can outperform Haswell-U series parts from the Ultrabooks of last year, which is fairly impressive in a passively cooled device.
The storage score is also very good, due to the SSD inside this tablet. Windows tablets with Atom processors tend to include eMMC, which can still outperform a hard disk drive, but cannot really match a true SSD.
TouchXPRT 2014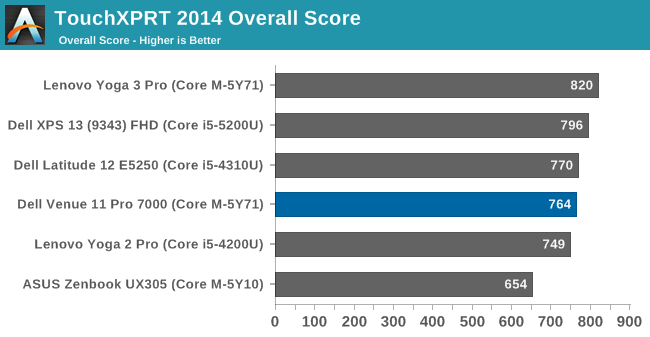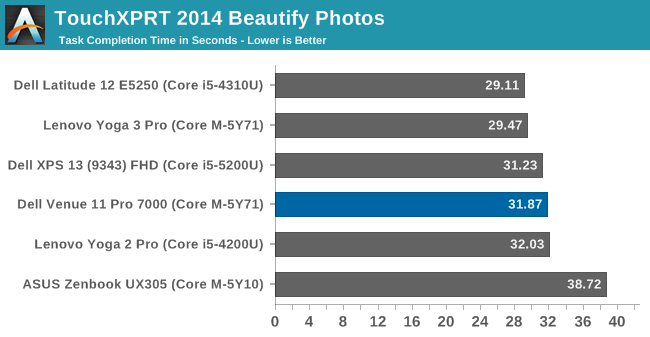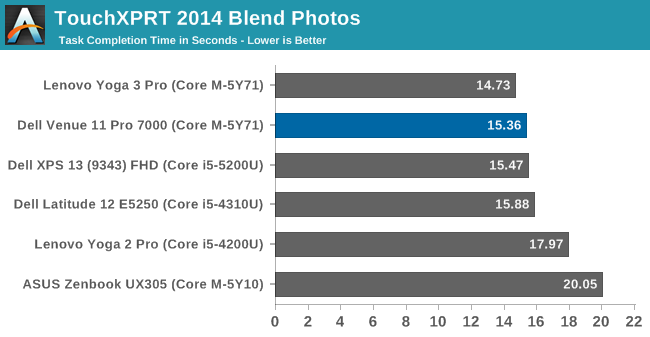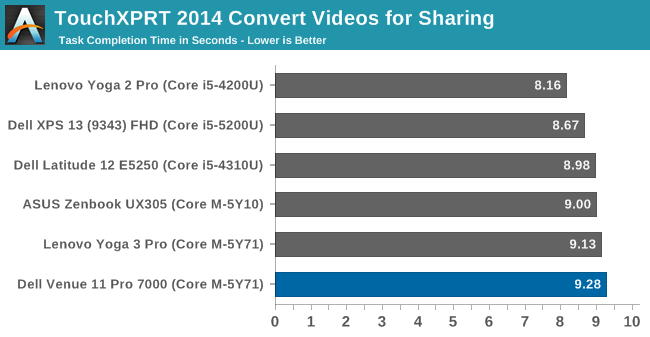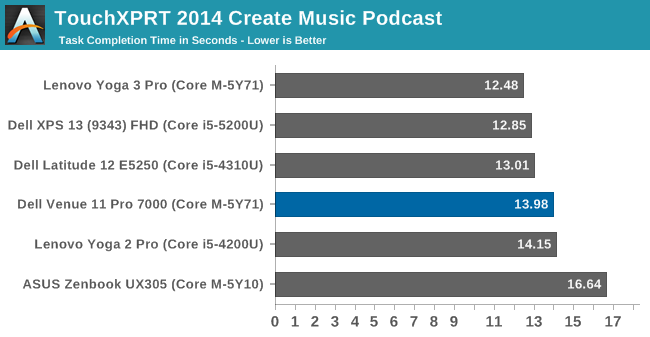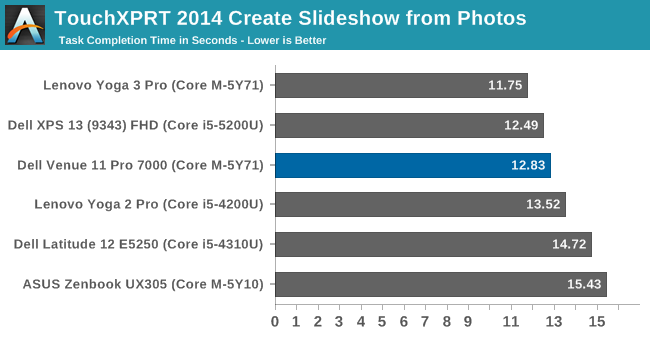 Once again the Core M-5Y71 does fairly well in this test, which includes photo manipulation, podcast creation, and slideshows. Each task executes quickly, allowing the Core M to cool down before the next task. This test shows a large difference in performance from the higher clock speeds of the 5Y71 and the lower speeds of the ASUS Zenbook's 5Y10 processor.
Cinebench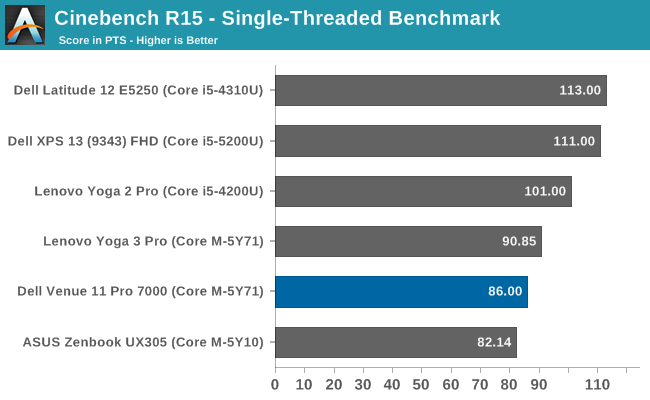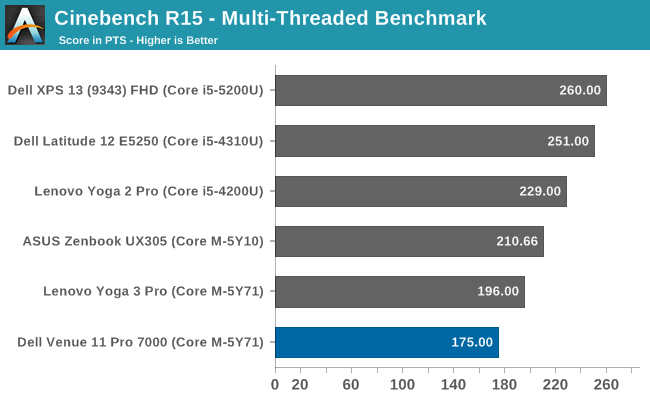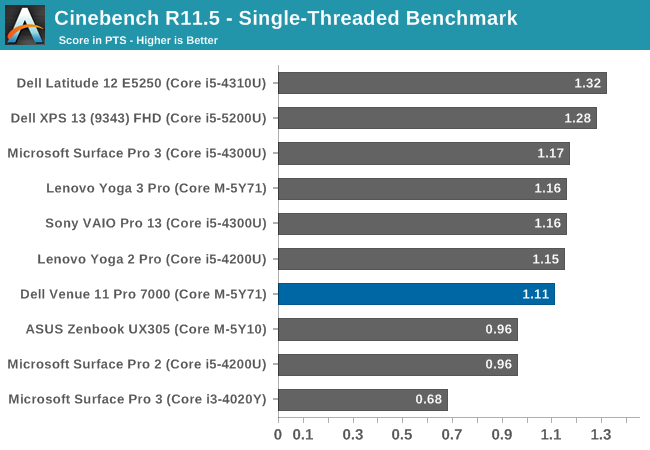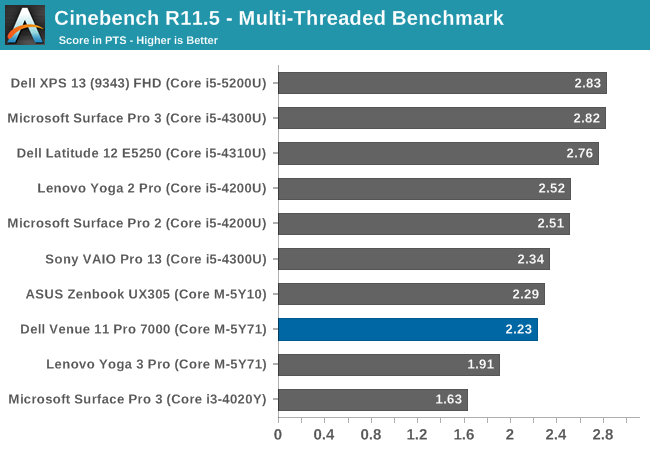 Cinebench is a rendering test, and loads either one CPU or all CPUs (which is four logical CPUs in Core M) and scores based on the time it takes to render the supplied scene. It favors higher clock speeds and good sustained performance. The Venue 11 Pro cannot sustain its maximum 2.9 GHz for this test for either the single-threaded or multi-threaded versions. This is not an ideal workload for Core M.
x264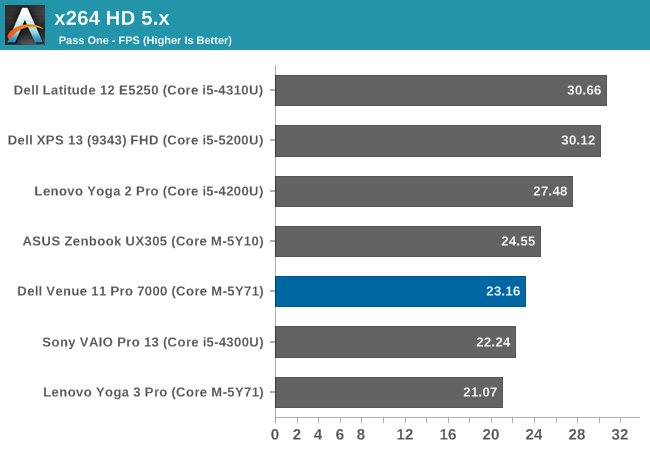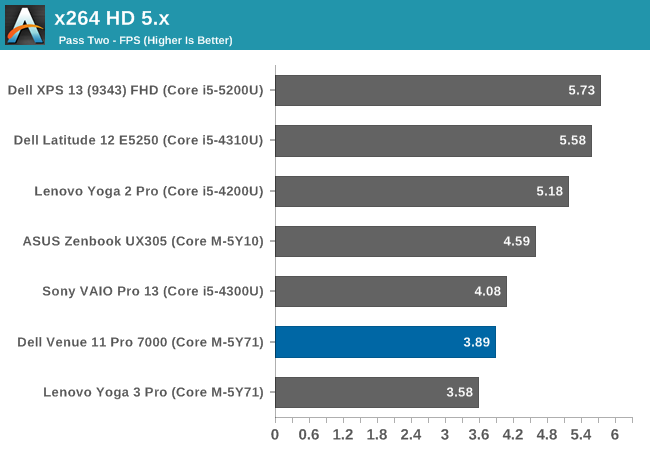 This is a very long benchmark which converts a video. This test emphasizes sustained performance as well, so Core M does not do very well on it.
GPU Performance
Core M includes the Intel HD 5300 GPU, which is the same GPU configuration as seen in the Broadwell-U processors. There are 24 EUs available, with a base GPU speed of 300 MHz, and turbo of 900 MHz, but of course in a 4.5 watt thermal envelope rather than the 15 watts of Broadwell-U.
While certainly not a system where you would expect to play the latest FPS out there, tablets can certainly be used for lower end gaming titles like those offered in the Windows Store.
3DMark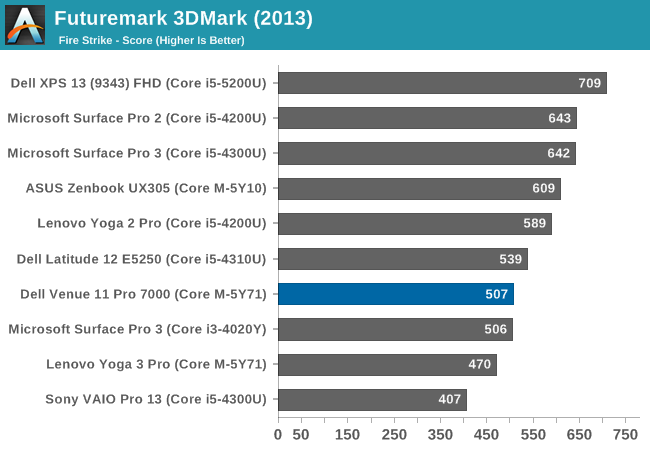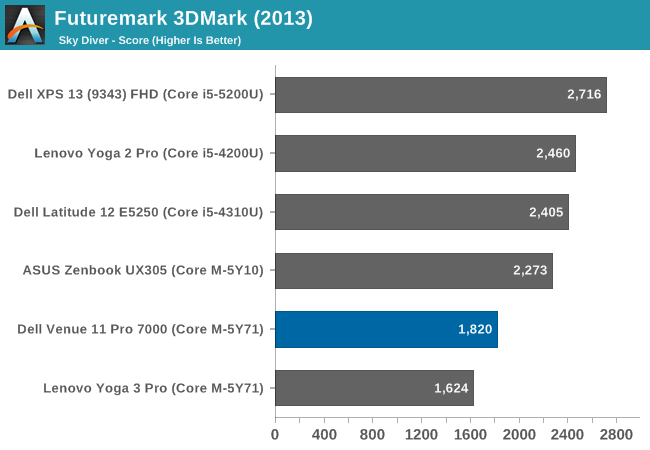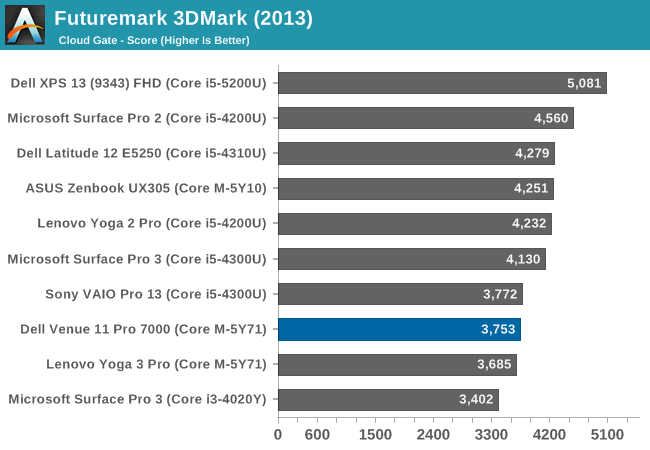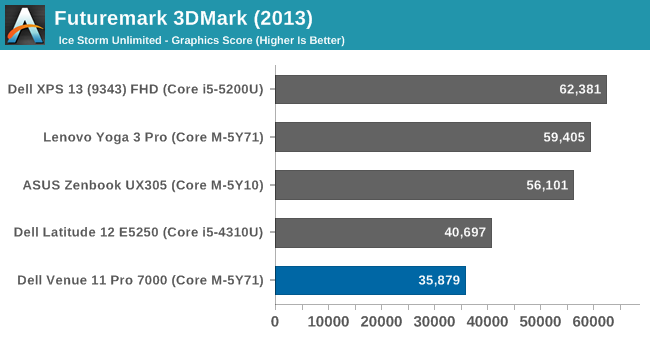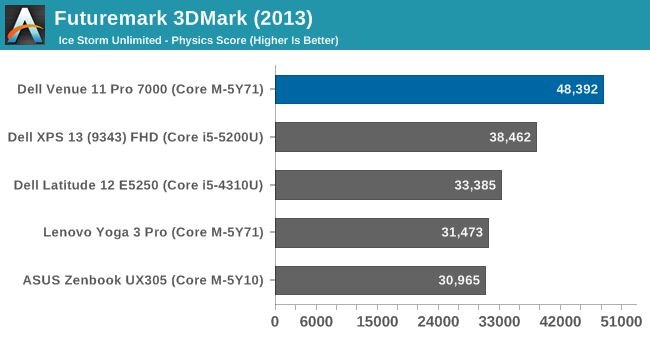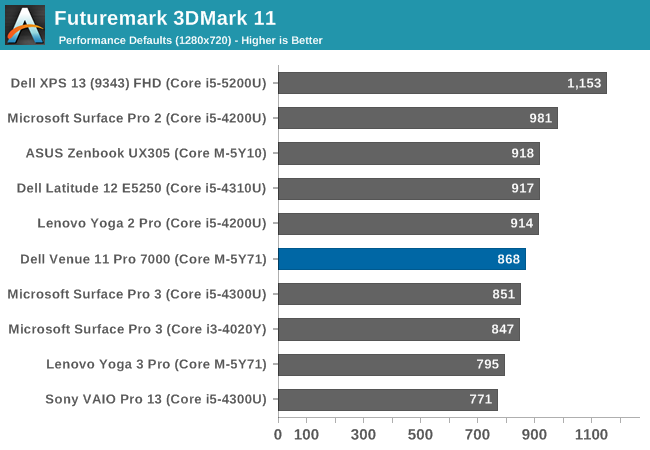 Futuremark's 3DMark has several benchmarks which are aimed at different classes of devices. Sky Diver is aimed at mid-range PCs and gaming laptops, so unsurprisingly Ultrabooks do not do overly well on this test. The sustained performance requirements mean that Core M in a tablet is going to have to throttle quite a bit, and it shows in the overall scores. Cloud Gate shows a similar result. Although the Core M ASUS Zenbook UX305 can compete with Haswell-U based notebooks, the Dell Venue 11 tablet falls down to around the Ivy Bridge levels of GPU performance. Ice Storm Unlimited is better, but is such a short benchmark that throttling is not as big of an issue.
GFXBench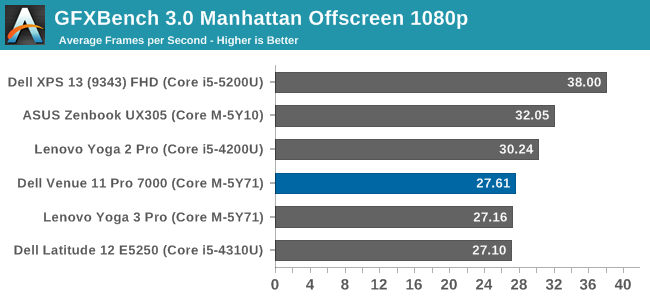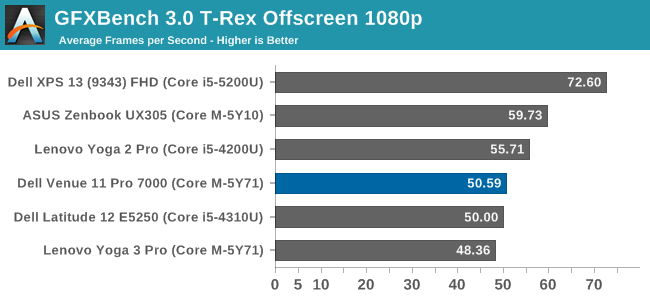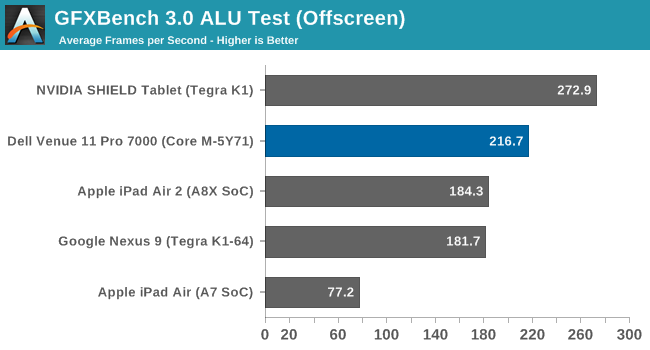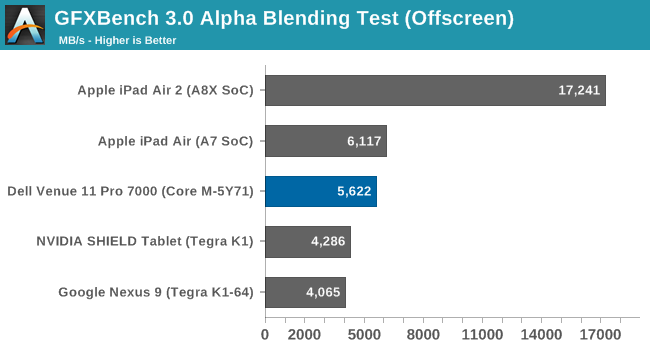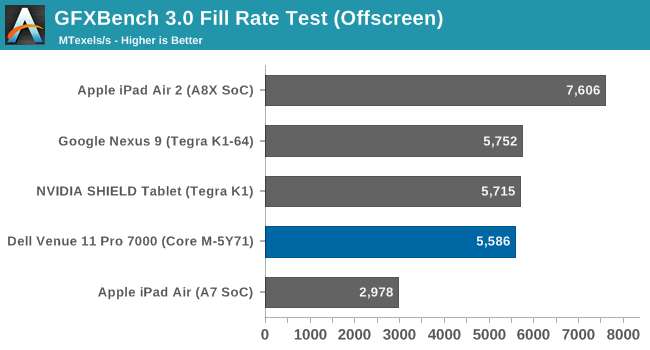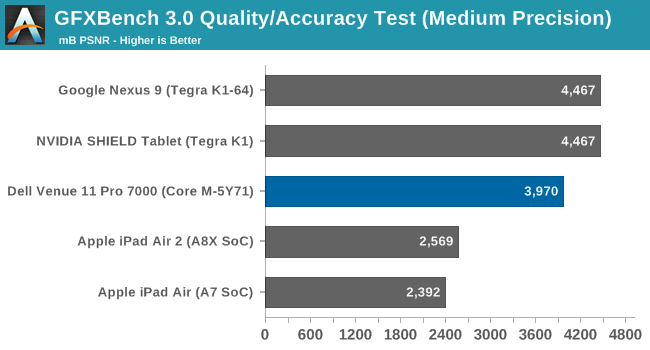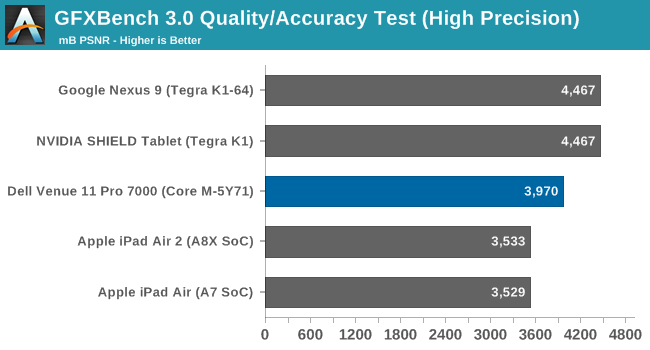 GFXBench follows in line with the 3DMark tests. Core M does not have great sustained GPU speeds. On the CPU side of the house, Core M can trade blows with last year's Haswell-U parts, but the same cannot be said of the GPU. It has everything it needs to outperform the Haswell-U except that processors 15 watts of TDP.
DOTA 2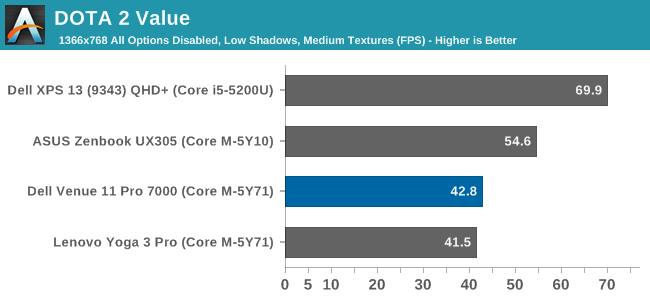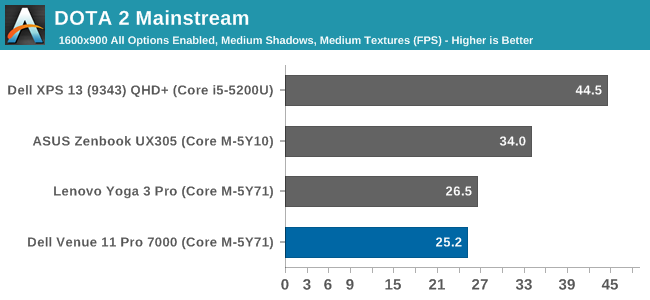 Our DOTA 2 benchmark confirms what the synthetic tests have shown. Only the value settings on DOTA 2 really allow for ok gameplay. But remember this is comparing a tablet against notebooks and 2-in-1 devices, so it is not unexpected that performance will go down to fit into the smaller overall package.