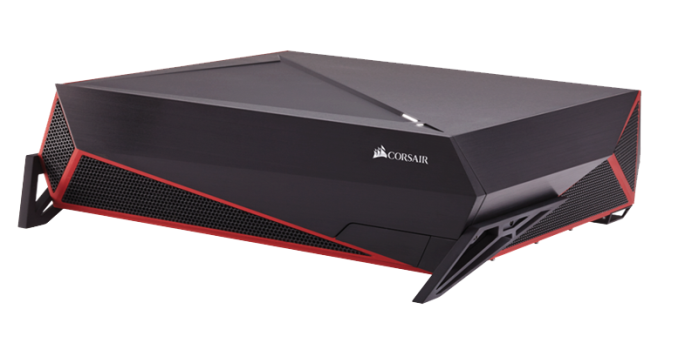 Corsair certainly is a company that is not afraid of diversification and has proved that multiple times in the past. They started as a memory products manufacturer, diversified into the power, case and cooling market segments and today they even have their own gaming division.
With a company as active as Corsair is, their latest move was no surprise to us. Corsair combined their knowledge of chassis design and thermal performance, used their industry contacts and brought about the creation of the Bulldog, a DIY 4K Gaming PC designed to fit into living rooms.
The Bulldog is the combination of a desktop PC case styled to appear as a gaming console with a 600W SFX power supply, a liquid cooler for the CPU and an ITX motherboard. Corsair's aim was to reduce a very high performance gaming PC to fit within the dimensions of a gaming console. In order to do that, they managed to fit dual liquid cooling systems (one for the CPU and, optionally, one for the GPU) and a high output SFX PSU into the desktop chassis. In terms of size, the Bulldog is relatively small but not too small, as it had to be tall enough for a high-end graphics card to fit.
The base configuration of the Bulldog includes the case, the ITX motherboard, the H5SF CPU liquid cooler and the 600W SFX power supply. It starts with a MSRP of $399, which seems a little steep at first but it is not really overpriced considering the specs of the motherboard. We are not aware of very specific details regarding the motherboard that is installed in the Bulldog, but it will support DDR4 RAM, USB 3.1, 7.1 audio, Gigabit Ethernet and WiFi. (It's worth noting that at this point, the only mini-ITX motherboard that can support DDR4 is the ASRock X99E-ITX, but in the pictures provided by Corsair the board used seems to be a DDR3 based ASUS. It doesn't take much to pinpoint that the Bulldog is mostly likely aimed for a future DDR4 capable platform, or currently just for the ASRock motherboard if Corsair wishes to pursue the DDR4 route exclusively.) Corsair has also collaborated with NVIDIA and MSI to create drop-in ready liquid cooled variations of the Geforce GTX Titan X, GTX 980, GTX 980 Ti and GTX 970. Combinations of the Corsair H55 liquid AIO cooler and the HG10 graphics card cooling bracket may also be used.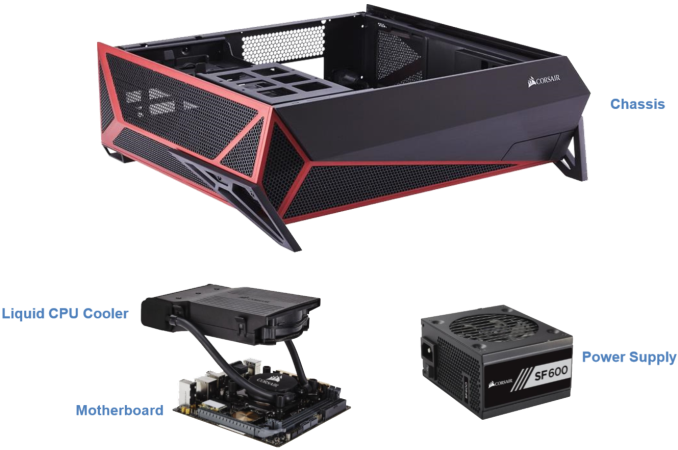 Corsair's timing with that release seems perfect, as the first few graphics cards that can borderline handle 4K gaming are just hitting the market. A few months ago and 4K gaming without at least two high-end GPUs installed was impossible. However, you cannot install two graphic cards in a system with an ITX motherboard, which made the creation of very small 4K gaming PCs very difficult. Aesthetically, we feel that many will question the overly aggressive appearance of the Bulldog for a machine that is meant to be into living rooms. It definitely stands out a lot and that is not what people with modernized/minimalistic interior designs want. However, if Corsair's endeavor proves to be successful, it would be rather easy for them to base other designs on this, offering new products to cover a variety of tastes.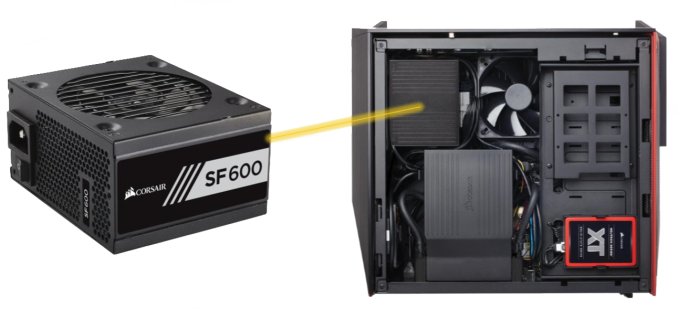 Alongside with the Bulldog, Corsair is also releasing the Lapdog, a gaming control center for use in the living room. Long story short, the Lapdog is a wired keyboard/mouse dock designed to sit on someone's lap. Aside from the presence of a USB hub and the memory foam cushion for user comfort, we do not have many details about the Lapdog at this point of time. Corsair will be offering it as a standalone station for $89 or with a keyboard for $199. The included keyboard obviously is the Corsair Gaming K65 RGB but we are unaware regarding the Lapdog's compatibility with other keyboards.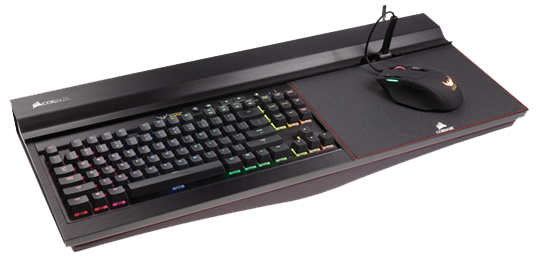 Source: Corsair Press Release