The Exterior of the Streacom F12C Desktop Aluminum Case
The Streacom F12C is clearly a minimalistic design. It highlights the simplicity of plain sandblasted aluminum, with the only aesthetic touches being the rounded corners and bottom edge of the faceplate. The F12C features a simple yet elegant appearance. Measuring 184 × 440 × 320 mm (7.25 × 17.35 × 12.6 in) and with a volume of 0.0259 m3 (25.9 liters), the F12C is one of the largest desktop cases that we have ever seen, yet it still requires about 50% less space than an average tower case. As the case is almost entirely made from aluminum, it is particularly lightweight, tipping our scale at just 4.35kg.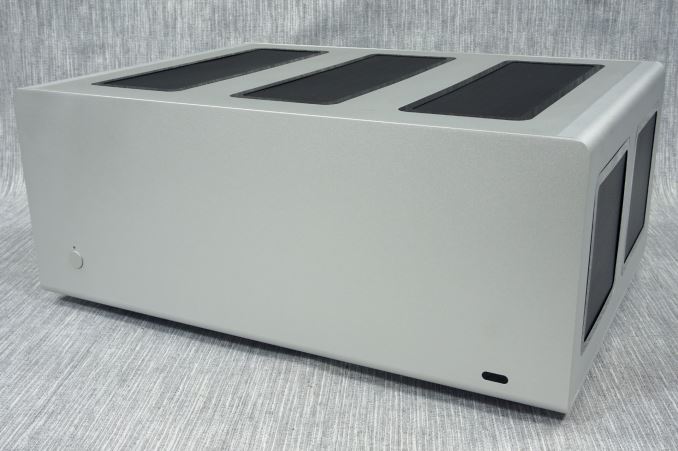 Only a rounded power on button can be seen to the left of the faceplate, with a pinhead LED light right above it. The black spot to the right of the faceplate is an opening for an infrared remote control device, which is optional. There is no opening for an optical media drive, slim or otherwise, which can be an issue for a case intended to hold HTPC systems. This issue aside, there is another series of omissions: there are no front USB or audio jacks, and not even a reset button. To clarify, there are no USB ports on the sides or top of the case either. For an HTPC case, the omission of front USB ports is a critical issue.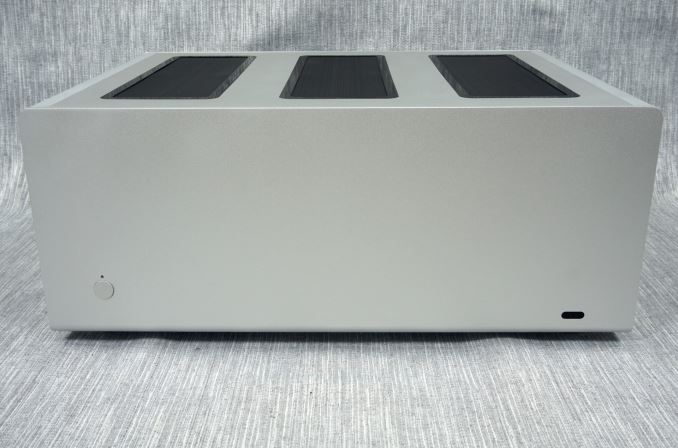 There are three rectangular openings at the top and two square openings at either side of the F12C chassis. All of these openings are air vents. The satin black frame surrounding them is a magnet that attaches on metal studs bolted onto the aluminum frame, locking the mesh filter into the cutout.
The mesh filters are very thin and soft, with a high aperture. It unlikely that they are capable of blocking much of the dust from entering the case, as some of the very small dust particles will easily go through the holes. On the other hand, they are very easily removable and washable, making them very practical.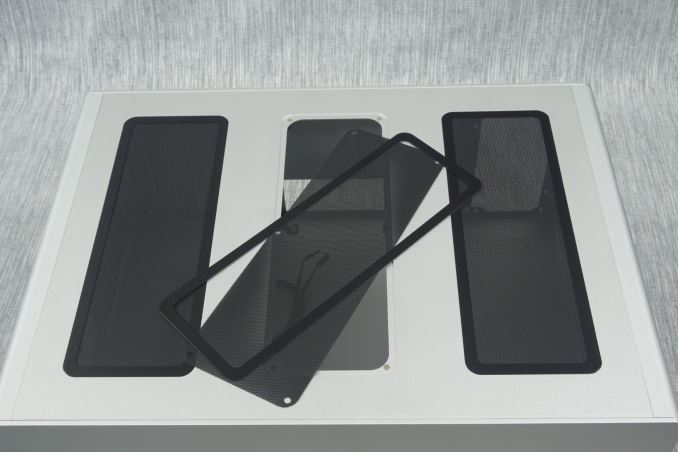 The bottom of the case is simple, with some openings punched to serve as air vents. There are four aluminum circular feet with soft rubber pads attached. The chassis model is etched onto the chassis and there is a small sticker with the serial of the product as well.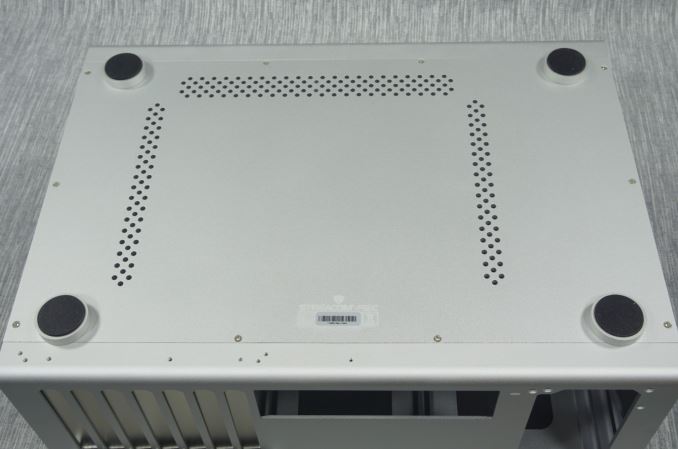 The rear of the F12C chassis is very simple and plain design. It essentially looks like a typical tower case that has fallen on its side. An aluminum cover shields the expansion card slot screws. Strangely, there are no ventilation or fan openings, even though there is more than enough space of a small exhaust fan.