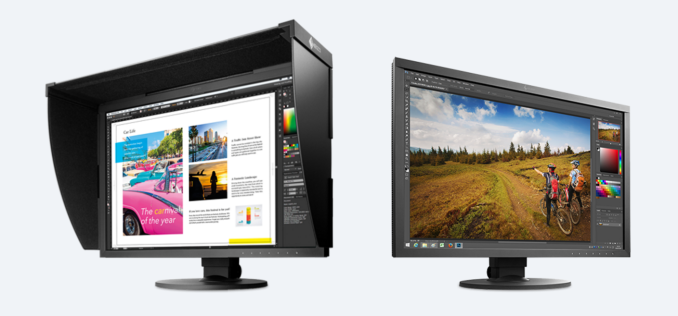 For anyone that loves a 16:10 screen, with resolutions such as 1920x1200 or 2560x1600, there have been relatively slim pickings in the monitor world recently. Any high end or high refresh rate monitor is likely to be of the 16:9 variety (1920x1080, 2560x1440 or 3840x2160) or a 21:9 unit through the ultra-wide 2560x1080 or 3440x1440 monitors. One of the reasons as to why companies who make high end monitors do not produce many 16:10 units was given to me by ASUS: there are simply not enough companies producing the panels. It seems that EIZO has managed to find a couple though, with their new ColorEdge displays.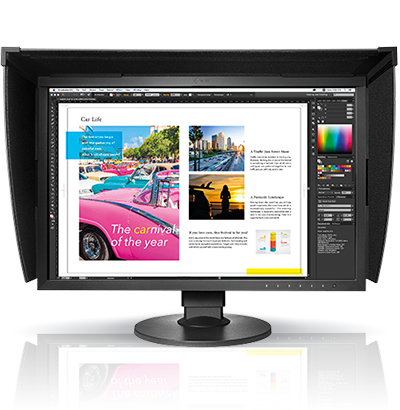 EIZO ColorEdge
CG2420
CS2420
Video Inputs
DVI-D with HDCP
DisplayPort with HDCP
HDMI with HDCP, Deep Color
Panel Type
IPS with Wide-Gamut LED
Pixel Pitch
0.270 mm
Colors
DisplayPort: 1.07 billion from 278 trillion
HDMI:

1.07 billion from 278 trillion


DVI-D: 16.77 million from 278 trillion
Greyscale

DisplayPort: 1024 tones from 65k tones




HDMI: 1024 tones from 65k tones




DVI-D: 256 tones from 65k tones

Gamut
AdobeRGB: 99%
DCI-P3: 98%

AdobeRGB: 99%

Brightness
400 cd/m2
350 cd/m2
Contrast Ratio
1500:1
1000:1
Response Time
10 ms (gray-to-gray)
15ms (gray-to-gray)
Viewable Size
24.1-inch (61cm)
Resolution
1920 x 1200 at 60 Hz
Viewing Angle

178°/178°

Backlight
Wide-Gamut LED
Screen Treatment
Anti-Glare
Height Adjustable
155 mm
Tilt

-5° to +35°

Swivel
344

°

VESA Wall Mounting
100 x 100 mm
Dimensions w/Stand
at maximum height
554.4 x 551 x 245 mm
Power Consumption
<0.7W Power Save
20W Typical
79W Peak
<0.7W Power Save
26W Typical
92W Peak
Weight
8.5 kg / 18.7 lb with Hood
7.8 kg / 17.2 lb
Additional Features
3-port USB 3.0 Hub
Color Adjustment Sensor
USB Charge Port

3-port USB 3.0 Hub




USB Charge Port

Accessories
Signal Cables (DVI-D, mDP to DP)
USB Cable
Utility Disk
Warranty
5 Years / 30k hours Parts
10k hours color (under 120cd/m2)
So admittedly these are not particularly consumer style monitors, and EIZO states that they are aimed at the creative industries rather than high refresh rate gaming. The cabinet designs come with a slimmer bezel that EIZO's previous versions, and come with carrying handles for easier mobility across a working environment. The CG2420 is the higher specification of the two, with a built in self-calibration sensor to maintain color accuracy over time, a higher contrast ratio at 1500:1 and a shading hood as standard.
Both units are 1920x1200 wide-gamut 10-bit IPS non-glare displays but use 16-bit look up tables to do so, and offer DisplayPort, HDMI and DVI digital inputs. The wide gamut aspect means that these panels have 99% AdobeRGB coverage, with the CG2420 panel also covering 98 of the DCI-P3 color space. Unfortunately no Rec. 2020 coverage is specified at this time, as the focus seems to be for DCI-P3. Both monitors also come with EIZO's custom ColorNavigator 6 software for calibration and a quoted time of 3-minutes for color stabilization from power-on.

Now, of course there will be users wondering why anyone wants a few extra pixels at the bottom, and why it matters. Typical 16:10 enthusiasts are coders and writers that love them for the extra vertical space, ensuring more content is on the screen at the same time. For media processing and consumption, the user can see the full 1920x1080 video on a 1920x1200 screen and still has space for functional buttons on editing or playback, rather than obscuring part of the video or making the content shrink/expand. As much as 16:10 monitors are rare, laptops even more so, which makes me wonder if I can't go back to my Dell M4400, except that the battery now lasts 2 hours and it weighs 4kg+. Fingers crossed for a 16:10 laptop sometime soon.
EIZO states that these monitors will be shipping from February, although intended markets and pricing are not yet confirmed. Both the CG2420 and CS2420 are backed by a five-year or 30,000 hour (3.4 year) on-time warranty for use and a 10,000 hour warranty on brightness and color.
Source: EIZO