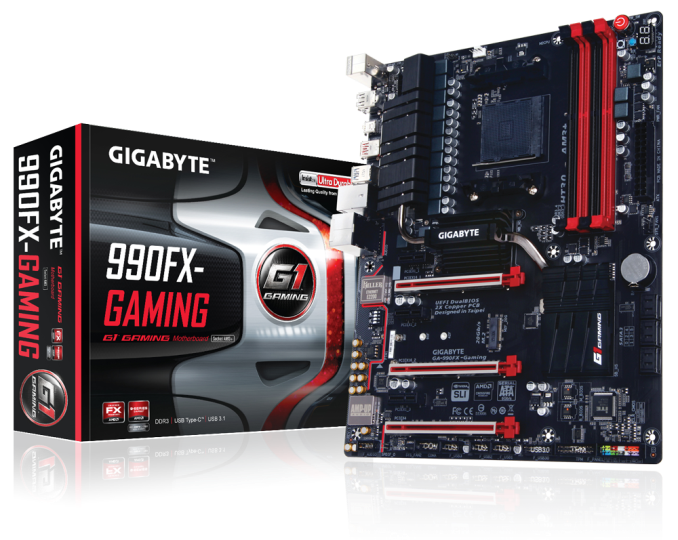 In the past week, GIGABYTE has introduced two new high-end motherboards for AMD FX microprocessors. The new platforms belong to GIGABYTE's premium Gaming G1 product lineup and include the latest storage/IO technologies like USB 3.1 and M.2, but also upgraded components and advanced overclocking capabilities. Despite formal positioning, the new mainboards are pretty affordable.
AMD introduced the 32nm AMD FX processors, code-named Vishera and based on the Piledriver microarchitecture, back in late 2012. In 2013, the company released its FX 9000-series CPUs with increased clock-rates and TDP of up to 220 W designed for overclockers. To support the launch of ultra-high-end processors from AMD, makers of motherboards released their new platforms featuring enthusiast-class feature-set as well as robust voltage regulating modules (VRMs). Since then, AMD's AM3+ platform has been ticking along while AMD has focused on the APU market. Because AMD's current-gen chipsets for the FX processors were developed in 2009 – 2011, they do not natively support some of the latest standards such as PCIe 3.0, but aim to feature USB 3.1 and M.2 via PCIe lane based controllers. As a result, it can be a minefield when choosing motherboards for AMD FX processors that have up-to-date functionality. Even though there are new processors incoming from AMD over the next year, the company is not giving up its current FX platform just now and a number of its motherboard partners are releasing new models with current-generation features.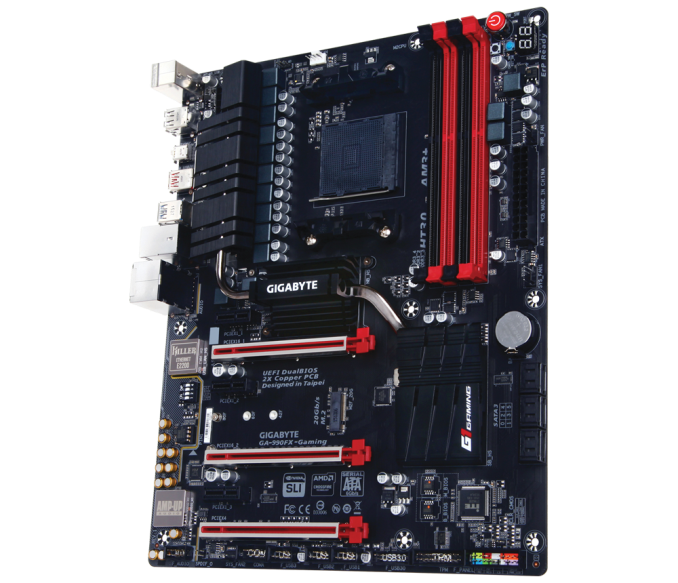 GIGABYTE decided to release not one, but two premium mainboards for AMD's AM3+ processors: the GA-990FX-Gaming and the GA-970-Gaming based on the AMD 990FX+SB950 and the AMD 970+SB950 chipsets respectively. The GIGABYTE GA-990FX-Gaming will be the company's flagship AM3+ product that will support all AMD FX CPUs (including the FX-9590 and the FX-9370 with 220W TDP) thanks to 10-phase VRM featuring solid-state chokes and 10K capacitors. The GIGABYTE GA-970-Gaming is designed for more mainstream CPUs up to 125W. Its five-phase power delivery will not support AMD FX-9000 chips, but will satisfy demands of all the rest AM3+ and AM3 processors, including the FX, the Phenom II, the Athlon II and the Sempron 100-series chips. Both motherboards are equipped with four memory slots and support up to 32 GB of DDR3-2133 memory.
AMD 900 Series Chipsets
990FX + SB950
(990FX-Gaming)
990X + SB950
970 + SB950
(970-Gaming)
Code Name
RD990
RD980
RX980
Released
Q2 2011
Q2 2011
Q2 2011
PCIe Lanes
42 PCIe 2.0 lanes
26 PCIe 2.0 lanes
26 PCIe 2.0 lanes
CrossFire
x16 + x16
x8 + x8 + x8 + x8
x8 + x8
x16 + x4
x8 + x8 + x4
SLI
x16 + x16
x16 + x8 + x8
x8 + x8 + x8 + x8
x8 + x8
x8 + x8
NB TDP
19.6W
14W
13.6W
HyperTransport (MHz)
2600
2600
2400
SATA 6 Gb/s
6
6
6
RAID
0, 1, 5, 10
0, 1, 5, 10
0, 1, 5, 10
USB 2.0
14
14
14
PCI
Yes
Yes
Yes
SB950 TDP
6W
6W
6W
The 990FX-Gaming features two PCIe 2.0 x16 slots and supports 2-way AMD CrossFireX as well as NVIDIA SLI multi-GPU technologies. The motherboard also has one PCIe 2.0 x16 slot running in x4 mode for an additional PCIe devices as well as three PCIe x1 slots. The 970-Gaming has one PCIe 2.0 x16 slot for PCIe adapters as well as two PCIe x1 slots and two PCI slots for add-in cards. In addition, the motherboard is equipped with one PCIe 2.0 x16 slot running in x4 mode and sharing bandwidth with the M.2 connector. If both slots are populated, they will run in PCIe 2.0 x2 mode.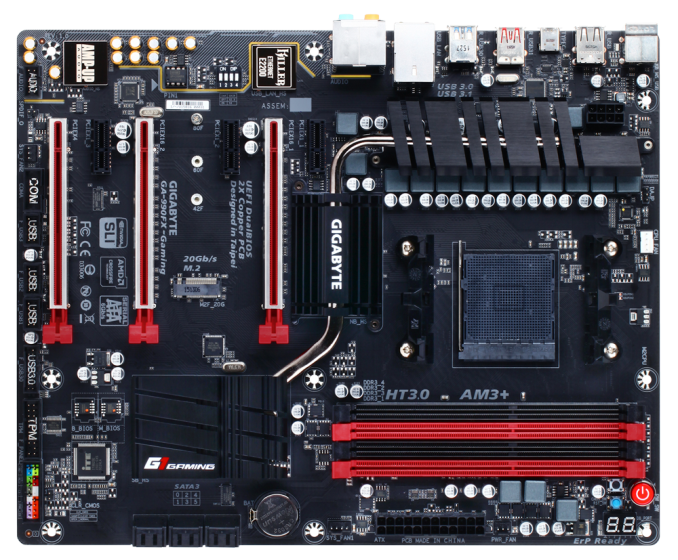 Each motherboard features one M.2 slot (2242/2260/2280 form-factors are supported) operating in PCIe 2.0 x2 (the GA-970-Gaming) or PCIe 2.0 x4 modes (the GA-990FX-Gaming), providing 10 Gb/s or 20 Gb/s of bandwidth to PCIe M.2 SSDs. The motherboards fully support NVMe protocol and are compatible with both AHCI as well as NVMe SSDs. Just like other contemporary mainboards, the GA-990FX-Gaming and the GA-970-Gaming come with six SATA 6 Gbps ports for HDDs and SSDs (RAID 0, RAID 1, RAID 5, RAID 10, and JBOD are fully supported).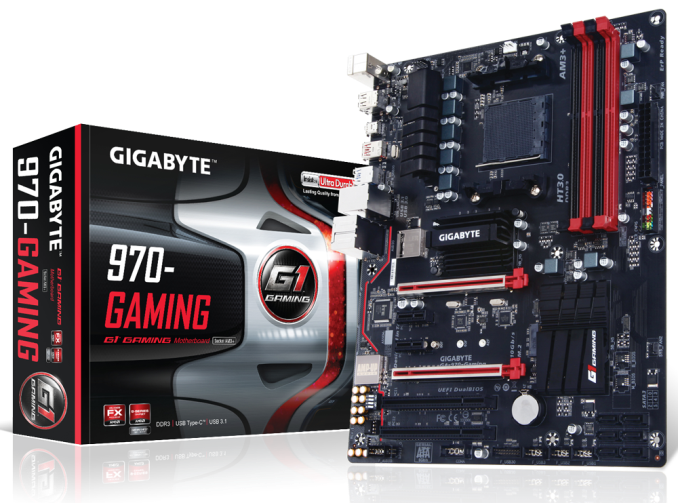 The mainboards are also equipped with the ASMedia ASM1142 controller that enables one USB 3.1 type-C and one USB 3.1 type-A connectors on the rear panel as well as the VIA VL805 chip that brings support for four USB 3.0 ports. AMD's SB950 I/O controller supports up to 14 USB 2.0 ports, so, in addition to six high-speed USB implementations, there will be a plenty of ports to connect a mouse, a keyboard and other devices. Two of the ports even feature improved power circuitry to give cleaner power delivery to audio DACs if needed. In addition, the motherboards feature Rivet Networks' Killer E2201 gigabit LAN controller that can prioritize gaming traffic over other traffic in certain cases due to proprietary software.
Finally, GIGABYTE installed its AMP-UP advanced audio sub-system with EM shielding and PCB separation of analog/digital signal on its new mainboards for AMD processors. The AMP-UP is based on the Realtek ALC 1150 codec as well as a TI Burr Brown NE5532 operational amplifier.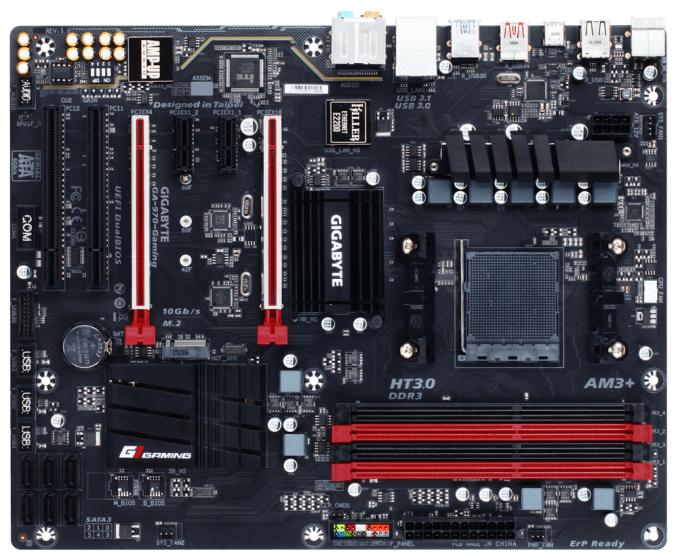 Generally speaking, the GA-990FX-Gaming and the GA-970-Gaming motherboards from GIGABYTE attempt to bring the feature-set of AMD's FX platforms as close to that of Intel's Skylake platforms as it can be. Due to lack of PCI Express 3.0 support and limitations of AMD's chipsets, it is impossible to offer M.2 slots with 32 Gb/s bandwidth (required for high-end SSDs), Thunderbolt 3 and some other technologies. Nonetheless, it makes a great sense for both GIGABYTE and AMD to roll-out motherboards with up-to-date functionality now. AMD's FX-8000 chips with four Piledriver modules have appropriate performance for their price point, but they can be competitive with feature unlocked multipliers, thus enabling easy overclocking. The AMD FX CPUs can offer rather decent levels of performance when they run at high clock-rates as well.
GIGABYTE's GA-970-Gaming is now available from Newegg for $99.99, whereas the GA-990FX-Gaming can be purchased for $139.99.
Related Reading
AMD FX-8320E Review
AMD FX-8370E Review
AMD FX-9590 (220W) and ASRock 990FX Extreme9 Review
The Vishera Review: AMD FX-8350, FX-8320, FX-6300 and FX-4300 Tested
Source: Gigabyte