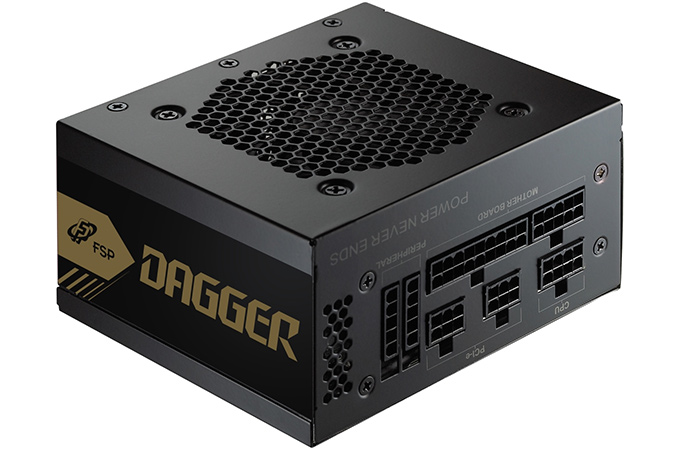 FSP has introduced its first power supplies in SFX form-factor designed for high-performance gaming PCs. The new Dagger family of PSUs will contain 500 W and 600 W models that feature a modular design 80 Plus Gold rated. With this latest PSU release, FSP will join a very narrow crowd of PSU makers who build SFX power supplies for gaming PCs.
When it comes to high-wattage SFX power supplies for gaming PCs, the users have a choice between only two major brands: Corsair and Silverstone. While these companies are well known and are very respected by the DIY community, the lack of serious competition has its effect on prices, which is why SFX PSUs are rather expensive for their wattage. FSP, the new kid on the block, will become the third major brand to offer SFX power supplies for gaming systems, which is a positive thing for the market.
The FSP Dagger family will initially include two models rated for 500 W and 600 W maximum load. Both PSUs are compliant with SFX12V V3.3 and ATX12V V2.4 specifications as well as carry the 80 Plus Gold certification. Both PSUs will be equipped with an 80 mm dual ball bearing fan and both feature modular design to ensure easy cable management and clean system builds. Finally, FSP claims that its Dagger PSUs sports a special cross-regulation mode to handle unbalanced loads, which are common for some gaming PCs.
FSP Dagger Series
Connector type
Hardwired
Modular
ATX 24 Pin
-
1
EPS 4+4 Pin
-
1
PCI-E 6 Pin
-
2
Peripherals
-
?
The Dagger PSUs will have EPS12V power connectors (one 24-pin and a 4+4-pin connector), will sport two PCIe 6-pin power connectors as well as several SATA power connectors. While it will be possible to use such power supplies for systems featuring high-end graphics cards that only have one 8-pin PCIe or two 6-pin PCIe auxiliary power connectors, the FSP Dagger PSUs will not be able to work with graphics adapters that require two 8-pin PCIe inputs (from formal point of view, of course). For example, NVIDIA's GeForce GTX 1080 has one 8-pin PCIe auxiliary power connector, which can be plugged to two 6-pin PCIe connectors using a special adapter. Meanwhile, AMD's Radeon R9 Fury X uses two 8-pin aux PCIe power inputs, which is why it is formally incompatible with the Dagger.
The Dagger power supplies from FSP will hit the market later this year. Right now, prices of the products are unknown.
Source: FSP