Construction
Both the L700C and the L520B came in a dull silver paint job.  Whereas beige was the color for computer components in the 90's, this dull silver has become the standard for virtually all LCD's manufactured this year.  After a quick trip to a nearby computer store, we counted no less than 7 manufacturers with this similar color style (Samsung, Viewsonic, Hitachi, Sony, etc).
Like the Albatron L17AT we reviewed last month (silver, of course), the Daewoo LCD's were weighted with steel on the bottom to keep their center of gravity as low as possible.  Even though it adds to the total weight of the monitor, lowering the center of gravity diminishes the need for a large base.  Surprisingly, the bases on both LCD's had the same base depth of 7.5".  The base width on the L700C and the L520B were 12.0" and 9.5" respectively.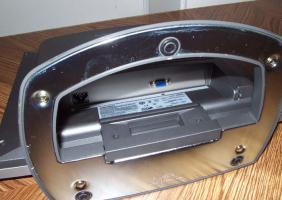 L520B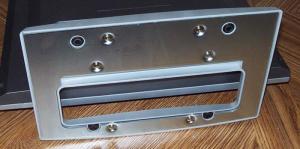 L700C
While thumbing through the product specifications on these monitors, we immediately noticed the absence of response times.  Typically, we don't see a standard specification unlisted unless it is remarkably poor.  After contacting Daewoo and their distributor several times we eventually learned the response time of the L700C was around 34ms while the L520B had a response time of approximately 30ms.  These are not spectacular response times, but for value oriented LCD's, 30ms should provide a quick enough redraw for all but the most intensive graphical applications, movies and games.
Power was provided by plugging the included AC cable directly into the monitor.  We are very glad to finally see an LCD monitor without the need for an AC to DC adaptor.  When working in a lab environment, office, or even dorm room, fewer wires are always better.  Possibly an unexpected bonus of an integrated AC-DC converter is the lower power consumption.  The 17" LCD has a very low consumption of 40W working but the 15" LCD only consumes a mere 26W during operation.
Unfortunately, the L700C seemed to generate an unusual amount of heat.  While nowhere near the heat emission of a CRT monitor, the L700C had a larger heat footprint than most LCD's.  Both monitors provide small venting on the top of the monitor similar to CRT displays.
Daewoo

 


L700C


L520B

LCD

17.0" TFT LCD (Active Matrix)

pixel pitch: 0.264mm H x 0264mm V
Anti-glare coating

15.0" TFT LCD (Active Matrix)

pixel pitch: 0.297mm H x 0297mm V
Anti-glare coating

Scanning Frequency

Horizontal: 30-80kHz
Vertical: 56-77Hz

Horizontal: 30-62kHz
Vertical: 50-75Hz

Response Time

34 ms (avg)

30ms (avg)

Contrast Ratio

400:1 (Typical)

350:1 (Typical)

Brightness

250 cd/m2

250 cd/m2

Compatibility

1280 x 1024 @ 75Hz (Native)

1024 x 768 @ 75Hz (Native)

Dimensions (WxHxD)

20.8" x 19.7" x 9.4" (WxHxD)

18.0" x 17.0" x 7.4" (WxHxD)

Power

Working : 40W Max

Standby/Off: 5W

Working : 26W Max

Standby/Off: 5W

Weight

13.7 lbs

9.2 lbs

Warranty

3 years parts and labor

3 years parts and labor