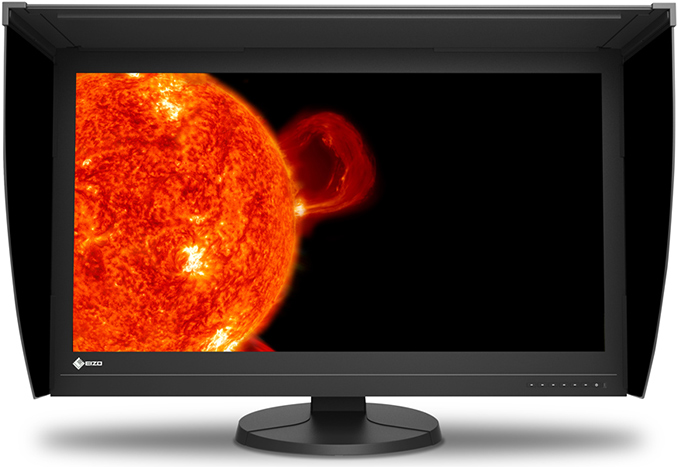 EIZO this week announced its new ColorEdge Prominence CG3145 reference monitor with a DCI-4K resolution and a display covering 98% of the DCI-P3 color space. The monitor is claimed to be designed for professionals working with HDR post-production, particularly for TV and home video industries. The display offers a very high brightness level and contrast ratio, but the key feature of the screen that EIZO mentions is the ability of its IPS panel to display both deep blacks and very bright colors at the same time without artefacts caused by the peculiarities of competing displays.
The EIZO ColorEdge Prominence CG3145 monitor is based on a 10-bit IPS panel that can reproduce 1.07 billion colors and features a 4096×2160 resolution at 60 Hz. The manufacturer says that the display has a 1000 nits typical brightness (as well as a 1,000,000 static contrast ratio). The ColorEdge Prominence CG3145 covers 98% of the DCI-P3, 99% of the Adobe RGB, as well as 80% of the Rec. 2020 color spaces (but these numbers may change as the product is being tuned up now). This comes with a 24-bit 3D LUT (look-up table) for HDR color gradations. As for connectivity, the display will have one DisplayPort capable of DCI-4K with 4:4:4 chroma subsampling at 50/60 Hz, as well as two HDMI 2.0 inputs capable of DCI-4K with 4:2:2 at 50/60 Hz. Since the monitor is aimed primarily at post production video professionals, EIZO has not currently disclosed support of sRGB and also does not disclose specs like response time or power consumption.
The key feature of the ColorEdge Prominence CG3145 display is its ability to properly reproduce both very bright and very dark areas on the scene without artefacts caused by local dimming (used on many IPS-based televisions and on some monitors) or an auto brightness limiter. EIZO does not reveal many details about the IPS panel it uses for the CG3145, but it claims that it has control of backlight intensity in every pixel. The latter means that the company either uses Panasonic's IPS panels with a special layer of light-modulating cells that enable pixel-by-pixel control of backlight intensity, or a similar technology it has developed in-house.
In both cases, the pixel-by-pixel control of the backlight sets the ColorEdge Prominence CG3145 display apart from the rivals which use IPS panels with local dimming. Another feature that the monitor has is its 24-bit 3D LUT, which has a potential to produce more accurate colors than the 14-bit 3D LUTs supported by other HDR monitors. Speaking of HDR, it is noteworthy that the CG3145 supports both HLG (hybrid log-gamma) and PQ (perceptual quantization) gamma curves. The HLG is suitable for live TV broadcasting as it has a peak luminance of 1000 nits, whereas the PQ supports considerably higher luminance (up to 10,000 nits) and is suitable for recorded content. The combination of these features means that EIZO has positioned the ColorEdge Prominence CG3145 as a reference monitor for HDR content.
Specifications of the EIZO ColorEdge Prominence Reference HDR Display
CG3145
Panel
31.1" IPS
Native Resolution
4096 × 2160
Maximum Refresh Rate
60 Hz
Response Time
unknown
Brightness
1000 cd/m² (typical)
Contrast
'1,000,000:1'
Viewing Angles
178°/178° horizontal/vertical
HDR
HDR10 with 24-bit LUT
Dynamic Refresh Rate
none
Pixel Pitch
0.170 mm²
Pixel Density
149 ppi
Display Colors
1.07 billion
Color Gamut Support
DCI-P3: 98%
Adobe RGB: 99%
Rec. 2020: 80%
sRGB: unknown
Aspect Ratio
1.9:1
Stand
to be announced
Inputs
1 × DisplayPort
2 × HDMI 2.0a/2.0b (HDCP 2.2)
1 × USB for monitor control and the USB hub
USB Hub
3-port USB 3.0 hub
Launch Date
Late 2017
EIZO plans to demonstrate the ColorEdge Prominence CG3145 monitor at the NAB Show later this month. Actual sales of the product are going to start sometimes in late 2017 after the manufacturer finalizes all the details and specifications. Given that the display is not going to show up for another six months, EIZO does not talk about its price. EIZO positions the CG3145 as a reference monitor, which are typically priced above professional-grade models.
Related Reading:
Source: EIZO