ROG: Strix X299-E, Rampage VI Extreme, & Rampage VI Apex
Last, but certainly not least, is the Republics of Gamers (ROG) series. At the moment, we are only aware of three models - Strix X299-E, Rampage VI Extreme, and Rampage VI Apex - but we would not be surprised if that lineup expanded in the future.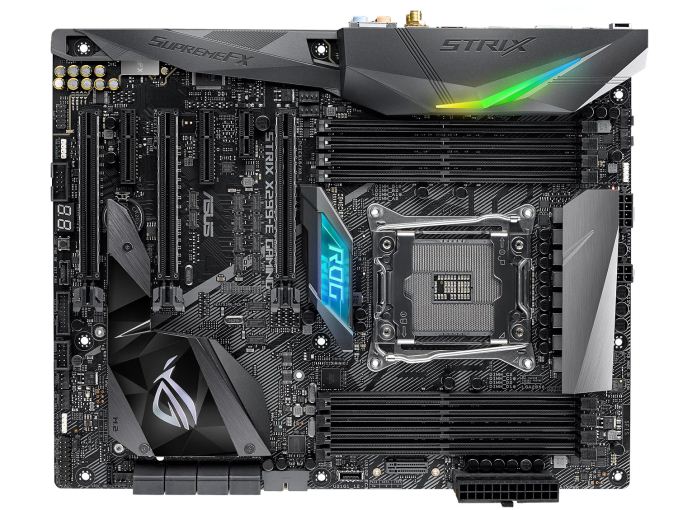 Starting off with the ROG Strix X299-E - since it is the only one that we actually have a picture of - this is the model acts as the affordable entry point into the Republic of Gamers series. While it still has many of the same features and aggressive appearance of the other ROG models, it is a more conventional motherboard compared to the highly specialized Rampage VI Apex and Rampage VI Extreme.
This is a standard ATX form factor model with a monochrome color scheme that can blend in with a wide range of components. Much like all the other models listed above, the Strix X299-E has an 8-phase digital CPU power design managed by some variant of the DIGI+ PWM controller. It features eight SATA 6Gb/s ports, dual M.2 slots, one Intel-powered gigabit LAN port, and onboard dual-band 802.11ac Wi-Fi. Although we don't have a picture of the rear I/O panel, there is one USB 3.1 Gen2 header, two USB 3.0 headers, and one USB 2.0 header.
This motherboard has three mechanical PCIe x16 slots, although only two are actually x16 capable, while the third is limited to x8. This is still perfectly acceptable for three-way SLI or CrossFire configurations. Those three slots are all of the SafeSlot variety, so they have been mechanically reinforced with steel and additional anchor points for superior retention and shearing resistance. There are also two PCIe x4 slots and one PCIe x1 lot.
The onboard audio duties are handled by a SupremeFX design, and it is very likely based on the Realtek S1220A codec and paired to a couple of op-amps. We can see that there is an EMI cover for the codec, a number of Nichicon audio-grade capacitors, and a PCB-level audio isolation line. As would expect, the AURA RGB lighting feature is built into this model, most notably with LEDs integrated into the rear I/O shield and the center logo/heatsink that doesn't actually cool anything. There is also a pair of headers on which you can plug any 5050 RGB LED lighting strips, and have them fully powered by the motherboard and controlled by the included AURA utility.
Since cooling is important in a gaming system, the ROG Strix X299-E not only has seven total fan headers, but two of them are high amperage capable for AIOs or water pumps. When it comes to value-added features, there is an onboard power button, Q-Code Debug LED, and a CPU overvoltage jumper for those looking to do some extreme overclocking.
Surprisingly, we actually know very little about the upcoming flagship ROG Rampage VI Extreme. We know that it supports three M.2 slots, one of which is under its protective armor, while the other two are installed on a DIMM.2 module next to the memory slots.
We know that it has one Intel-powered gigabit LAN port, but that it also features the brand new Aquantia AQtion AQC107 10Gb ethernet controller. We can reasonably assume that there is a secondary LAN port that will be capable of very high-speed networking. This model also has an onboard dual-band Wi-Fi solution that supports the new 802.11ad protocol and is capable of theoretical tranfer rates up to 4.6Gbps.
The Extreme was designed with custom liquid cooling in mind, and along with all of the usual fan and pump headers, there are two flow headers that let you monitor the temperature and flow rate of your coolant. We know for a fact that it won't feature an integrated water block like the Maximus IX Extreme, since ASUS explicitly mentions that there is "a special connector that lets water blocks designed for the Extreme provide flow, temperature, and leakage data".
Much like on the Prime X299-Deluxe, there a LiveDash OLED screen integrated somewhere on the board, and it can be used to display system temperatures, system frequencies, fan speeds, or just graphics and text. Apparently, the Rampage IX Extreme also comes with enough onboard LEDs and LED light strip headers to "put on a show". Given its high-end positioning and overclocking roots, we can expect the usual array of overclocking-related buttons, switches, jumpers, and maybe even some voltage read points.
While the Extreme should overclock exceedingly well, it will be no match for the ROG Rampage VI Apex. This purpose-built model is designed for one thing: record-breaking overclocking. Apparently, this Apex model has already been used to break a number of overclocking world records behind the scenes.
This model only has four memory slots, since that allows for shorter and more optimized trace routing that can improve high speed memory stability. Next to the memory slots are two DIMM.2 slots that can support a total of four M.2 SSDs.
As we can come to expect from the Apex model, the PCB will once again have a unique and distinctive shape. We know very little about the basic specs, but there will obviously be some SATA 6Gb/s ports, USB 3.1 Gen2 connectivity, one Intel-powered gigabit LAN port, SupremeFX onboard audio, and even a dual-band 802.11ac Wi-Fi module.
Pricing details with be announced on June 26th, but all of the models - except the TUF X299 Mark 2 - will be available at leading North American resellers starting in late June. Of the ROG models, the ROG Strix X299-E will be available first.