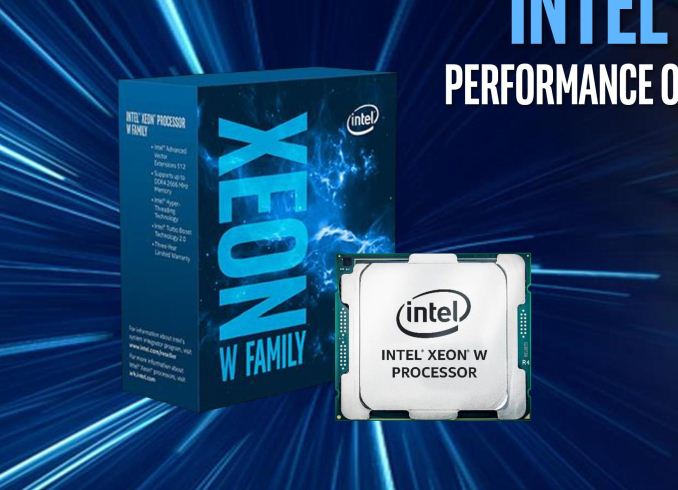 On the professional side of the CPU space, Intel's new Xeon Scalable Processor family, based on the Skylake-SP architecture, is suiting up against the new EPYC processors from AMD. Part of Intel's Xeon-SP launch was a rebranding of their product stack: gone are E5 and E7 families, and now Platinum, Gold, Silver and Bronze make for a confusing conversion. With this announcement, Intel also gave the image that now consumer and professional platforms were separate: no longer were Xeons welcome in consumer sockets. However as it turns out, this would not quite be the case.
Today Intel is taking the wraps off of their new Xeon-W family of processors, which will be their new brand for workstation-class processors. With the Xeon-W announcement today, Intel is bridging the gap between servers and consumer processors (in name at least) with a direct replacement for the old E5-1600 series, which will see Skylake-SP Xeons come to the LGA2066 socket with additional professional-level features in tow.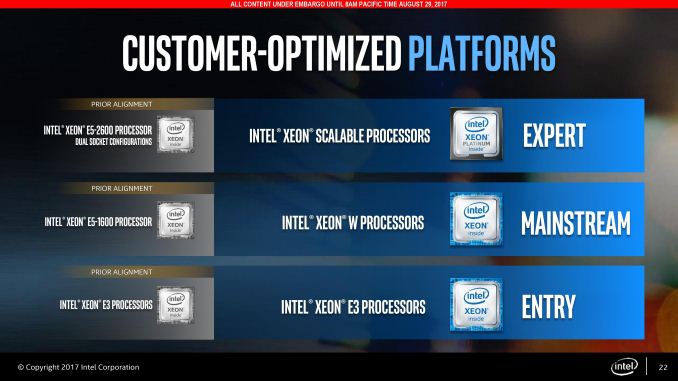 Historically, the E5-1600 series were identical processors to the E5-2600 series, except without the dual socket capabilities and consequently priced more appropriately for single socket workstations. Meanwhile over the last few generations, the consumer and enterprise platforms shared a socket, which made cross compatibility fairly easy.
With the new Xeon-SP processors, however, the enterprise platform went up to Socket LGA3647. This new socket is a far cry from the consumer LGA2066, losing a common platform in exchange for more memory channels and other features such as Omnipath. With a complete division between consumer and enterprise, there was no way to bring features such as ECC and vPro down into more consumer friendly environments.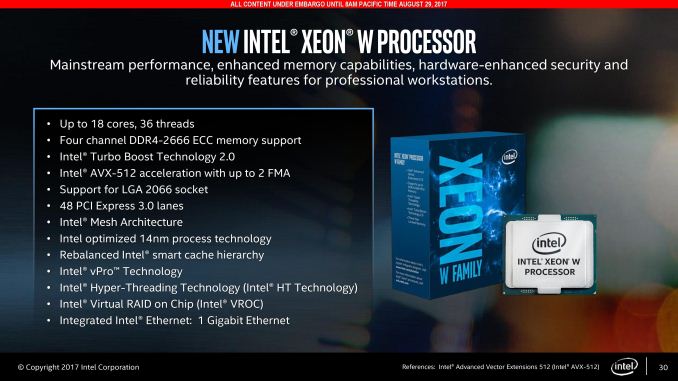 Today's launch of Xeon-W fixes this, although you probably still need a new chipset. As a replacement for the E5-1600 series, the Xeon-W CPUs will feature parts from 4 cores up to 18 cores, support up to 512GB of ECC RDIMM/LRDIMM memory, support dual 512-bit FMAs throughout the stack, and peak turbo clocks of 4.5 GHz.
New Intel Xeon-W Processors (LGA2066)
Cores
Base
Freq.
Turbo
2.0
L3
(MB)
L3/core
(MB)
TDP
Price
Xeon W-2195
18/36
2.3 GHz
4.3 GHz
24.75
1.375
140 W
TBD
Xeon W-2175
14/28
TBD
TBD
19.25
1.375
140 W
TBD
Xeon W-2155
10/20
3.3 GHz
4.5 GHz
13.75
1.375
140 W
$1440
Xeon W-2145
8/16
3.7 GHz
4.5 GHz
11.00
1.375
140 W
$1113
Xeon W-2135
6/12
3.7 GHz
4.5 GHz
8.25
1.375
140 W
$835
Xeon W-2133
6/12
3.6 GHz
3.9 GHz
8.25
1.375
140 W
$617
Xeon W-2125
4/8
4.0 GHz
4.5 GHz
8.25
2.063
120 W
$444
Xeon W-2123
4/8
3.6 GHz
3.9 GHz
8.25
2.063
120 W
$294
In essence, these are Xeon versions of the current Skylake-X (Core i9) processors with all the pro features enabled, such as the extended memory support, vPro, Intel's AMT, and the standard enterprise Reliability, Serviceability and Availability (RAS) features. They will require a new chipset, the C422 chipset, and despite the common LGA2066 socket, the Xeon-W will not work with the consumer X299 chipset (reaffirming the split we see with the E3-1200 v5/v6 series which require the C236 chipset and will not work with the Z170 chipset). As a result, we are likely to see most of the major motherboard manufacturers pump out at least one version of an enterprise board to cover this market.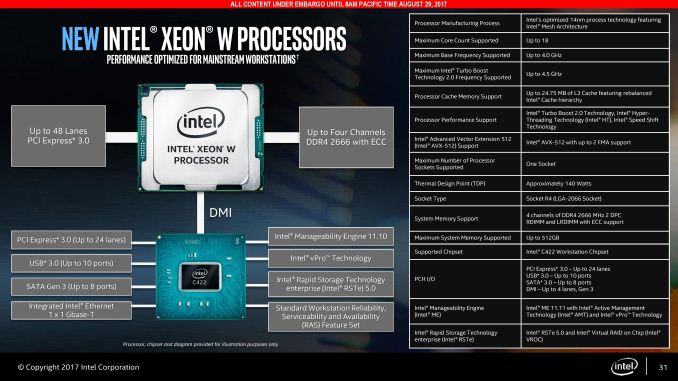 Starting at the bottom of the new Xeon-W product stack, we find something interesting: Intel is releasing a pair of four core parts that have 8.25MB of L3 cache, rather than the 5.5MB we would expect from a 1.375MB/core Skylake-SP design. This indicates that these parts retain access to some of the L3 cache attached to the disabled cores, making them particularly well suited for software that is licensed per CPU core and consequently needs the the highest single-threaded performnace possible. There are two 6 core members of the stack, which differ solely on clock speed. This is then followed by an 8 core, a 10-core, a 14-core and an 18-core, with no 12-core or 16-core present (although if launched, these are likely to be called the W-2185 and W-2165). All the parts will support 48 PCIe 3.0 lanes from the processor, suitable for 2x GPU and 3x PCIe storage direct from the CPU without going out to the chipset (in the consumer Skylake-X product line, the two bottom SKUs only have 28 PCIe lanes, and the rest have 44). Every processor in the Xeon-W stack sits at 140W, except the quad cores at 120W. By contrast, Skylake-X goes up to 165W. It is also worth noting that the Xeon-W processors only support Turbo Boost 2.0 rather than Turbo Boost Max 3.0 and its "favored core" underpinnings. And as with past Xeon processors, Xeon-W processors are also likely to be locked.
Top SKU Comparison
Features
Skylake-X
(i9-7980XE)
Xeon-W
(Xeon W-2195)
Skylake-SP
(Xeon 8180/M)
Platform
X299
C422
C620
Socket
LGA2066
LGA2066
LGA3647
Cores/Threads
18 / 36
18 / 36
28 / 56
Top Base/Turbo
2.6 / 4.2
2.3 / 4.3
2.5 / 3.8
GPU PCIe 3.0
44
48
48
DRAM / DDR4
128GB
UDIMM
Quad-Channel
512GB
RDIMM+LRDIMM
Quad Channel
768GB/1536GB
RDIMM+LRDIMM
Six Channel
TDP
165W
140W
205W
Price
$1999
TBD
$10009 / $13011
There are several obvious comparisons that can be made between the Xeon-W family and both the consumer Skylake-X and the server Xeon-SP platforms. Intel's goal here is to hit something in the middle: an increase in price over Skylake-X gets you more memory support, ECC, more PCIe lanes, and management features, but doesn't go the full way to six-channels of DDR4 or multi-socket support. Not all of the Xeon-W parts have specifications and prices yet, but the 8-core processor is a good place to do comparisons.
8-Core Comparison
Features
Skylake-X
Core i7-7820X
Xeon-W
Xeon W-1245
Skylake-SP
Gold 6144
Platform
X299
C422
C620
Socket
LGA2066
LGA2066
LGA3647
Cores/Threads
8 / 16
8 / 16
8 / 16
Base/Turbo
3.6 / 4.3
3.7 / 4.5
3.5 / 4.2
GPU PCIe 3.0
28
48
48
DRAM / DDR4
128GB
UDIMM
Quad-Channel
512GB
RDIMM+LRDIMM
Quad-Channel
768GB
RDIMM+LRDIMM
Six Channel
TDP
140W
140W
150W
Sockets
1
1
Up to 4
Price
$599
$1113
$2925
The consumer Core i7 has fewer PCIe lanes and the most limited DRAM support, but it's the cheapest. Conversely, the Xeon Gold CPU is easily the most expensive, but it supports up to four sockets, has more L3 cache per core overall, and gets the greatest memory capacity, while incurring a slightly higher TDP in the process. The Xeon-W then sits neatly in the middle, taking advantage of high clock frequencies and pro features with a small bump in price, without forking over for multi-socket support.
Of course, we can put the Xeon W-2145 up against AMD's Threadripper 1900X and EPYC 7401P too:
Comparison
Features
Xeon-W
Xeon W-1245
AMD Ryzen
TR 1900X
AMD EPYC
7401P
Platform
C422
X399
-
Socket
LGA2066
TR4
SP3r2
Cores/Threads
8 / 16
8 / 16
24 / 48
Base/Turbo
3.7 / 4.5
3.8 / 4.0
2.0 / 3.0
GPU PCIe 3.0
48
60
124
DRAM / DDR4
512GB
LDIMM+RDIMM
Four Channel
128GB
UDIMM
Four Channel
2 TB
RDIMM + LRDIMM
Eight Channel
L3 Cache
11.00 MB
32 MB
64 MB
TDP
140W
180W
155W/170W
Price
$1113
$549
$1075
For both parts that have the same core counts, Intel has the frequency advantage (and the performance advantage) and the power advantage, but AMD's chips have 60 PCIe lanes, more memory support, and are cheaper. When the 1950X doubles the cores but reduces the frequency, it still comes out cheaper than the Xeon W. Intel still has dual 512-bit FMAs/AVX-512 support, which Intel says is a big bonus in this market, and will point to its single thread performance.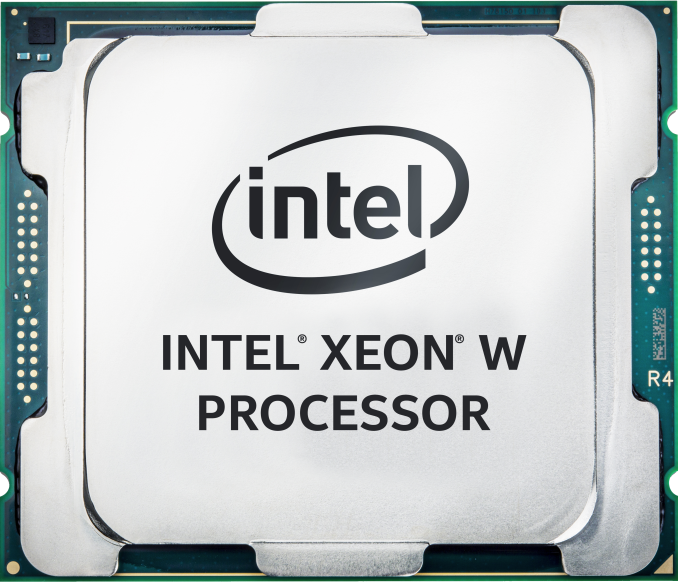 While today is the formal announcement of the Xeon-W family, Intel has not announced much in the way of release details other than that the 14/18 core parts will be available in Q4. The rest are likely to come to market sooner, and we have requested details on retail availability. We've also had a lot of requests for workstation level testing or Xeon vs EPYC, and we're in touch with both companies to get our hands on processors as soon as we can.
To clarify, we're still waiting on information about CPU/chipset support, and if Xeon-W will be supported in X299 motherboards. We will update this piece when we get that information.
Update 1
We fired a few questions to Intel, and got a few answers.
Chipset Support: Xeon-W will only work in C422 motherboards. C422 motherboards will not accept Core-X processors.
DRAM: 128GB LRDIMMs are not supported. Intel feels this level of value does not benefit workstation users and directs them to the M versions of the Xeon-SP lines.
Turbo Boost 3.0: Intel is not supporting this on Xeon-W, but has engineered TB2 to match the same frequency.
Mesh Frequency: Intel refuses to disclose this publicly, even though anyone with a CPU could poll it to get the result. This was an odd response to this request.
Also on retail availability: Up to 10-core parts are available from OEMs from August 29th (today). However, only W-2123 and W-2135 are going to be on the shelf in official retail packaging. End users will have to procure the other parts through non-retail packs.