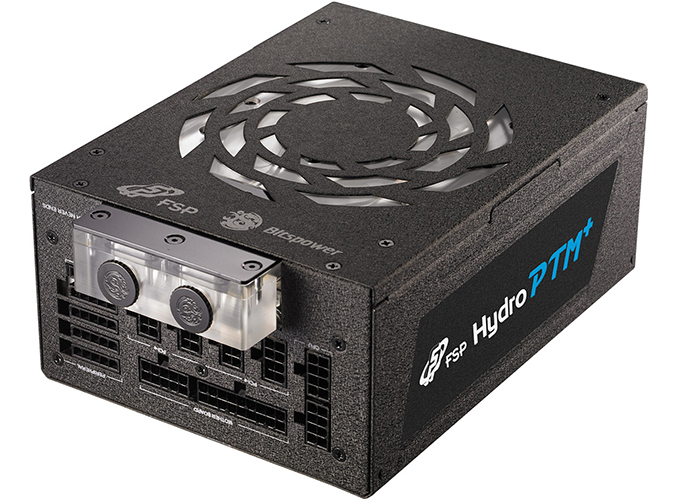 FSP this week has announced that its Hydro PTM+ 1200 W/1400 W power supply, featuring a liquid cooling block that was originally demonstrated at Computex 2017, would hit the market shortly. Priced at nearly $700, the PSU has a significant additional cost. To soften the blow for early adopters, the first 500 buyers will get a free Bitspower AIO LCS kit along with sleeved cables.
The FSP Hydro PTM+ PSU is compliant with the ATX12V v2.4 as well as EPS12V v2.92 standards and is rated for a 100 A maximum load and 1200 W power. The power supply is certified for the 80Plus Platinum badge at 1200 W when it is cooled down using its built-in 135-mm fan, but once it is connected to a liquid cooling system, the manufacturer guarantees that it can handle loads of up to 1400 W. The liquid cooling block of the FSP HPT1200M was developed by Bitspower and is compatible with various custom-built liquid cooling systems from different manufacturers.
Power Specifications of the FSP Hydro PTM+ PSU
(Rated @ Unknown °C)
AC INPUT
100 - 240 VAC, 50 - 60 Hz
RAIL
+3.3V
+5V
+12V
+5Vsb
-12V
MAX OUTPUT
24A
24A
100A
3A
0,3A
120W
1200W
15W
3.6W
TOTAL
1200W
FSP does not officially disclose how efficient the Hydro PTM+ is at 1400 W, but says that the PSU remains silent even under maximum loads. This is an interesting claim, as users who regularly push 1000W+ tend to be compute, rendering, or cryptocurrency focused.
Connectivity of FSP Hydro PTM+ PSU
FSP HPT1200M
Connector type
Modular
ATX 24 Pin
1
EPS 4+4 Pin
2
PCI-E 6+2 Pin
8
SATA
12
Molex
4
Floppy
1
Fan
-
Dimensions
200 x 150 x 86 mm
Being aimed at enthusiasts and gamers, the FSP HPT1200M is fully modular, has built-in RGB LEDs, and is compatible with the ASUS Aura Sync lighting controls. The power supply is outfitted with a 24-pin ATX power connector, two 4+4-pin EPS power plugs as well as eight 6+2-pin auxiliary PCIe connectors, a configuration that enables it to handle dual-socket motherboards with four ultra-high-end graphics cards. The last time we tested a dual processor system with four GPUs at AnandTech, a dual socket 1366 with four HD 7970s, it was drawing 1550W at the wall during cryptocurrency, for perspective.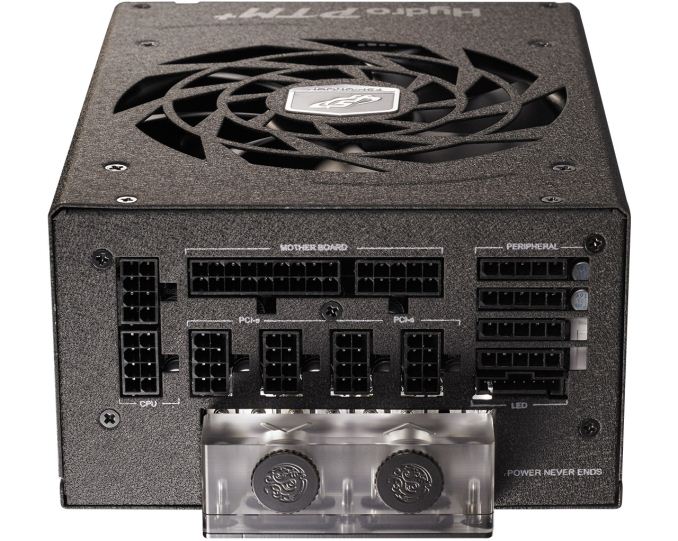 The FSP Hydro PTM+ 1200 W PSU will be available shortly for $699 from retailers like Amazon and Newegg. The MSRP of the FSP HPT1200M is considerably higher than the price of other high-end 1200 W 80Plus Platinum PSUs (the EVGA SuperNOVA 1200 is available for roughly $350), which is logical considering the unique nature of a liquid-cooled PSU. The 'good' news is that the first 500 buyers of the FSP Hydro PTM+ 1200 W PSU will get a free AIO LCS from Bitspower that includes a pump, a radiator, and a 120-mm fan. In addition, FSP will bundle sleeved cables with the PSU. This offer is apparently worldwide.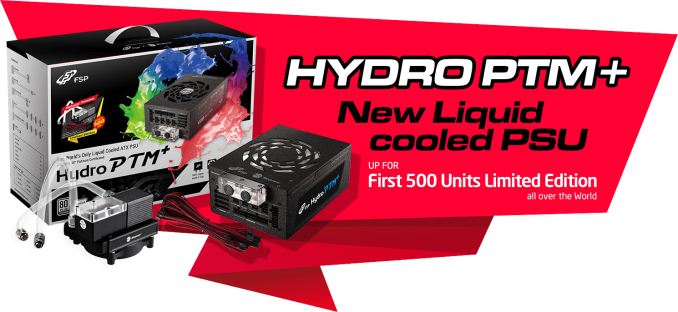 FSP and Bitspower were not the first to develop a liquid-cooled PSU for enthusiast-class PCs. For example, Deepcool demonstrated such power supply several years ago, but it never entered mass production.
Related Reading
Source: FSP