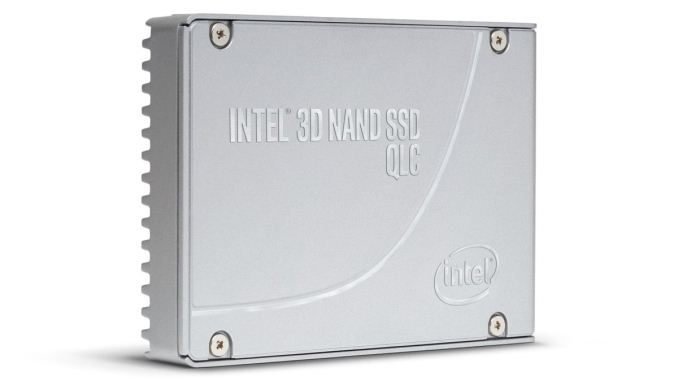 Intel has finally shared the naming and specifications for their first datacenter SSDs using QLC NAND flash memory, after recently announcing that the then-unnamed drive had entered mass production. Intel is also introducing a modification to their enterprise/datacenter SSD naming scheme, and announcing a refresh to their TLC-based SATA SSDs for datacenters.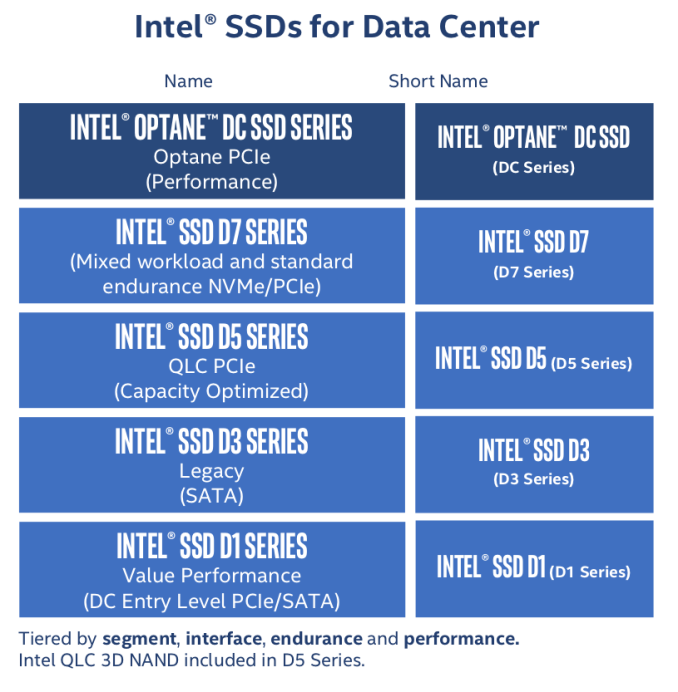 Intel's new naming system for their datacenter SSDs doesn't drastically change how models are numbered, but it does more clearly delineate between product segments, and resembles the Core i3/5/7 tiers for their consumer CPUs. The Optane DC SSDs will carry on with their current branding, but starting now all the NAND flash-based datacenter SSDs will be slotted into a D1, D3, D5 or D7 tier. From the top, we have the D7 series of NVMe SSDs for mixed workloads using TLC NAND, followed by the D5 series of high-capacity NVMe SSDs using QLC NAND, the D3 series of SATA SSDs, and the D1 series of entry-level PCIe and SATA SSDs that tend to be based on the same hardware platforms as Intel's client/consumer SSDs.
Within each tier, individual products still bear similar model numbers, so the first QLC SSD is the Intel SSD D5-P4320, compared to existing TLC-based drives like the P4510 and P4610 (the successors to which will be in the D7 series).
Intel SSD D5-P4320 Specifications
Capacity
7.68 TB
Form Factors
2.5" 15mm U.2
Interface
PCIe 3.1 x4, NVMe
NAND
Intel 1024Gb 64L 3D QLC
Sequential Read
3200 MB/s
Sequential Write
1000 MB/s
Random Read (4 kB)
427k IOPS
Random Write (4 kB)
36k IOPS
Average Read Latency
138 µs
Write Endurance
Sequential
0.9 DWPD
Random
0.2 DWPD
Warranty
5 years
The Intel SSD D5-P4320 will debut with a 7.68 TB capacity in the 2.5" U.2 form factor, using 1Tb QLC dies manufactured on Intel's 64L 3D NAND process. Intel and Micron are the first to market with QLC SSDs while most of their competitors are not planning to ramp up QLC production until their 96L generation. As expected for a QLC SSD, the P4320 is intended for highly read-oriented workloads and has relatively low write performance specifications (especially since it doesn't use SLC caching like client/consumer drives).
Intel provides two write endurance ratings: 0.9 drive writes per day for a sequential write workload, and approximately 0.2 drive writes per day for a random write workload, reflecting the higher write amplification factor that results from random writes. Given the 5 year warranty period, that works out to a rating of over 1600 P/E cycles in the sequential write case, so the more optimistic QLC endurance projections that started showing up last year are starting to come true.
Intel has previously confirmed that they were sampling U.2 drives with at least 20TB of QLC NAND. Capacities greater than 8TB will be coming to market as the Intel SSD D5-P4326 later this year, with 16TB and 32TB models in both U.2 and EDSFF "Ruler" form factors. The P4320 is intended to displace existing uses of TLC-based SSDs while the denser P4326 will go after hard drives and hybrid SSD+hard drive tiered storage arrays. The 32TB EDSFF drives will allow Intel to pack a full 1 PB (1024 TB) of NAND into a 1U server.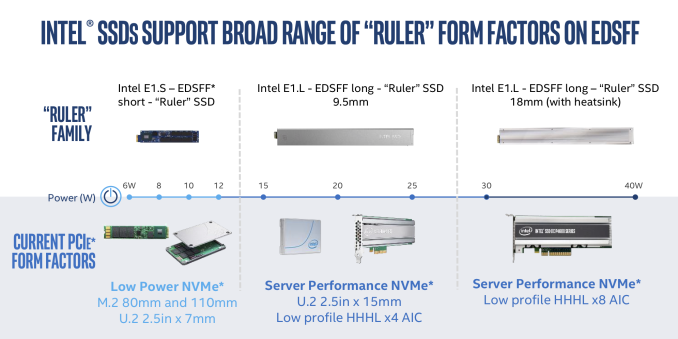 Now that Intel's Ruler SSD form factor concept has been standardized as the Enterprise & Datacenter SSD Form Factor (EDSFF), Intel is modifying their Ruler SSD designs to comply with the final standard and preparing to introduce Ruler form factors across their datacenter SSD product lines. The EDSFF standard defines both short and long drives, with either closely-spaced 9.5mm width or a broader 18mm spacing to allow for more airflow. Intel will be using these different options to cover a similar range of power levels to the current mix of M.2, U.2 and add-in card form factors.
New Intel SATA SSDs For Datacenters
D3-S4510
D3-S4610
Form Factor
2.5" 7mm SATA
Interface
6Gbps SATA
Capacities
240 GB, 480 GB, 960 GB, 1.92 TB, 3.84 TB
NAND
Intel 64L 3D TLC
Sequential Read
560 MB/s
560 MB/s
Sequential Write
280–510 MB/s
320–510 MB/s
Random Read (4 KB)
90–97k IOPS
92–97k IOPS
Random Write (4 KB)
16–36k IOPS
28–51k IOPS
Power
Idle
1.0–1.1 W
1.0–1.1 W
Operating
2.4–3.6 W
2.4–3.7 W
Write Endurance
0.9–13.1 PBW
1.4–2.0 DWPD
1.4–22.0 PBW
2.9–3.4 DWPD
Warranty
5 years
Intel has refreshed their enterprise SATA SSD lineup with new 64L 3D TLC-based models but no QLC SATA drives so far. The D3-S4510 and D3-S4610 families currently include drive capacities from 240 GB up to 3.84 TB and target mixed read/write workloads with write endurance ratings ranging from 1.4 to 3.4 drive writes per day. Next year Intel will introduce 7.68 TB models for both families. These replace the DC S4500 and DC S4600 families that used Intel's first-generation 32-layer 3D TLC NAND flash memory.