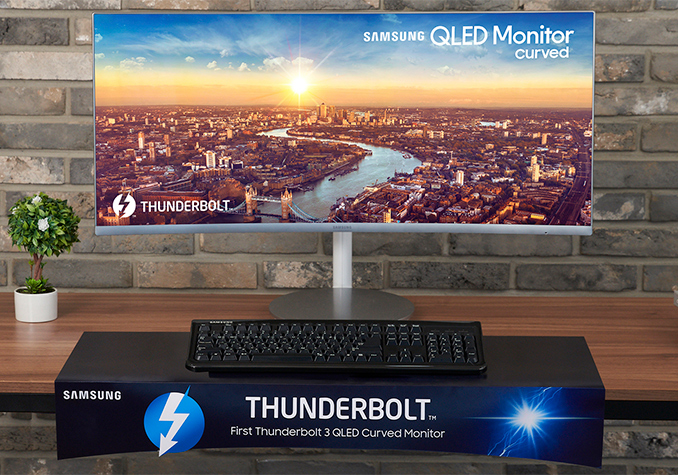 Samsung this week introduced its new CJ79 and CJ89-series curved displays, which are aimed at home and office audiences. The ultrawide CJ79 34-inch monitor features Samsung's QLED backlighting to offer a wider color gamut, AMD's FreeSync variable refresh technology, as well as Thunderbolt 3 inputs for compatibility with the latest notebooks. Meanwhile, the CJ89-series monitors are available in 43 and 49-inch sizes, and unlike the 34-inch model, uses USB Type-C connectivity instead. Similarly (and unexpectedly), while the larger LCDs feature refresh rates between 120 Hz and 144 Hz depending on the model, they do not support any dynamic refresh rate technology.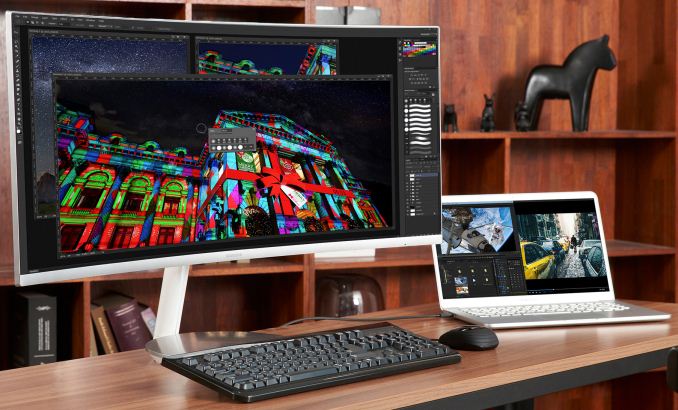 The Samsung CJ79 (C34J791) display is based on a 34-inch curved VA panel featuring a 3440×1440 resolution, a 21:9 aspect ratio, a 300 nits brightness (typical), a 3000:1 contrast ratio, a 1500R curvature, 178°/178° viewing angles, as well as a 100 Hz refresh rate with AMD's FreeSync technology (precise ranges unknown). One of the key selling points of this monitor is its QLED backlighting (with quantum dots) to guarantee coverage of up to 92% of the AdobeRGB color space. Another important feature is Thunderbolt 3 connectivity accompanied by more regular DisplayPort 1.2 and HDMI 2.0 inputs. Besides, the monitor has a dual-port USB hub and stereo speakers.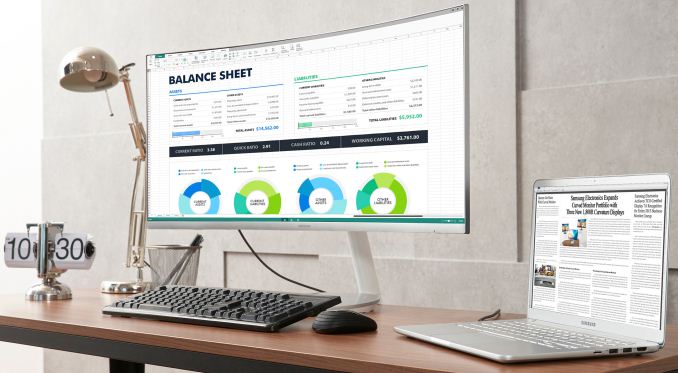 The CJ79-series 34-inch display will be positioned as Samsung's performance mainstream offering for home users seeking a large, high refresh rate monitor premium features like QLED and FreeSync, as well as rich connectivity options. As a bonus feature, the C34J791 covers up to 92% of the AdobeRGB color gamut, though it is doubtful that professional photographers will use an LCD supporting only 16.7 million of colors for their work.

Moving on to the larger Samsung CJ89 displays based on 43-inch (3840×1200) and 49-inch (3840×1080) VA panels and featuring a 32:10 as well as a 32:9 ultrawide aspect ratio, respectively. Both monitors sport a 300 nits brightness, a 3000:1 contrast ratio, a 1800R curvature, 178°/178° viewing angles, as well as a 120 Hz (43-inch) or 144 Hz (49-inch) refresh rate, but without FreeSync. These LCDs connect to hosts using USB Type-C or traditional DisplayPort 1.2 as well as HDMI 2.0 cables. Meanwhile, the larger CJ-series LCDs feature a five-port USB hub comprising of two USB Type-C headers, two USB 2.0 Type-A connectors, and one USB 3.0 Type-A port. Besides, just like the smaller LCD, the big ones come with stereo speakers.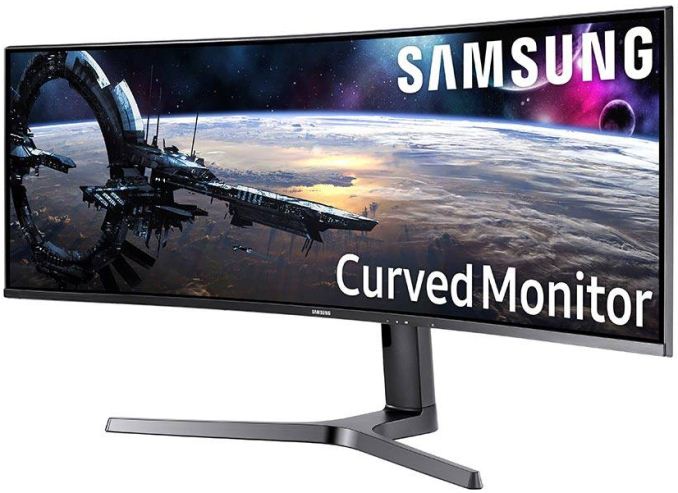 All three displays are outfitted with stands that can adjust height and tilt, but only the larger CJ89-series LCDs can also adjust swivel. Being large monitors, the new CJ79 and CJ89-series fully support such capabilities as PiP and PbP and can work with more than one PC at once. Moreover, the C49J890 even has a built-in KVM switch allowing users to control two PCs using one keyboard and one mouse while working in PbP mode.
Samsung CJ79 & CJ89 Series
C34J791
C43J89
C49J890
Panel
34" VA
43" VA
49" VA
Native Resolution
3440 × 1440
3840 × 1200
3840 × 1080
Refresh Rate
100 Hz
120 Hz
144 Hz
Dynamic Refresh Rate
Technology
AMD FreeSync
-
Range
?
-
-
Response Time
4 ms (gray-to-gray)
5 ms (gray-to-gray)
Brightness
300 cd/m²
Contrast
3000:1
Color Gamut
125% sRGB
92% AdobeRGB
88% NTSC 1976
?
?
Viewing Angles
178°/178° horizontal/vertical
Curvature
1500R
1800R
Inputs
1 × DisplayPort 1.2
1 × HDMI 2.0
2 × Thunderbolt 3
1 × HDMI 2.0
1 × DisplayPort 1.2
1 × USB-C
USB Hub
2 × USB Type-A
2 × USB 2.0 Type-A
1 × USB 3.0 Type-A
1 × USB Type-C
Audio
1 × 3.5-mm audio jack for headphones
1 × 3.5-mm audio jack for input
2 × stereo speakers
Proprietary Enhancements
-
-
Integrated KVM switch
Stand
Height
100.0 ± 5.0 mm
120.0 ± 5.0 mm
Tilt
Top: -14˚(±4˚)~22˚(±4˚) Bottom: -2˚(±4˚)~34˚(±4˚)
-2.0° (±2.0°) ~ +17.0° (±2.0°)
-2.0° (±2.0°) ~
+15.0° (±2.0°)
Swivel
-
-15.0° (±2.0°) ~ +15.0° (±2.0°)
15.0° (±2.0°) ~
+15.0° (±2.0°)
Power Consumption
Idle
~0.3 W
Typical
65 W
59 W
62 W
Maximum
180 W
220 W
Samsung's CJ79 and CJ89 monitors are already available in select European markets and will hit store shelves in other countries in the coming weeks or months. When it comes to pricing, the new units are not cheap at all. The C34J791 is currently available for pre-order for €878 ($1029, including VAT) from Amazon.de, meanwhile, the C49J890 is priced at €879 ($1030, including VAT) and higher, according to Geizhals.at.
Related Reading:
Source: Samsung