This afternoon, Intel announced their earnings for the third quarter of their 2018 fiscal year. Revenue was at a record level compared to any previous quarter, coming in at $19.2 billion, which is a gain of 19% compared to Q3 2017. Gross margin was up 2.2% to 64.5%. Operating income was up 43% to $7.3 billion, and thanks to a tax rate of just 10.4%, net income was up 42% to $6.4 billion. This resulted in earnings per share of $1.38, a gain of 47% from a year ago.
Intel Q3 2018 Financial Results (GAAP)
Q3'2018
Q2'2018
Q3'2017
Revenue
$19.2B
$17.0B
$16.1B
Operating Income
$7.3B
$5.3B
$4.9B
Net Income
$6.4B
$5.0B
$4.5B
Gross Margin
64.5%
61.4%
62.3%
Client Computing Group Revenue
$10.2B
+17.2%
+16%
Data Center Group Revenue
$6.1B
+11%
+26%
Internet of Things Revenue
$919M
+4%
+8%
Non-Volatile Memory Solutions Group
$1.1B
flat
+21%
Programmable Solutions Group
$517M
-4%
+6%
Intel saw gains across its lineup, despite setbacks on the manufacturing side which have stalled the company at their 14 nm process for several years. The Client Computing Group had revenues of $10.2 billion for the quarter, which is up 16% from a year ago, and operating income was up 26% to $4.5 billion. Intel attributes this growth to continued strong growth in the gaming sector, as well as commercial demand. Intel now puts their modem business into the Client Computing Group, and almost certainly thanks to a design win in a certain smartphone from Cupertino, Intel had growth of over 66% in their modem business, which had revenues of $1.2 billion this quarter. Revenue from notebook processor sales increased 13%, and desktop revenue was up 9%, with Intel overall growing PC volumes by 6% year-over-year. Considering the strong competition right now, that is quite impressive.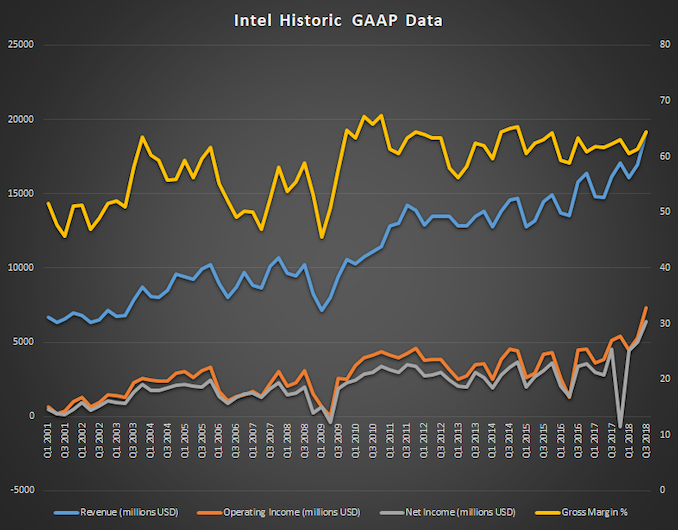 The Data Center Group continues its upward trajectory as well, with revenues up 26% to $6.1 billion for the quarter. Operating income grew 37% to $3.1 billion Looking at segments, Intel's Cloud SP segment grew revenue by 50% year-over-year, and Comms SP was up 30% as datacenters evolve to software defined networks. Intel sold 15% more units in their Data Center Group, at 10% higher average selling prices.
The IOT Group had revenues of $919 million, which is up 8% from a year ago, while operating income grew 120% to $321 million. Non-Volatile Storage was up 21% year-over-year to $1.1 billion, thanks to growth in datacenter and Optane sales, and Intel is transitioning to 64-layer NAND for SSDs, with over 50% of sales now being this type. Operating income was up 408% as Intel earned $160 million from this group this quarter, compared with a $52 million loss last year. Programmable Solutions was up 6% year-over-year to $496 million, although operating income was down slightly at $106 million.
Intel is still promising 10 nm by holiday 2019, but as to what that ends up being is hard to say now. There's little doubt the company has struggled to move past their 14 nm node, despite increasing R&D spending by 11% since 2015. Originally, they were targeting 100 million transistors per square millimeter, but it's possible they've reset their expectations.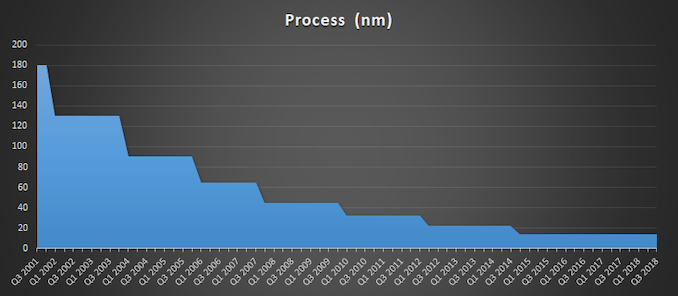 Looking ahead to Q4 2018, Intel is expecting revenue of $19 billion, and they have raised their full-year outlook to expect $71.2 billion for FY 2018.
Source: Intel Investor Relations