System Performance
The MSI GE75 Raider offers a choice of two CPU options, with the standard models coming with a hex-core Intel Core i7-9750H, and the top models offering an octa-core Intel Core i9-9880H. The Core i7 offers 2.6-4.5 GHz in the 45-Watt envelope, while the Core i9 adds two more cores and an even higher maximum boost frequency, with a 2.3-4.8 GHz range. MSI shipped us the top tier model, making this the first laptop we've tested to offer eight cores and sixteen threads.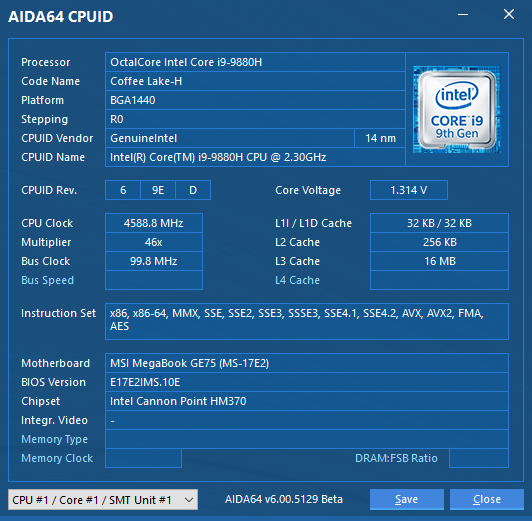 These Coffee Lake processors should offer plenty of grunt, and MSI offers two SODIMM slots with up to 64 GB of DDR4 memory as an option. Our review unit has "just" 32 GB so we'll have to make do. MSI also offers up to 2 TB of NVMe storage, with our unit offering 1 TB. Strangely, the drive is partitioned into two drives of 600 GB and 400 GB. Luckily if you'd rather a straight up 1 TB you can delete the second partition and extend the first one to cover the entire drive. MSI also isn't utilizing RAID, at least on the 1 TB model, and that's a welcome change from many of the gaming systems we see.
To see how the eight-core, sixteen-thread GE75 Raider performs, we've run it through our standard laptop suite.
PCMark




UL's PCMark suite tests all aspects of a system, from CPU to GPU to storage, testing application opening times, rendering speeds, and more, with an array of test choices. The GE75 Raider performs very well in all of these tests, although it is not necessarily quicker than the hex-core GT75 Titan we reviewed previously, which has the same peak frequency but two less cores than the GE75 Raider.
Cinebench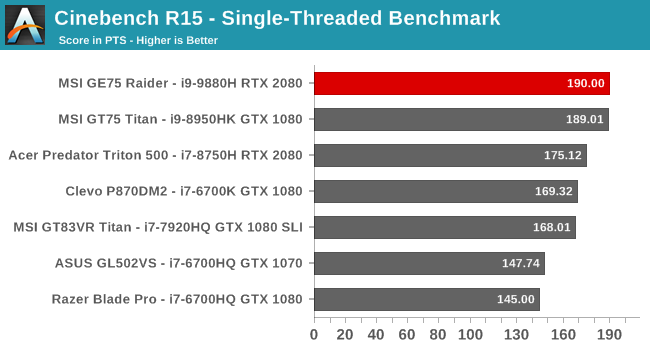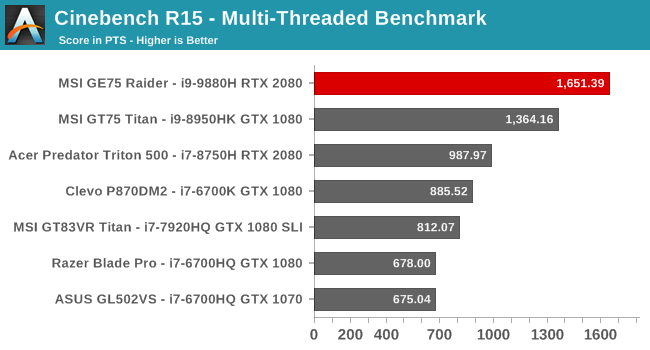 We're still using the R15 version for our reviews as we build out our database of R20 results, but since Cinebench offers both single-threaded and multi-threaded workloads, it is a great way to see how a single core performs, and as you'd likely expect it performs very well. Then, add in the other seven cores and the Core i9-9880H in the GE75 Raider walks all over the competition.
x264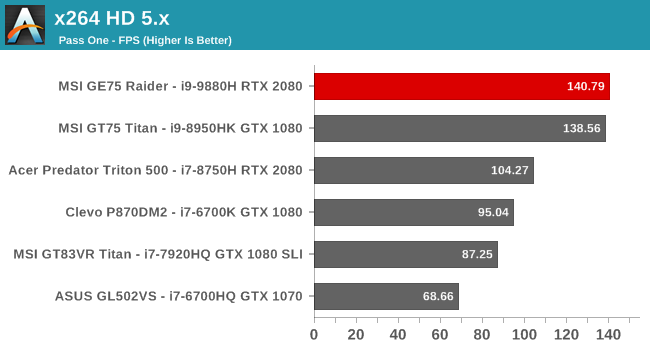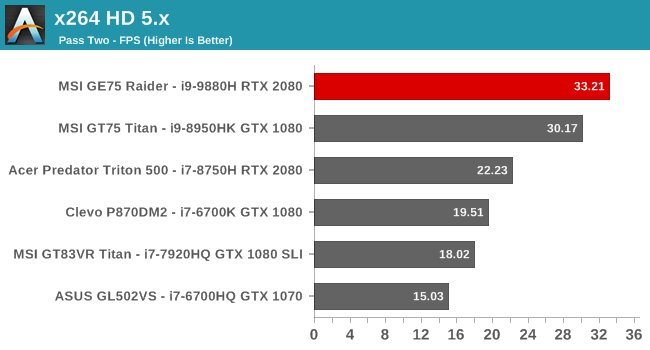 This test uses the CPU to encode video, and tends to favor frequency and cores, but despite offering two extra cores and four extra threads, the limits of adding cores shows in this result, since the GE75 Raider wins, but not by as much as you'd maybe expect. On the first pass it is more or less tied with the Core i9-8950HK, and it just squeaks ahead on pass two.
Web Results
Benchmarking the web is one part CPU, and one part browser, since the scripting engine plays such a vital role. As such, we've standardized on Microsoft Edge with Windows 10, but it's been showing its age in the last couple of updates. We'll be moving to newer web tests and a new browser when Microsoft's Chromium based Edge is available, but for now we'll keep what we have for consistency.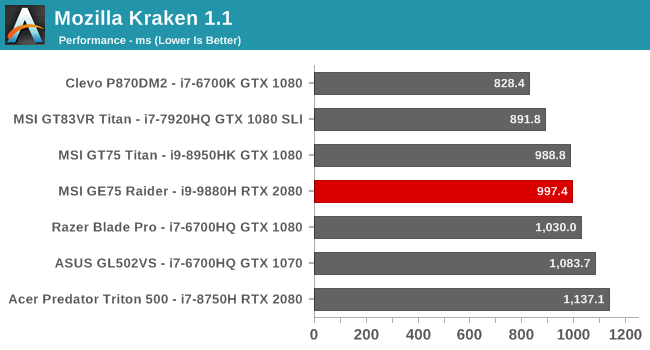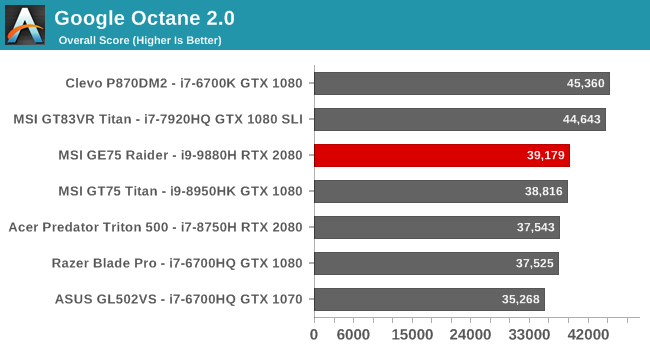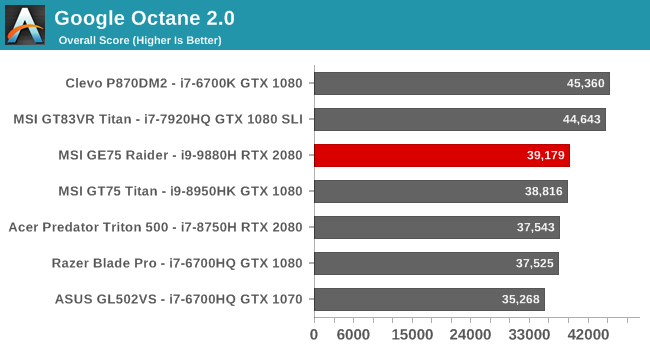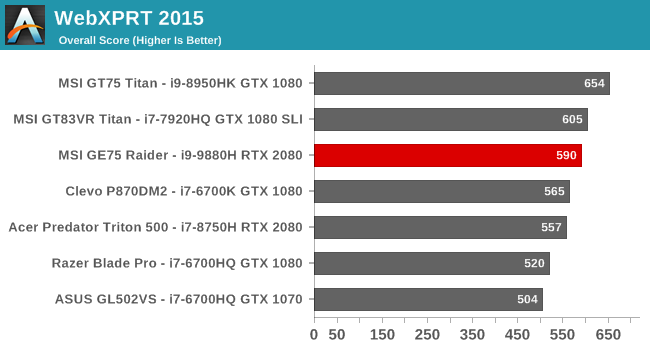 Interestingly some of our older gaming laptops are at the top in our web results, and some of that is because they are just plain fast, but also because Edge hasn't kept its performance even over its lifetime. Still, the 4.8 GHz maximum boost frequency of the GE75 Raider provides great web performance.
CPU Conclusion
There comes a point where adding more cores doesn't improve performance anymore, and with eight in this laptop we're running into those limitations on several of our workloads. Still, the extra cores are still incredibly useful in some scenarios where a task is truly designed to be multi-threaded, and it of course offers added multitasking capabilities, so even though they don't necessarily raise the absolute performance level dramatically in most tasks, they are still a benefit. It'll be interesting to see how the extra CPU performance helps in gaming as well, which we'll take a look at on the next page.
Storage Performance
Many gaming laptops use RAID 0, which is of little benefit in the real world, adds cost, and adds a higher chance of failure. It's refreshing to see that MSI has skipped this on the GE75 Raider, at least up to the 1 TB model, and just stuck with a single, fast SSD. If you opt for the 2 TB model is outfitted with 2 x 1 TB drives. The review unit ships with the Samsung PM981 1 TB drive, which is partitioned into two drives of 600 GB and 400 GB.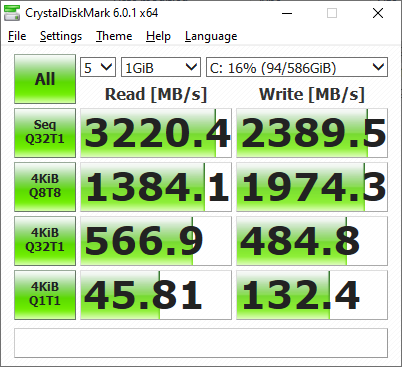 There's no doubt that the PM981 is fast. It saturates the PCIe link in read mode and can do almost 2400 MB/s in sequential write speed as well. The random read and write is also strong. Offering a TLC drive used to be a downside in an expensive laptop, but the real-world performance delta is low enough now that the increased size is appreciated. With up to 2 TB of NVMe storage from MSI, even large gaming libraries shouldn't be an issue.