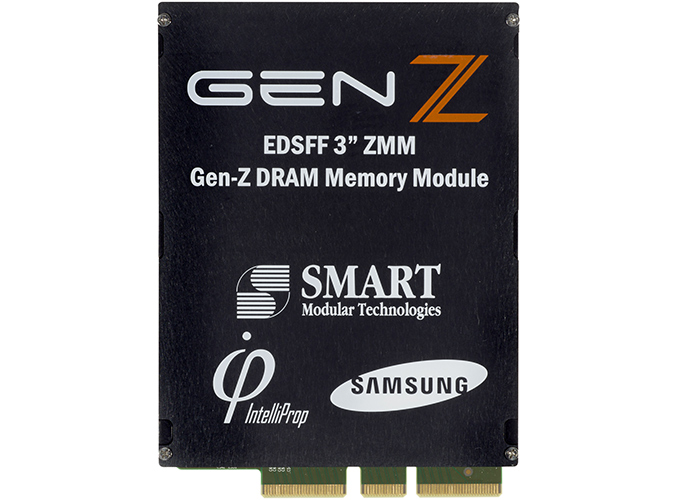 SMART Modular this month demonstrated one of the industry's first prototypes of a EDSFF 3-inch DDR4 Gen-Z memory module. The ZMM supports advanced functionality enabled by the new interface and offers throughput akin to that offered by today's DDR4-4000 memory modules.
SMART Modular's 256 GB ZMM uses Samsung's 32 Gb 4-high DDR4 DRAM devices as well as IntelliProp's Gen-Z Mamba memory controller ASSP, which supports multiple access semantics, including byte and block addressable DRAM access, in-band configuration, and access key/region key memory isolation opcodes in a bid to simplify memory access needed to handle emerging data-centric workloads. The controller features 16 Gen-Z lanes with 25 Gbps PHY as well as 400 Gbps aggregate performance. The chip requires up to 20 W of power, so it needs proper cooling.
The Gen-Z module from SMART Module comes in SNIA's 3-inch 4C SFF-TA-1008/9 form-factor, and offers a 30 GB/s bandwidth along with 400 ns deterministic access latency.
The 256 GB ZMM was demonstrated in rack servers designed by Dell and Hewlett Packard Enterprise specifically to test Gen-Z interconnection.
The showcase of a 256 GB Gen-Z ZMM by a well-known supplier of memory and storage solutions with two makers of servers indicates that the industry is getting ready for a roll-out of Gen-Z products in the future. What remains to be seen is when exactly SMART Modular and its partners will be ready with commercial Gen-Z modules and platforms.
Related Reading:
Source: SMART Modular