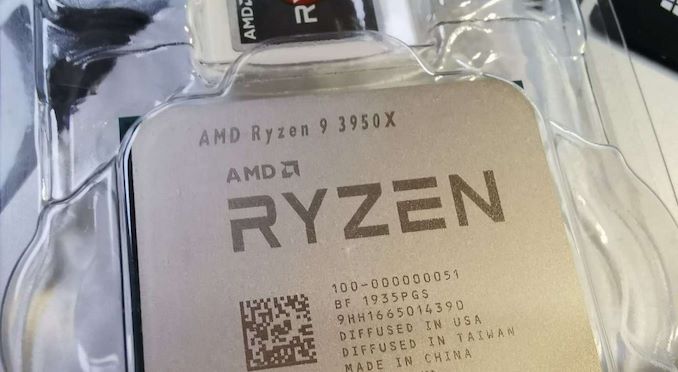 Deciding between building a mainstream PC and a high-end desktop has historically been very clear cut: if budget is a concern, and you're interested in gaming, then typically a user looks to the mainstream. Otherwise, if a user is looking to do more professional high-compute work, then they look at the high-end desktop. Over the course of AMD's recent run of high-core count Ryzen processors that line has blurred. This year, that line has disappeared. Even in 2016, mainstream CPUs used to top out at four cores: today they now top out at sixteen.
Does anyone need sixteen cores? Yes.
Does everyone need sixteen cores? No.
There are two fundamental drivers for most PC builders: cost and performance. Users who want a gaming machine are going to put their dollars in what gives them the best gaming performance. Users that want to edit video are going to look at content creation focused hardware. For those in the business world, the added incentive of extra performance is being able to offset or amortize those costs with an improved work rate. For the video editor needing a week per video, if they can spend +40% to reduce the render time by half then it can pay off over a short period of time.
As we move through 2019, users are doing more with their systems. Even at the low end, users might have double monitors where they game and watch their favourite streamer at the same time. High end users might reserve certain cores for different tasks, ensuring that there's always some horsepower for the high-throughput tasks or virtual machines. Even though processors became 'multi-core' over a decade ago, we all as users are only recently adjusting how we do things to be more parallel, and the hardware is coming up to match our demands.
To that end, AMD's Ryzen processors have been timely. The first generation mainstream Ryzen hardware in 2017 was a breath of fresh air in a market that had become sufficiently stale to be unexciting. With the color drained, AMD's Ryzen enabled up to eight cores on a single CPU, and at the time aimed to throw its weight against Intel's hardware in the class above. The new architecture didn't push ahead on day one clock for clock, but it enabled a different paradigm at an obscenely reasonable price point.
Enter round 2, and Zen 2. Earlier this year AMD pushed again, this time putting 12 cores in the market for the same price as 8, or what had been the 4-core price point only three years prior. In three years we had triple the cores for the same price, and these cores also have more raw performance. The frequency wasn't as high as the competition, but this was offset by that raw clock-for-clock throughput and ultimately where the competition now offered eight cores, AMD offered 12 at a much lower power consumption to boot.
Today is round 2 part 2: taking that same 12-core processor, and adding four more cores (for a 50% increase in price), and not only going after the best consumer processor Intel has to offer, but even the best high-end desktop processor. This is AMD squeezing Intel's product portfolio like never before. What exactly is mainstream, anyway?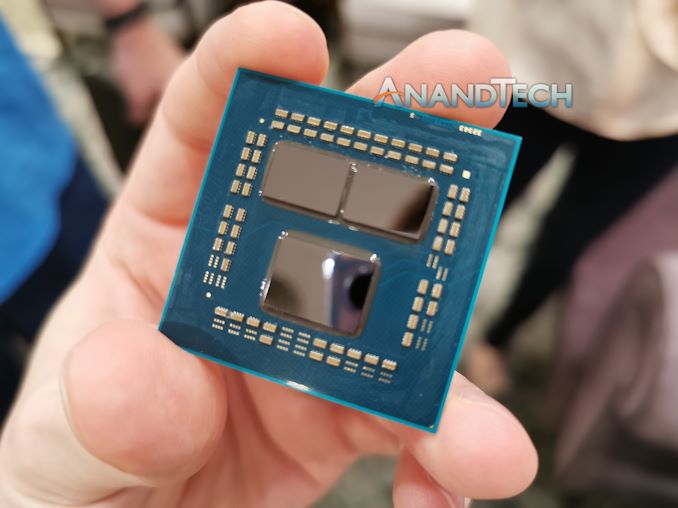 AMD's new Ryzen 9 3950X has a suggested retail price of $749. For that AMD is advertising sixteen of its latest Zen 2 cores built on TSMC's 7nm process, running at a 3.5 GHz base frequency and a 4.7 GHz single-core turbo frequency. The TDP of the chip is rated at 105 watts and it has 24 PCIe 4.0 lanes as well as dual memory channels that support up to 128 GB of DDR4-3200.
AMD 'Matisse' Ryzen 3000 Series CPUs
AnandTech
Cores
Threads
Base
Freq
Boost
Freq
L2
Cache
L3
Cache
PCIe
4.0
Chiplets
IO+CPU
TDP
Price
(SEP)
Ryzen 9
3950X
16C
32T
3.5
4.7
8 MB
64 MB
16+4+4
1+2
105W
$749
Ryzen 9
3900X
12C
24T
3.8
4.6
6 MB
64 MB
16+4+4
1+2
105W
$499
Ryzen 9
3900
12C
24T
3.1
4.3
6 MB
64 MB
16+4+4
1+2
65W
OEM
Ryzen 7
3800X
8C
16T
3.9
4.5
4 MB
32 MB
16+4+4
1+1
105W
$399
Ryzen 7
3700X
8C
16T
3.6
4.4
4 MB
32 MB
16+4+4
1+1
65W
$329
Ryzen 5
3600X
6C
12T
3.8
4.4
3 MB
32 MB
16+4+4
1+1
95W
$249
Ryzen 5
3600
6C
12T
3.6
4.2
3 MB
32 MB
16+4+4
1+1
65W
$199
Ryzen 5
3500X
6C
6T
3.6
4.1
3 MB
32 MB
16+4+4
1+1
65W
OEM
It wasn't too long ago that this price range used to be the realm of AMD's high-end desktop Threadripper processors, which started at 8 cores and we up to 32 cores. AMD is now shifting that paradigm as well, with this 16-core chip being at $749, and AMD's next generation Threadripper 3000 processors starting at 24-cores at $1399. When AMD CEO Dr. Lisa Su was asked earlier this year what would happen given the drive to more cores for the mainstream processors, her response was 'as Ryzen goes up, Threadripper goes up-up'. This is the realization of that.
It is worth noting that the price is likely to be higher at retail initially, as demand is expected to be high and stock levels haven't been defined – given the popularity of the 12-core chip, it would seem that users wanting the mainstream platform always want the best.
Going AM4: The Battle with Motherboards
When the AM4 platform was first launched, technically with pre-Zen hardware, it supported four cores. The same platform now goes all the way up to sixteen cores, which is no small task. The flip side of this comes down to motherboard support: some AM4 motherboards were not designed with high-power sixteen core processors in mind. Some motherboards built on the AM4 socket were for the budget market, and will struggle when it comes to this 16-core part.
AMD has attempted to at least segment its AM4 market a little. Only the latest AM4 chipset, the X570 chipset, has official support for the Ryzen 3000-series PCIe 4.0 connections. In order to enable the PCIe 4.0 lanes on the processor as qualified by AMD, users will have to purchase an X570 motherboard, otherwise these lanes will run at half speed (PCIe 3.0) in non-X570 motherboards.
The quality of the motherboard is likely to affect turbo frequencies as well. AMD's turbo algorithms are influenced in part by the ability of the power delivery to push current through from the power supply. We are seeing X570 motherboards range from $170 all the way up to $999. This isn't saying that doubling the cost of the motherboard will double the ability to turbo, but as seen with the previous Ryzen 3000 series chips, the motherboard choice (as well as the cooling it uses) will matter.
All the X570 motherboards we've tested recently are up to the task of taming the Ryzen 9 3950X. Here's a list of what we've tested:
Users looking at motherboards have to find the right mix of capacity, cost, and features. We did a visual inspection of all 35+ launch models.
Toe-to-Toe: Intel Core i9-9900KS / Core i9-9980XE / Core i9-10980XE
With the mainstream and high-end desktop market now seemingly merging, there are many angles to consider different competitive parts between Intel and AMD. If we compete purely on PCIe lanes, then we might put the Core i9-9900KS (8-cores) up against the 3950X (16-cores), although there is a big price difference ($513 vs. $749). If we compare on pricing, the nearest processor to the 3950X would be either the 9900KS (mainstream) or the Core i9-10940X ($729), however while 3950X has more cores than either, but doesn't have as many PCIe lanes/memory lanes as the 10940X. If we go for core count, then Intel's sixteen Core i9-9960X would be the obvious candidate, although this CPU is a lot more expensive (until Intel reduces the price) and is technically an X299 processor, so has more PCIe lanes and memory channels.
Unlocked CPU Pricing
and Select Others
AMD
(MSRP Pricing)
Cores
AnandTech
Cores
Intel*
(OEM Pricing)
$900-$999
18/36
Core i9-10980XE ($979)
$800-$899
Ryzen 9 3950X ($749)
16/32
$700-$799
14/28
Core i9-10940X ($784)
$600-$699
12/24
Core i9-10920X ($689)
$500-$599
10/20
8/16
Core i9-10900X ($590)
Core i9-9900KS ($513)
Ryzen 9 3900X ($499)
12/24
$400-$499
8/16
Core i9-9900K/F ($488)
Ryzen 7 3800X ($399)
8/16
$350-$399
8/8
Core i7-9700K/F ($374)
Ryzen 7 3700X ($329)
8/16
$300-$349
$250-$299
6/6
Core i5-9600K ($262)
Ryzen 5 3600X ($249)
6/12
$200-$249
Ryzen 5 3600 ($199)
6/12
Below $200
4/4
Core i3-9350K ($173)
*Intel quotes OEM/tray pricing. Retail pricing will sometimes be $20-$50 higher.
There is no easy comparison between any of the processors. AMD is pushing the boundaries of the mainstream dual channel memory processor regime, and Intel doesn't have an equivalent in that space. Intel can match it in the high-end desktop space, but therein lays other issues with PCIe lane counts and memory channel support disparity between the two, as well as Intel's current retail options being high-priced variants. Intel's published next generation hardware is set to be launched sometime in November, and with it a number of price cuts, however given the known differences between Intel's current and Intel's next generation processor line, the performance gain is not expected to be particularly big.