ASUS MK241H Specifications and Appearance
ASUS MK241H Specifications
Video Inputs
DVI with HDCP support
HDMI
Analog (VGA)
Panel Type
TN (ACI 24A1)
Pixel Pitch
0.270mm
Colors
16.7 million (6-bit with dithering/interpolation?)
130% color gamut
Brightness
450 cd/m2
Contrast Ratio
Up to 3000:1 (Dynamic)
Response Time
2ms GTG
Viewable Size
24" diagonal
Resolution
1920x1200
Viewing Angle
170 horizontal/160 vertical
Power Consumption
<130W max stated
74W max, 29W min measured
Power Savings
<2W
Screen Treatment
Matte (non-glossy)
Height-Adjustable
No
Tilt
Yes - 30 degrees back/5 degrees forward
Pivot
No
Swivel
No
VESA Wall Mounting
100mm x 100mm
Dimensions w/ Base (WxHxD)
23" x 18" x 9.6" (WxHxD)
Weight w/ Stand
19 lbs.
Additional Features
Integrated 1.3MP webcam and mic
(USB connection to PC required)
Audio
2 x 2W Speakers
Audio in, Line out
Limited Warranty
1-year parts and 3-year labor
Price
Online starting at ~$530
ASUS claims an impressive 130% color gamut for the MK241H. That seems rather high, and some of you may be wondering how exactly a display can be higher than 100%. The reason is quite simple: color gamut is usually measured against the NTSC standard, which is getting a little long in the tooth. Modern technology is thus able to exceed that standard, though it requires the use of an appropriate color space in order to do so. Naturally, we'll see whether there's any truth in the 130% claim.
Most of the remaining features are typical of an entry-level 24" monitor. The MK241H includes DVI, HDMI, and VGA inputs and it has built-in speakers (that as you might expect don't sound particularly good, but they'll get the job done if all you need is basic audio). In other areas, the ASUS LCD is more spartan. It lacks height, tilt, and pivot functionality; none of these are absolutely necessary, but we appreciate them nonetheless. The MK241H also lacks any USB ports, but it makes up for this by including an integrated webcam and microphone. That last is one of the few things that sets this LCD apart from other offerings.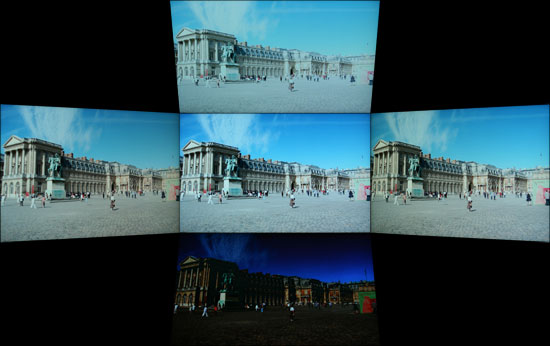 The MK241H uses a TN panel, and the biggest drawback to such a panel is the limited viewing angles. TN panels have improved over the years, to the point where many people are no longer bothered by the viewing angle limitation. Still, they are clearly inferior in this area to PVA and IPS panels. Looking at TN panels from below is the worst-case scenario, and in fact they are practically unusable from this angle. However, this should not be a problem for most users unless you tend to work on your computer while lying down.
The MK241H is a reasonably nice looking LCD whose appearance is marred by the presence of many stickers proclaiming the various features it comes with. It's possible to remove most of the stickers with a bit of effort, but we would prefer not to have to look at marketing material every day we use an LCD. Most of the information would make more sense on the packaging material -- though of course it's already there as well. While the LCD does not come with a full-featured base stand, it's not quite as flimsy as some of the cheapest LCDs we've seen on the market are. It is a little odd that ASUS includes a "warranty void if seal damaged" sticker on the stand, however, as anyone wanting to use a VESA wall mount will definitely want to take the stand off.