If you've been following the netbook market, you already know that there's a ton of overlap in current netbook offerings. Virtually everyone is using the same Intel Atom processor and 945GSE chipset, typically with Windows XP Home and 1GB RAM. That's the case with the Gigabyte Booktop M1022, which on paper is practically identical to the ASUS Eee PC 1005HA we looked at last week. In terms of core features and raw performance, there's very little to differentiate the two offerings. Gigabyte's main innovation with the Booktop line is that they include a small docking station.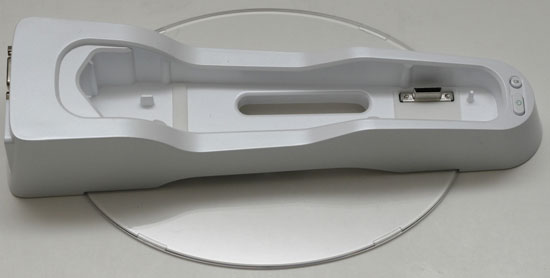 Can that really be the only difference? The two netbooks diverge in a few other areas and we'll get into benchmark numbers shortly; however, the docking station is the primary difference between the Gigabyte Booktop M1022 and other competing netbooks. As Gigabyte states in their marketing material, "The differentiator, the feature that sets the Booktop M1022M apart from all the other products, is the Booktop Docking Station." Whether that's enough is something we will look at in the course of this review. Here's a quick overview of the features and specifications to get us started.
GIGABYTE Booktop M1022 Specifications
Processor
Intel Atom N280 (1.66GHz, 512KB L2, 45nm, 667FSB)
Note: Intel Atom N270 (1.60GHz) in M1022M
Chipset
Intel 945GSE + ICH7MU
Memory
1x1024MB DDR2-800 CL6 (Max 2GB)
(Transcend JM800QSU-1G @ DDR2-533, 4-4-4-12 Timings)
Graphics
Integrated Intel GMA 950
Display
10.1" Glossy LED-Backlit ~16:9 WSVGA (1024x600)
Chi Mei Model N101L6
Hard Drive
2.5" 160GB 5400RPM 8MB (Fujitsu MHZ2160BH)
Networking
Realtek RTL8120E Fast Ethernet
Atheros AR928X 802.11n WiFi
Bluetooth 2.1+EDR
Audio
Realtek AL269 2-Channel HD Audio
(2.0 Speakers with headphone/microphone jacks)
Battery
6-Cell 7.4V, 7800 mAhr, 57.72 Whr
Front Side
Microphone/Headphone Jacks
Left Side
Docking port
Heat Exhaust
VGA
Kensington Lock
Right Side
SD/MMC/MS Pro reader
ExpressCard/34
3 x USB 2.0
100Mb Fast Ethernet
AC Power Connection
Back Side
None
Operating System
Windows XP Home SP3
Dimensions
10.43" x 7.52" x 1.04"-1.20" (WxDxH)
Weight
2.86 lbs (with 6-cell battery)
Extras
Docking station provides 3 x USB 2.0, audio out, and Ethernet
1.3MP Webcam
Multi-touch touchpad
Warranty
1-year standard GIGABYTE warranty
Price
$599 MSRP; available online starting at $468
Most of the specifications are the same as the ASUS 1005HA. The 10.1" LCD is the same 1024x600 resolution, you get a 160GB hard drive, 1GB RAM, and an Intel Atom N280 processor. Other than the docking station, the only major difference is that Gigabyte includes an ExpressCard/34 slot. Battery capacity is also slightly lower than the 1005HA, the flash reader includes MS/Pro support, and the LCD is definitely not the same model. The touchpad is also different, with mouse buttons on the left and right sides instead of beneath it. The size remains roughly the same -- it's about an eighth of an inch larger diagonally than on the 1005HA -- but it features multi-touch support.
The touchpad is actually one of our favorite features from the Gigabyte M1022, as it feels more intuitive than the gestures other netbooks are using (i.e. swirling your finger on ASUS and Acer netbooks to scroll Windows). This is definitely a personal preference, so some people will prefer gestures instead of multi-touch, but swiping two fingers to scroll and three fingers for page up/page down and application switching worked well for us. You can also tap two fingers for a middle-click or three fingers for a right-click. Overall, the Elantech touchpad is our favorite among current netbook touchpads.
Finally, we have to mention the pricing. At the $600 MSRP, the M1022 would be a very difficult sell. We will get to the benchmark numbers shortly; suffice it to say the ASUS 1005HA wins in most comparisons (battery life and LCD quality), and it does it with an MSRP of $400. Spending $200 for a docking station that provides minimal extras is rather exorbitant, but you can find M1022 on Amazon.com for $470. That makes it a $110 premium over the 1005HA street price, and at that price it's more compelling.