The Compro IP 70 was very easy to setup and configure over the web browser. However, Compro did realize the need to make the day-to-day operation more consumer friendly in both the home and business markets.

For consumers, they have tied up with Seedonk, a platform for viewing, managing and sharing cameras over the Internet. In the Dropcam Echo review, we noted that the live feed of the stream could be viewed by logging into the Dropcam website. Seedonk provides a similar service for the Compro IP 70.

Managing multiple cameras in a business setting is quite cumbersome when using the web interface. Compro has developed ComproView, a software meant to handle streams from multiple cameras. Cameron covered the features of the ComproView software in the IP 540 review, so I won't go into the intricate details here.

In order to install the Seedonk service and ComproView, the installation CD had to be used.
The Seedonk PC client is just like any other IM program. It can be downloaded from the Seedonk website for free. The user needs to either register for an account through the installation program in the CD or sign up on the website.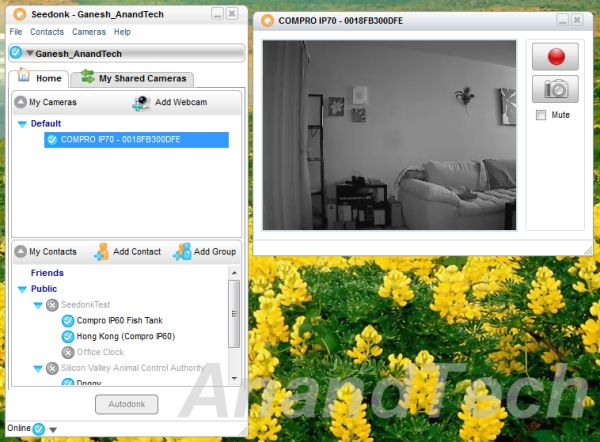 One can link multiple cameras to a Seedonk account, and set the viewing permissions appropriately. Cameras can also be shared with selected people (provided they also have a Seedonk account). In this respect, the Seedonk service could see some improvement (similar to how Dropcam enables users to share their cameras with other people by just providing the email ID).
The PC client provides support for recording the IP camera stream to the local disk as a WMV file. It also provides an interface to configure the various aspects of the IP camera itself (such as the properties of the video streams, IR lighting configuration etc.)

Seedonk also provides Android and iOS apps for viewing the feed from the cameras linked to the account. The gallery below provides some screenshots of the Android app in action.
The app replicates most of the features of the PC client (even the two way audio feature). However, the recording time on the Android app is limited to 2 minutes (there are no limits in the PC client).

An interesting aspect of the Android app is that it appears to try and establish a direct P2P connection between the viewer and the camera. If this succeeds, the video stream can be watched for an unlimited duration. Sometimes, however, the P2P connection doesn't materialize. In this case, the video goes to the Seedonk servers and then to the client app. The app helpfully flashes the message that the video stream might timeout in 5 minutes.