Application and Futuremark Performance
If you're not a maniac like me and you can live with the keyboard, you're going to find there's a lot to love about the Acer TravelMate 8481T under the hood. The SSD isn't the absolute fastest, but it's still going to be an improvement over a mechanical hard drive. What does bother me is that the TravelMate clearly has space for both a mechanical drive and an SSD, but it doesn't sport both. That feels like the way things ought to go in the future, but the lack of uptake in the marketplace continues to surprise me.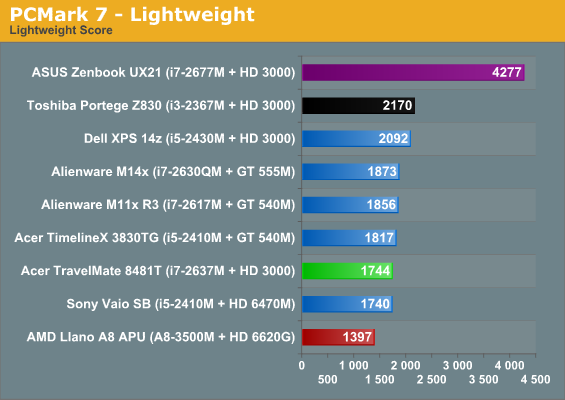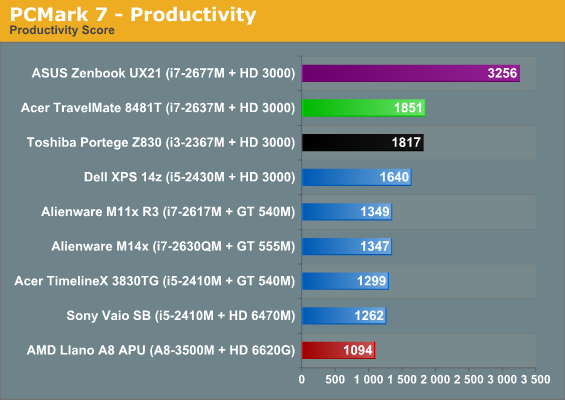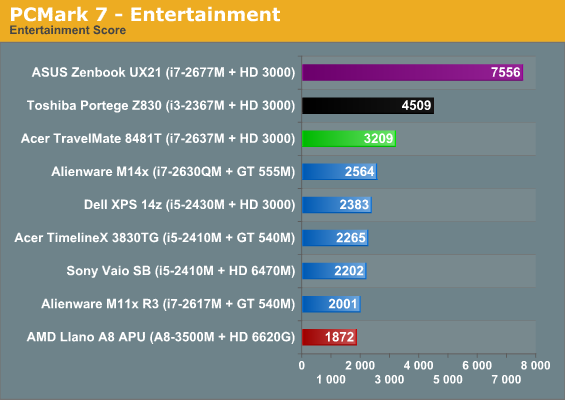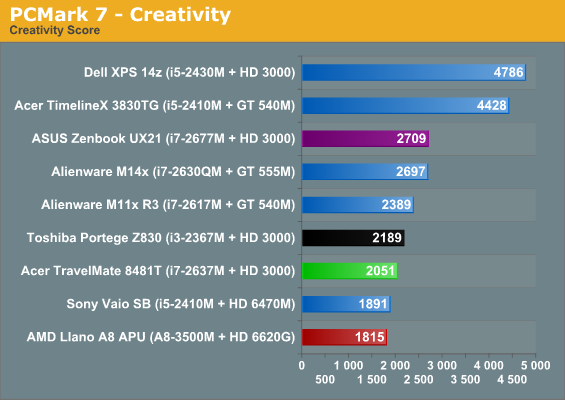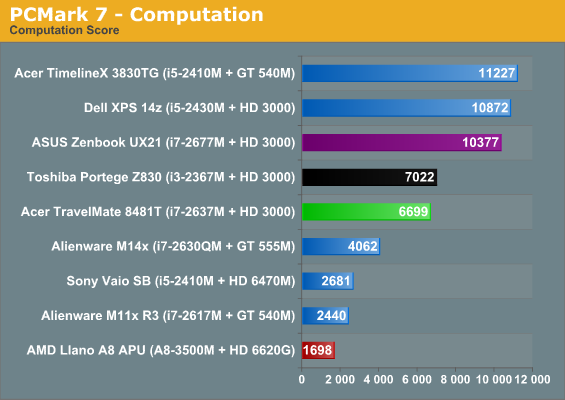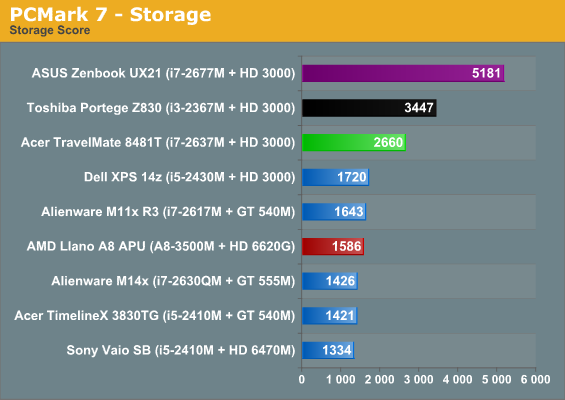 Performance is alright and the AData SSD provides a notable boost in the Storage score over the other notebooks, but it's pretty clear that it's hanging out in the bargain basement, slower than even the rudimentary SSD in the Toshiba Portege system.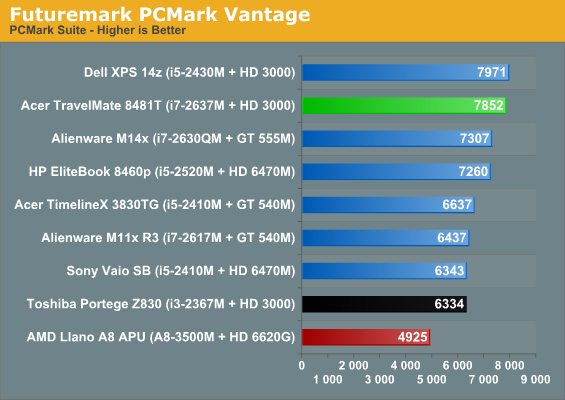 PCMark Vantage is kind to the TravelMate, but this is also a good place to point out how fast the SSD isn't: the Dell XPS 14z's faster processor is enough to put it ahead of the TravelMate (as well as Toshiba's Portege Z830), despite having to deal with mechanical storage. Normally the SSD-equipped notebooks stack up neatly at the top of the chart, but that just isn't the case here.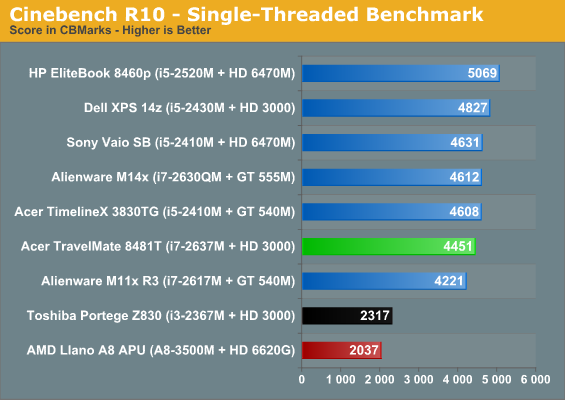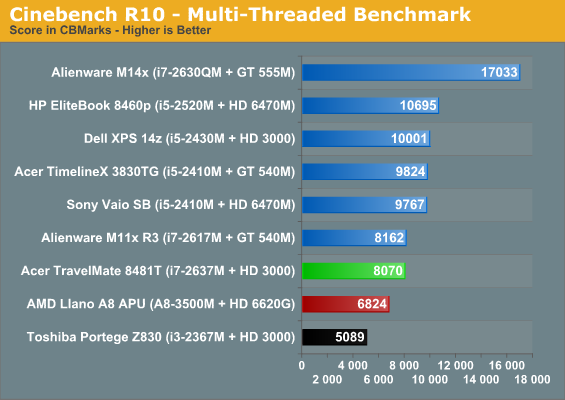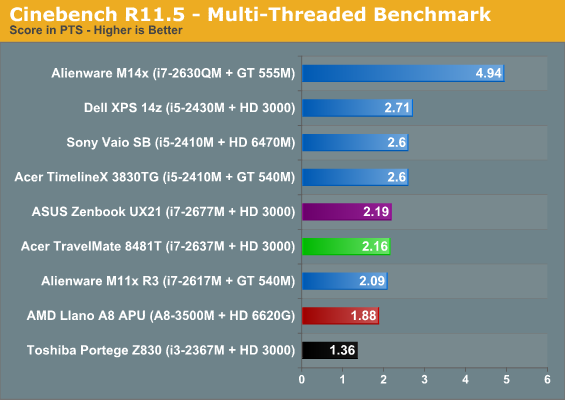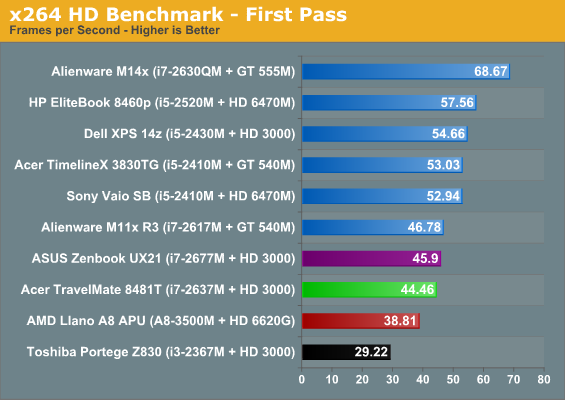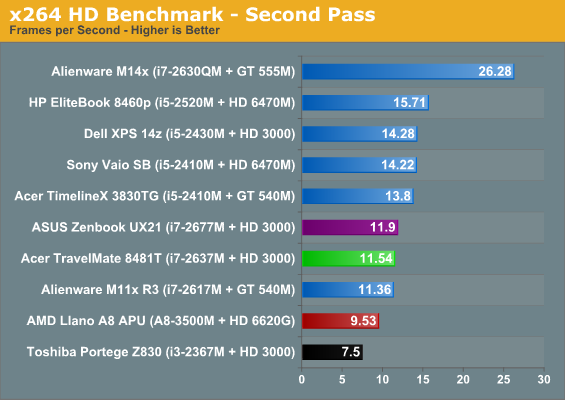 Our application tests tell a different story. These tests are great because they focus pretty much entirely on the processor performance, and here we can see that while Intel's low voltage processors are certainly fast, they still can't compete with the lower end of their mainstream notebook chips. Still, they pretty handily beat AMD's best and brightest mobile chip, and offer reasonable enough performance on their own. The TravelMate 8481T can definitely be used for processor intensive work in a pinch, though you'll see later that it's not going to be ideal for Photoshop or other color-sensitive work.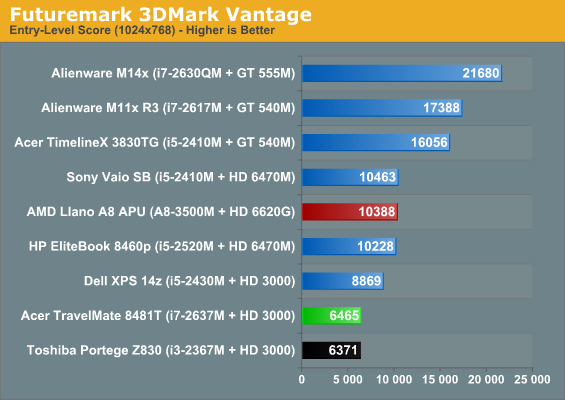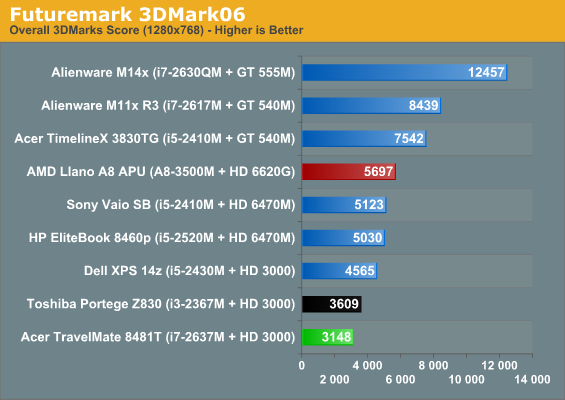 It's no surprise to see Intel's integrated graphics pile up at the bottom of the 3DMark charts. These notebooks just aren't adequate for mobile gaming beyond older games like Unreal Tournament 2004. To satisfy my own personal curiosity, though, I went ahead and downloaded Magic: the Gathering - Duels of the Planeswalkers 2012 to see how it would run on Intel's IGP. If you're a total nerd like I am, you'll be pleased to note that Intel's HD 3000 graphics are actually good enough to handle this game at native resolution (low settings) fairly smoothly. Good to know!