At the beginning of the year LSI completed the acquisition of SandForce, the SSD controller maker we've been covering extensively since its arrival on the scene in late 2009. Although the SandForce business model hasn't changed as a part of the acquisition, LSI is definitely going to start leveraging its newly purchased assets to deliver more SF-powered, LSI branded solutions - particularly for the enterprise.
The first example of this is the new Nytro family of products. These are all PCIe NAND solutions, aimed at various targets in the enterprise, and based on SandForce's SF-2500 series of controllers.
The first member of the family is also the most obvious: the Nytro WarpDrive. Take either 4 or 8 SandForce controllers, put them behind an LSI 2008 SAS RAID controller, throw in a bunch of NAND, put it all on a PCIe 2.0 x8 card and you've got a Nytro WarpDrive. Capacities start at 200GB (SLC) and go all the way up to 3.2TB (MLC). The WarpDrive will be available in both half-height (4 x SF controllers, 1.6TB max) and full-height (8 x SF controllers, 3.2TB max) flavors. Later this year LSI will offer a PCIe 3.0 version of the Nytro WarpDrive that will enable speeds of up to 4GB/s. Pricing for the new WarpDrive will start at $6600 for the 200GB SLC model. The beauty of using an LSI SAS RAID controller on-board is that any OS with native support for the controller will, by default, support the Nytro WarpDrive.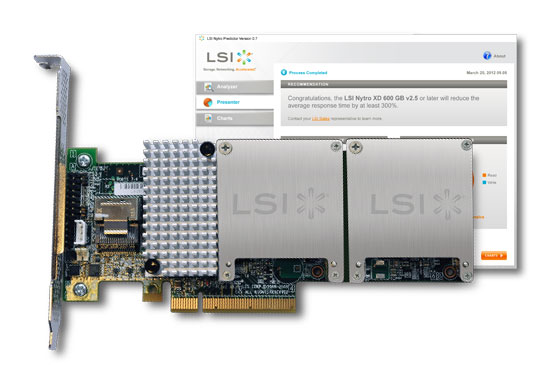 The next product is a little more ambitious as it combines a Nytro WarpDrive with LSI's own SSD caching software into a solution called the Nytro XD ("xcelerated disk"). If you can't (or don't want to) fit all of your data on a single PCIe SSD, the Nytro XD allows you to use a WarpDrive to cache your direct attached storage (SAS) or SAN array (iSCSI, FC). The hardware is identical to the Nytro WarpDrive, but the XD package comes with LSI's caching software and a support contract. Prices start at $9400 including a 1-year support contract.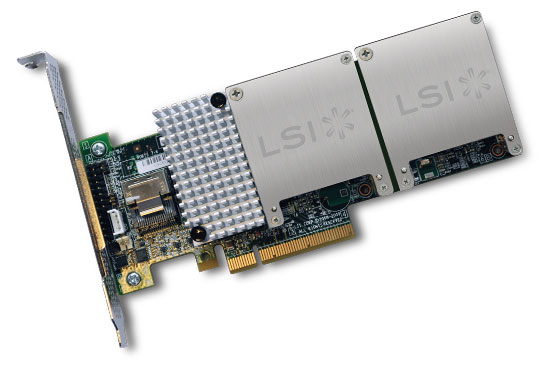 Last but not least we have the most interesting product in my opinion: the LSI Nytro MegaRAID. Take a standard MegaRAID SAS controller but combine it with on-board NAND, seamless caching and you've got a Nytro MegaRAID card. Without any additional software, all requests that are made to the RAID array attached to the Nytro MegaRAID card are cached in its on-board NAND. This completely redefines what we've come to expect from a RAID card and it can stand to deliver a pretty significant improvement in performance. Since the solution is entirely self contained you don't even need to install any caching software, the end user only sees a more-expensive MegaRAID card. Once again, as long as your OS has driver support for the MegaRAID controller (Windows, Linux, VMWare should be fine) then the Nytro MegaRAID will work. Pricing on the Nytro MegaRAID starts at $1699, although LSI isn't providing details on just how much NAND is on-board.
In order to help users decide on the right capacity/NAND type for their Nytro purchases, LSI is making available workload analysis software. It's called the Nytro Predictor software and it will look at the access patterns of your workload and give you recommendations as to what specific Nytro products would be best suited for your needs. As we found in our look at the enterprise performance of Intel SSDs, understanding your workload is absolutely necessary when it comes to picking the right SSD and NAND solution.