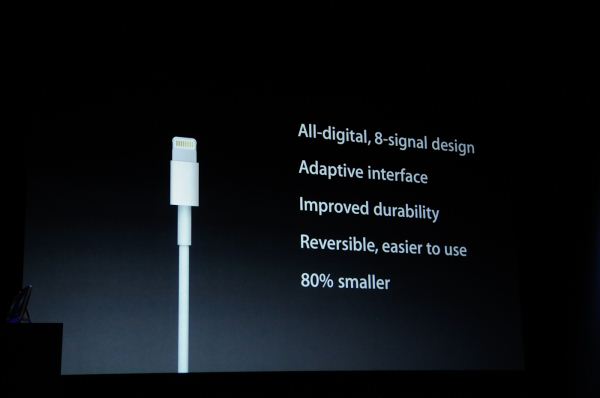 There was little doubt by the start of the event that Apple would be replacing their nearly decade old 30-pin connector. Apple always leaves room for suprises though. The new design features a 9-pin, 8-signal arrangement and is 1/5th the size of its predecessor. An adapter is being introduced so as to not break compatibility with legacy accessories. It's not the most elegant solution but it shouldn't be long before new accessories adopt the new connector.
Lightning, as the new connector is called, is described as "all-digital", which seems more obfuscatory than necessary. The basic conceit of this new connector is that at any point in time, not all the pins of the 30-pin connector were active. So, if a particular use case involved the charging pins and some audio pins, or the charging pins and USB pins, why not design a system that provides just enough pins for any given use case. The iPhone senses what pins are being requested and some on-device signaling sends the necessary bits over the available pins.
As an added design feature, the connector is reversible, so you'll never fumble with figuring out what way to put it in, as is so common with USB connectors.
There's much that we still need to dig into with this new connector, but we do know what it is almost surely not. This isn't a faster interface. Rumors of a Thunderbolt connector were always a bit bonkers, and adding USB 3.0 support would have added silicon to the very slim package. Get comfortable with this one guys, because we'll be seeing this connector in all future Apple devices including the new iPods, and, no doubt, the next iteration of the iPad.