A nearly perfect HTPC processor
While opinions vary as to what, exactly, an HTPC entails, it's safe to say there are basic requirements nearly every enthusiast has for an HTPC: smaller form factor, as quiet as possible, low power usage, and ability to smoothly and accurately play a variety of video formats. Additional HTPC functions can include encoding prowess and lighter gaming. In my experience, Trinity APUs fulfill all of these roles extremely well.
Ganesh recently posted a thorough, excellent HTPC perspective on the A10-5800K. If you are thinking about building an HTPC, it's a must read. I've been able to spend some time with both the A10-5800K and the A4-5300 in HTPC systems, and have been thoroughly pleased with both in the HTPC usage scenario. The lowly A4-5300 is capable of smooth Blu-ray playback, both locally and via NAS, as well as full 1080p HD streaming playback in both Flash and Silverlight. Ganesh noted that the Trinity APUs lack hardware decoding for 10-bit H.264, an increasingly popular format. While the A10-5800K cuts through these files with no problem via software solutions, the A4-5300 can occasionally bog down with it if you are taxing the system with other tasks (I frequently browse the web on a secondary monitor while watching movies—10-bit H.264 + Flash = not good on an A4). That said, all of the quad-core Trinity APUs can handle this admittedly specific niche usage scenario with aplomb.
Ganesh also noted that Trinity APUs do not support 4K video decode acceleration. While 4K is in its infancy, I agree with Ganesh that it will be adopted faster than say, 3D Blu-ray was. I don't consider this a substantial issue at this point, and I would be surprised if Trinity's successor APU series doesn't fully support it. But it's important to be cognizant of Trinity's few limitations in an HTPC environment. I also agree with Ganesh's summary, "the Trinity platform has everything that a mainstream HTPC user would ever need."
The Trinity HTPC build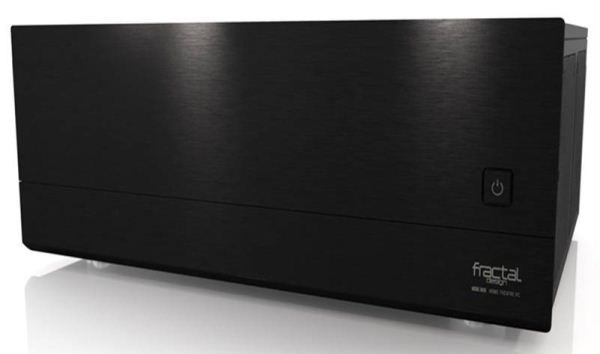 Anand reported on his sneak peek of Fractal Design's Node series at Computex back in June, and I was intrigued by the Node 605. It looked like a fantastic HTPC case, so I was happy to see it become available in retail channels recently. The production model is even better than the version Anand saw; namely, the garish logo is gone from the front panel. I really like this case's aesthetics, and it's very functional. It can accommodate full-size ATX motherboards, features an innovative hard drive mounting solution, and it is very quiet thanks to the thick aluminum front panel and sound dampening material. The stock fans can be reconfigured so one is either intaking or exhausting air directly by the APU, which means the stock AMD cooler doesn't have to work as hard and thus makes less noise. The Node 605's niceties include an external three speed fan switch (at 5V the fans are nearly inaudible and still move a lot of air), built-in front panel card reader, and USB 3.0 front ports. The front panel ports are hidden by a drop-down cover, resulting in a clean facade.
The Node 605 case features a large, grilled, and filtered intake port for a side-mounted PSU, so be sure to go with a 120mm+ top fan configured PSU instead of an 80mm front fan model. You should be able to find a higher-quality unit capable of outputting about 400W for $40 or less, such as the SeaSonic listed below.
Assuming you are interested in light gaming and encoding work with your HTPC, we're recommending the top of the line A10-5800K APU. While HTPC purists might balk at putting a 100W TDP processor in a home theater computer, it is important to note that for most HTPC duties, this processor will not be using much power at all. Streaming 1080p HD video from Amazon puts CPU usage of my A10-5800K system at around 20% utilization, and the entire computer draws about 65 watts from the wall as measured with a Killawatt meter (my system is configured identically to the one below, though with one SSD and two 2TB green HDDs).
Note that if you aren't interested in neither gaming nor local encoding, you can save about $60 by going with the A4-5300 APU. If you're hesitant about using the unlocked 100W Black Edition A10 APU, but don't want to drop all the way down to a meager dual-core, the A10-5700 is a lower-clocked 65W TDP quad-core with less capable graphics than the A10-5800K. Again, however, for most HTPC duties like SD and HD media content playback, you won't really save much electricity (and thus heat and noise) compared to the A10-5800K.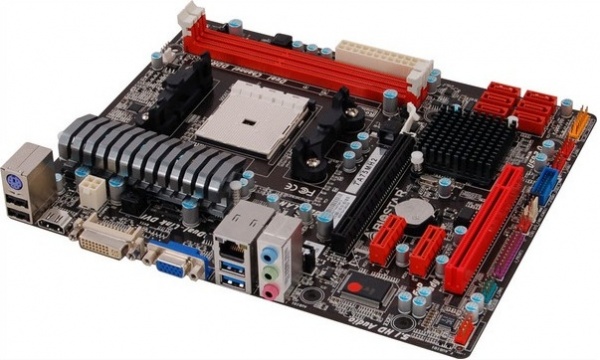 I've been a fan of Biostar's T-series motherboards since the days of AMD's Socket 939, and the latest iteration, the TA75MH2 continues in the tradition. It's a less expensive A75 chipset-based board, so it features SATA III ports, USB 3.0, and as necessitated in an HTPC, an HDMI port. I like its layout, especially when placed in a Node 605, as the airflow will be blowing directly over the FCH (Fusion Controller Hub) and CPU VRM heatsinks. Even if you're not overclocking, keeping these core motherboard components cool will be easier with lower RPM fan speeds, even if the system is stuffed into more cramped A/V component shelving.
Again, assuming you are interested in gaming, we're recommending a DDR3-1866 8GB kit to feed the APU's hungry graphics cores. Keep in mind that Trinity chips can use all the memory bandwidth you can give them, so if you don't mind overclocking your RAM, the Biostar board below will support RAM faster than 1866MHz through overclocking. If you're not gaming, you can save some money by using lower-clocked RAM, and perhaps 4GB instead of 8GB.
For storage, you can go with either an HDD or an SSD, depending on your local storage needs. You might also want additional local storage. Western Digital's Green series drives are available in 500GB, 1TB, 2TB, 2.5TB, and 3TB capacities. Compared to Seagate's Green drives, they carry a longer warranty (two years for Western Digital, one year for Seagate), so it's up to you whether any price differences are worth your money.
Finally, the only real drawback of the Node 605 case is that it uses slim optical drives. Thankfully this doesn't substantially increase the total cost of the build like it once would have, but it does limit your choices. We're recommending a standard DVD burner for the sake of cost; slim Blu-ray burners are usually $50-75 more expensive.
Our final, gaming-oriented Trinity desktop PC is outlined on the next page.