CPU Performance
The heart of the Clover Trail advantage is really Intel's two 32nm Saltwell Atom cores that are integrated into the Cloverview SoC. Each core is Hyper Threaded making the machine a 2 core, 4 thread beast similar to what we've seen from Intel's other dual-core processors for years now. Despite the 32nm process, these Saltwell cores are direct descendants of the original Bonnell Atom core, first built at 45nm back in 2008. The fact that in five years the Atom core has only progressed by a single process node tells you a lot about how much of a priority this architecture has been for Intel. To Intel's credit, Cloverview is built on an SoC process at Intel's fabs that's slightly different from the standard process used for the Core line of processors. Intel's low power SoC process roadmap has historically lagged behind the high performance roadmap, although at some point in the not too distant future Intel expects these two to happen in near lockstep.
Medfield vs. Clovertrail
Intel Atom Z2460
Intel Atom Z2760
Platform Codename
Medfield
Clovertrail
OS/Platform Target
Android Smartphones
Windows 8 Tablets
Manufacturing Process
32nm SoC (P1269)
32nm SoC (P1269)
CPU Cores/Threads
1 / 2
2 / 4
CPU Clock
up to 2.0GHz
up to 1.8GHz
GPU
PowerVR SGX 540
PowerVR SGX 545
GPU Clock
400MHz
533MHz
Memory Interface
2 x 32-bit LPDDR2
2 x 32-bit LPDDR2
The fundamental architecture of each Atom core hasn't changed. This is still a 2-wide in-order machine with a bunch of power and performance efficiency tricks that make it hit much higher than you'd otherwise expect. As you'll see in the benchmarks to come, this five year old Atom architecture is still faster than every single ARM based core on the market today with the exception of the Cortex A15. Hampered mostly by really inefficient software and a lack of good platforms, Atom never really had the opportunity to shine in the past. Even with Windows 8 things are better but still not perfect for the soon-to-be-replaced core.
Each core features its own private 512KB L2 cache and can clock up to 1.8GHz. These cores could technically support 64-bit operation, but Intel specifies them as supporting the 32-bit x86 ISA. Windows 8 with Connected Standby (S0ix baby) support only currently exists in a 32-bit version, and Clover Trail is only designed to support Windows 8 at this point which is why these are effectively 32-bit cores.
Backwards compatibility is a major selling point for the Clover Trail platform as being able to run existing Windows applications is something no competing ARM platform can offer. There are two limitations however: 1) Keep in mind that this is still an Atom based SoC, so just because you can run (virtually) all applications it doesn't mean they will perform well, and 2) These Atom cores only support SSE1/2/3/3S, the newer extensions to x86 aren't supported (no SSE4 or AVX). The latter isn't too big of a deal given that those extensions are rarely required for older applications, but it's a distinction worth noting.
Despite looking at lot like Intel's Medfield platform, Clover Trail does differ in some fundamental ways. Intel doesn't have a lot of documentation about this but the memory controller on the Cloverview SoC has been significantly improved over Medfield. It better supports prioritizing GPU accesses to main memory, which in turn helps deliver a very smooth Modern UI experience in Windows 8. The Cloverview/Clover Trail memory controller enhancements will make their way into Medfield's successor on the smartphone side, as well as future derivatives of Intel's Atom for tablets.
I mentioned this in our initial Clover Trail analysis piece, but the SoC doesn't support SATA - only eMMC. Only USB 2.0 is supported as well.
As we make our way into 2013, at least on the Windows side of things, I'll be able to move away from js based performance comparisons between tablets. For now, we start off with some of the latest JavaScript tests we've been using in our mobile reviews. All of these were run in Modern IE10 on the Windows devices. I threw in some of our iPad 4 and Nexus 10 for comparison:
JavaScript Performance
Time in ms (Lower is Better)
Kraken
SunSpider
RIA Bench Focus
Acer W510 (Atom Z2760 1.8GHz)
33220.9ms
730.8ms
3959ms
Microsoft Surface (Tegra 3 1.3GHz)
49595.5ms
981.1ms
5880ms
Samsung ATIV Smart PC (Atom Z2760 1.8GHz)
33406.0ms
721.3ms
3752ms
Apple iPad 4 (A6X)
19086.9ms
834.7ms
-
Google Nexus 10 (Exynos 5 Dual)
11146.0ms
1384.1ms
-
Although CloverTrail manages a win over all platforms in SunSpider, Kraken paints a different picture. In the case of the iPad 4 it's likely showing us browser performance superiority, while in the case of the Nexus 10 it's a combination of that and a simply faster pair of CPU cores.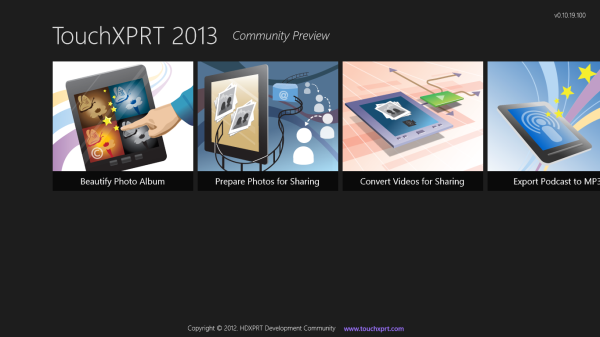 Principled Technologies, apparently featuring some of the same folks who were responsible for building the old Winstone benchmarks from over a decade ago, actually put out the first cross platform Windows RT/8 benchmark with some help from Intel. Despite Intel's influence the test appears to have no native code, instead relying on just a heavy workload of large images and videos for its tests.
TouchXPRT 2013
Time in Seconds (Lower is Better)
Photo Enhance
Photo Export
Video Transcode
MP3 Transcode
Photo Slideshow Creation
Acer W510 (Atom Z2760 1.8GHz)
205.83s
73.0s
52.07s
96.02s
85.31s
Microsoft Surface (Tegra 3 1.3GHz)
306.12s
116.36s
87.27s
160.99s
125.06s
ASUS VivoTab RT (Tegra 3 1.3GHz)
312.14s
109.89s
89.69s
155.84s
122.65s
The PT folks also put together a suite of HTML5/js tests, once again giving us the opportunity to test cross-platform performance. As these tests are run in the browser, there's good opportunity for browser optimizations to play a role here as well as platform performance:
WebXPRT 2013
Time in ms (Lower is Better unless otherwise noted)
Overall (higher is better)
Photo Effects
Face Detection
Stocks Dashboard
Offline Notes
Acer W510 (Atom Z2760 1.8GHz)
220
2437.2 ms
2590.3 ms
1091.5 ms
1832.4 ms
Microsoft Surface (Tegra 3 1.3GHz)
168
2790.7 ms
3482.1 ms
1696.3 ms
2288.1 ms
Apple iPad 4 (A6X)
182
4331.2 ms
4136.8 ms
786.0 ms
1942.6 ms
It doesn't really matter where you turn, the CPU side of Clover Trail is clearly ahead of anything we've seen thus far in the Windows RT camp. Modern UI performance is great, clearly better than Surface, but the Windows 8 desktop experience falls short. UI performance can be sluggish in desktop mode. Scrolling through Control Panel animates at < 30 fps, the same goes for highlighting a group of icons on the desktop. Moving windows around tends to be pretty smooth however, which makes me wonder how much of the UI performance issues are driver related.
On the CPU side of things, you have to keep in mind this is still an Atom based platform. Although things have improved since the original Atom, we're still talking about a fairly old architecture. Although you can run Photoshop or 3dsmax on here, I wouldn't recommend it. As with the old netbooks, whether or not Atom is enough depends mostly on what you're doing.
All of the Office 2010 applications ran wonderfully on the W510. They all launched reasonably quickly and were responsive. Outlook, a major component missing from the Windows RT experience, had no problems running on the W510. The experience does suffer the moment you try to run something truly CPU intensive (by modern notebook standards), but for light office work the W510 excels.
The high CPU utilization under Word 2013 does still exist even on Clover Trail: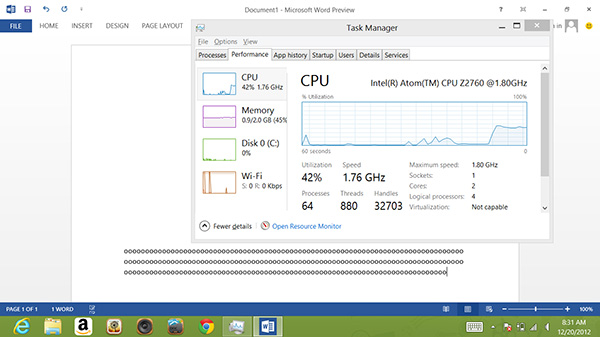 I ran our Excel MonteCarlo simulation script on the W510 to get an idea of how a hefty Office workload would fare on the tablet. The result was surprisingly decent thanks to hardware support for 4 threads, but still much slower than a modern CPU: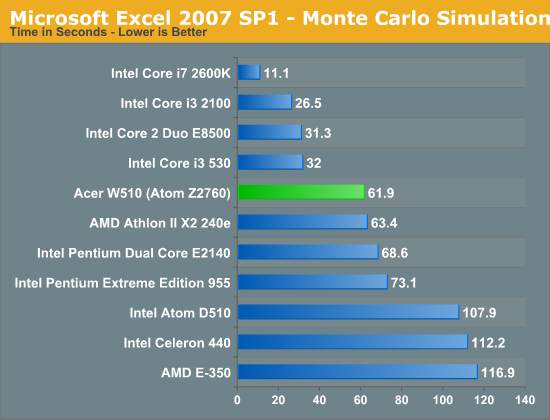 To really put the W510's performance in perspective I compared it to a handful of notebooks: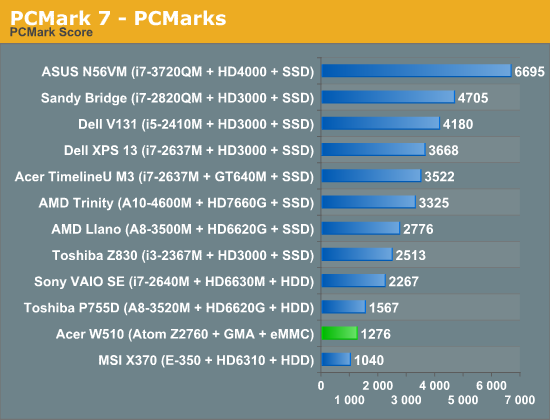 Better performance than AMD's original Brazos platform isn't bad, but in the grand scheme of things you're looking at a much slower system than anything Core based. The W510 comes surprisingly close to the Llano based Toshiba P755D, but I suspect a big part of that is the storage solution. The blessing and curse of the W510 is that it does use solid state storage, so performance will never be as bad as the old netbooks that used 5400RPM hard drives. The solid state storage comes in the form of an eMMC solution, which doesn't do a great job of delivering high random IO performance.