Introduction and Testbed Setup
We have looked at LaCie's 5big offering before in late 2010. In that product, the only LaCie signature was the industrial design and choice of hardware components of the NAS. The performance figures were left to Windows Storage Server 2008 R2. The time has now come for LaCie to move forward with their own custom NAS OS based on Debian Linux for their 5-bay configuration.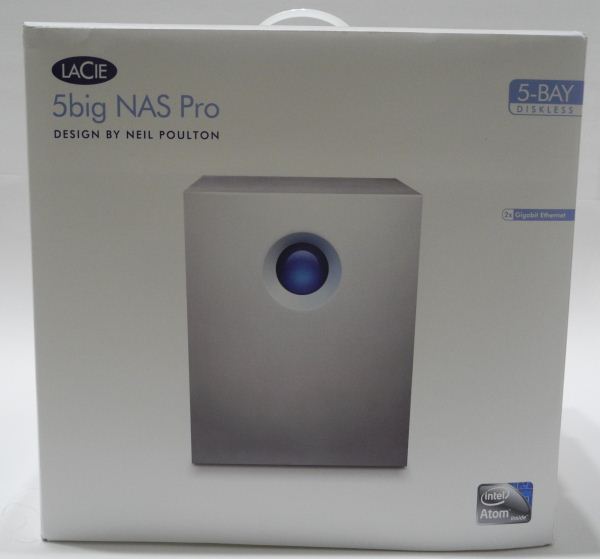 The 2big NAS offering had impressed us with its performance in a 2-bay configuration for SOHO and SMB applications involving a few users. However, translating that performance to a 5-bay multi-user SMB scenario is definitely challenging. On top of that, the SMB / SOHO NAS market is quite hot, with multiple players competing in terms of features and price. For the 5big NAS Pro to make an impression in the market, it needs to perform well and also differentiate itself enough for the consumers to pay attention.
Towards the end of December, LaCie came to us with a proposition to beta-test their 5big NAS Pro. As is customary in such cases, we weren't allowed to disclose performance benchmarks before the official launch date. The additional caveat was that the lift of the NDA would be tied to our evaluation. In case we found any show-stopper bugs, we had to wait for the FCS (first customer shipment) firmware to launch and present our results with the updated firmware. In the interest of full disclosure, this means that today's piece is more of a report of our beta-testing (and hence, Part I) rather than a full-length review. At the outset, LaCie indicated that the firmware we had on our unit was more focused on the differentiating features rather than providing all the planned software features for the product right away.
Hardware
The 5big NAS Pro is a 5-bay Atom-based NAS with 4 GB of RAM. LaCie doesn't document the exact processor model, but does mention that the dual core Atom runs at 2.13 GHz. It is possible that customers might received either a D2550 or D2700 based unit (Update: LaCie confirmed that all consumers will receive a D2700-based unit only).. The hardware design is the same as that of the 5big Storage Server we reviewed in 2010 except for some changes in the ports at the rear of the unit. Instead of the (1x eSATA, 3x USB 2.0, 1x VGA, 2x GbE LAN) in the 5big Storage Server, we have (2x USB 2.0, 2x USB 3.0, 1x VGA, 2x GbE LAN) due to the platform update. The industrial design of the unit is otherwise the same as that of the 5big Storage Server and is definitely stylish (but, it is not much of a factor in SMB NAS purchase decisions).
Our only peeve with the hardware is the fact that 2.5" SATA drives aren't directly supported due to the nature of the hard drive bay (which has no baseplate, and just screw slots for 3.5" drives).
Software
The 5big NAS Pro runs LaCie's custom Debian-based Linux system, the NAS OS 3. The differentiating features presented in the NAS OS 3 include Rescie Web Admin (a way to make the NAS available for administration over the network when the internal firmware is corrupted, or the NAS is in a diskless configuration), support for a hybrid cloud through integration with Wuala (LaCie's cloud storage, backup and sync product) and SimplyRAID (a novice-friendly RAID solution which just requires the user to provide the NAS with the number of disk failures that need to be tolerated while still providing availability / support for variable sized disks). The rest of the features are very similar to what we covered in the 2big NAS review.
Review Configuration
LaCie wanted us to get down to benchmarking the 5big NAS Pro right away, and so, shipped the review unit with the NAS OS pre-installed on 2x 1TB and 3x 2TB Seagate 7200rpm drives (ST x000 DM003). However, in the interest of keeping benchmark figures consistent across different NAS units, we use the same disks across all our NAS reviews in the same class. Since reviewing the QNAP TS659 Pro II with consumer SATA drives, I have seen many ending up with SMART errors because of the large number of RAID expansions and rebuilds they go through. We wanted to resolve this problem once and for all, and Western Digital gladly came to us with enough enterprise drives to bench up to 8-bay units.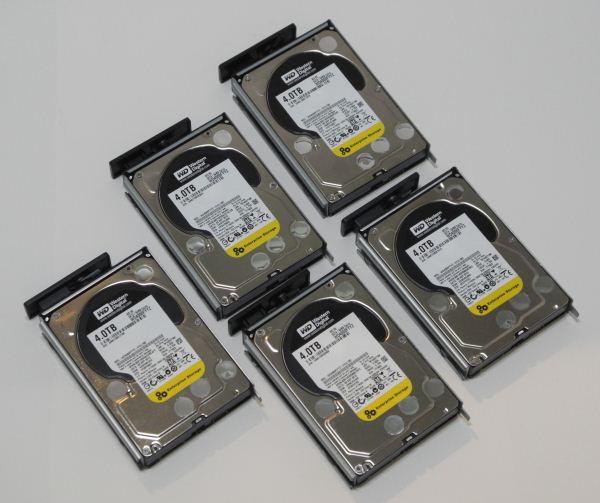 Starting with this piece, all 8-bay and lower NAS units will now be benchmarked with the WD4000FYYZ Enterprise 4TB drives in RAID-5 configuration (2-bay units in RAID-1). 4 TB drives might seem excessive for benchmarking (it is also a bit of a hassle because of the long rebuild and expansion times), but the stress they put the NAS under should provide readers with confidence while making a purchase decision.
Testbed Configuration
In the first part of the review, we will be taking a look at LaCie's differentiating features in the NAS OS 3. Single client benchmarks will only involve SMB/CIFS and iSCSI under Windows. We also present the behaviour of the NAS under stress from multiple clients. For this purpose, we use the SMB / SOHO NAS testbed described earlier.
AnandTech NAS Testbed Configuration
Motherboard
Asus Z9PE-D8 WS Dual LGA2011 SSI-EEB
CPU
2 x Intel Xeon E5-2630L
Coolers
2 x Dynatron R17
Memory
G.Skill RipjawsZ F3-12800CL10Q2-64GBZL (8x8GB) CAS 10-10-10-30
OS Drive
OCZ Technology Vertex 4 128GB
Secondary Drive
OCZ Technology Vertex 4 128GB
Tertiary Drive
OCZ RevoDrive Hybrid (1TB HDD + 100GB NAND)
Other Drives
12 x OCZ Technology Vertex 4 64GB (Offline in the Host OS)
Network Cards
6 x Intel ESA I-340 Quad-GbE Port Network Adapter
Chassis
SilverStoneTek Raven RV03
PSU
SilverStoneTek Strider Plus Gold Evoluion 850W
OS
Windows Server 2008 R2
Network Switch
Netgear ProSafe GSM7352S-200
Thank You!
We thank the following companies for helping us out with our NAS testbed: