Assembling the Nanoxia Deep Silence 2
Apart from the accursed side panels, the Nanoxia Deep Silence 2 remains a fairly pleasant, easily assembled enclosure. There are definitely some small conveniences missing, but by and large Nanoxia's engineers continue to do right by the end user.
Disappointingly, Nanoxia doesn't include any extrusions on the motherboard tray, pre-installed standoffs, or an alignment stud the way a lot of modern enclosures have begun doing. This is a minor grievance but still annoying, as you'll be required to install all of the standoffs yourself. Connecting the motherboard headers remains easy, though, as Nanoxia smartly includes cable routing holes both near the cable bundle at the top of the case and between the motherboard and the power supply.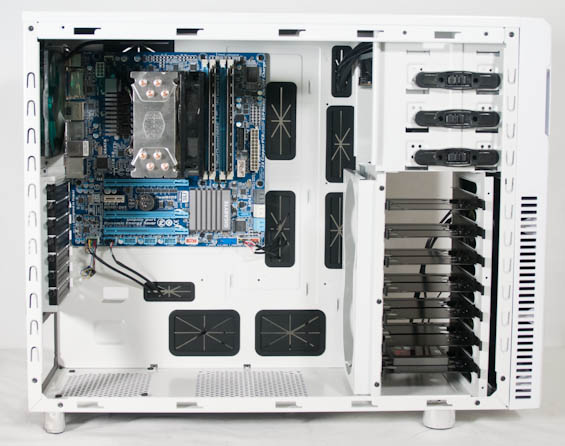 Installing drives continues to be a fairly painless process. The toolless clamps used for the 5.25" drive bays are a smart design and feel secure, and I appreciate that they include clamps on both sides of the cage as opposed to just the left side. Meanwhile the drive trays continue to be incredibly sturdy, although they aren't toolless; you'll want to hold on to the screws used for bottom-mounting the hard drives to the trays. The trays also snap into the cage pretty easily, but they're not quite as secure as I'd like.
Getting the video card and power supply in is business as usual. The perforated covers for the expansion slots use thumbscrews as expected, while there's actually a little bit of padding in the power supply bay to ease fan vibration. Nothing eventful to report here, though.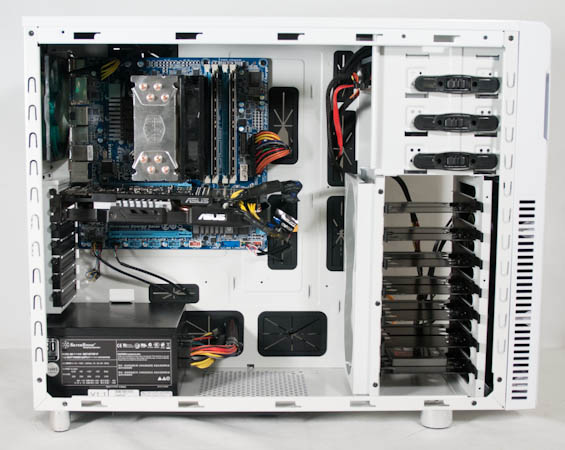 Wiring up the DS2 is pretty standard, too. It's easy to make good use of the routing holes around the motherboard tray, but where Nanoxia goofs up a little is with the AUX 12V routing hole. This isn't the first time I've seen this happen in a case design, and it alternates between being irritating and amusing. Basically, the back of the hole is blocked off somewhat by the rail for replacing the side panel. You can fish the line through it, but you may need a bit of patience.
Unfortunately the side panel mounting system does continue to be an issue due to the less than ideal amount of space for cables behind the motherboard tray. Remember that because the side panels are padded we lose millimeters of space, and this is an area where any amount of space can help. Expect a bit of a struggle when you go to close up this section of your build.