In and Around the Lenovo ThinkPad X1 Carbon
People familiar with Lenovo's industrial design aren't going to be too terribly surprised with the ThinkPad X1 Carbon: black goes with everything. The body is built primarily out of carbon fiber, and the now oddly "traditional" ThinkPad chiclet keyboard is present, as is the trackpoint. Build quality all around is generally excellent; lid flex is minimal, body flex just plain doesn't exist, and there's precious little keyboard flex. Also, the dot on the "i" in ThinkPad on the lid glows red when the notebook is in use and strobes when it's asleep, so that's neat.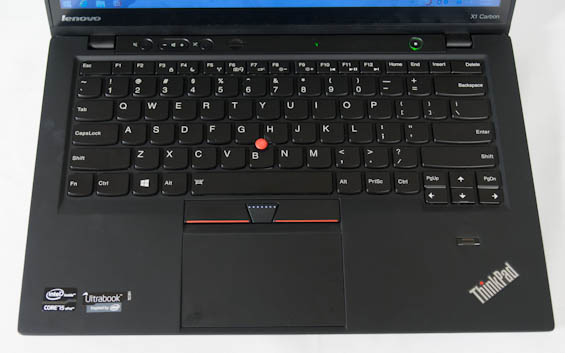 It's hard to find too much fault with the ThinkPad X1 Carbon taken on its own, but in a broader perspective and especially a historical perspective, the Lenovo acquisition of IBM's ThinkPad line still smarts. The X1 Carbon is further evidence of the consumerization of the ThinkPad line; the chiclet keyboard may be the best you can find, but it's still a chiclet keyboard. The touchpad has actually been replaced by a clickpad that has a wonderful surface but absolutely terrible clicking action and doesn't have dedicated buttons; thankfully, the trackpoint's dedicated buttons work just fine in a pinch.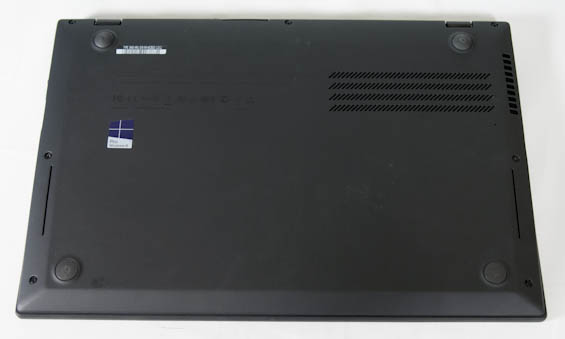 That consumerization also betrays the X1 Carbon's loftier ambitions as an enterprise-class notebook. Those of you with good memories will remember a period of time where enterprise was all about ThinkPads and that was it, but are you noticing more HP EliteBooks and Dell Latitudes and Precisions running around than you used to? So it is with the X1 Carbon, where the 1-year default warranty, aforementioned chiclet keyboard, and complete lack of serviceability undermine the enterprise dream. Former models of the X1 also supported external slice batteries, but the X1 Carbon forces you to rely solely on its middling 45Wh battery, and that battery is not user-replaceable.
Keeping in mind that this review unit was sent to me by Intel, I'm keen to point out the curious way it highlights the odd dichotomy of Windows 8's user interface. This is a ten-point touch display, yet it's also 1600x900, and the notebook actually shipped to me with Stardock's Start8 installed, thus completely bypassing Modern UI. The traditional Windows desktop has always been absolutely dire for touch, only more so with a decently high dpi on the display, but it's vastly superior for productivity. In a way, the touchscreen in the X1 Carbon has been reduced to a sort of novelty.
Nearest I can tell, Intel added Start8, as it's not an immediately available option when configuring your own X1 Carbon. Keeping Windows 8 in mind, though, it's worth noting that you can't order the X1 Carbon with Windows 7 as an option unless you forego the touch display.
It must seem like I'm being too harsh on the ThinkPad X1 Carbon. Truth be told it's actually a very enjoyable Ultrabook to use; keyboard action is excellent, the 1600x900 display is attractive, and it's not too difficult to get used to using the mouse buttons above the clickpad. It's light, it's sturdy, and Intel's inclusion of Start8 is both the best and worst endorsement of Windows 8 on the planet. The problem is that despite the carbon fiber build and inclusion of vPro, this is not an enterprise Ultrabook. It's still priced like one, but it's not.